As floor plans become more and more open, kitchens are becoming much more visible from different parts of the home. Therefore, it's important that you carefully plan out the design and functionality of your kitchen.
You want your kitchen to be elegant, tasteful, and also not too complicated. There's no use in having a beautiful kitchen that's a headache to navigate.
Luckily, we're here to help. So continue reading and we'll walk you through the best kitchen design tips that you need to know about!
1. Start With the Big Picture in Mind
First, you should start by evaluating the current conditions of your kitchen and see how they affect the overall design. Try to see how the kitchen relates to the neighboring rooms and the home in general.
Before you start making minute changes, you want to make sure that all of your design renovations are working towards a singular vision.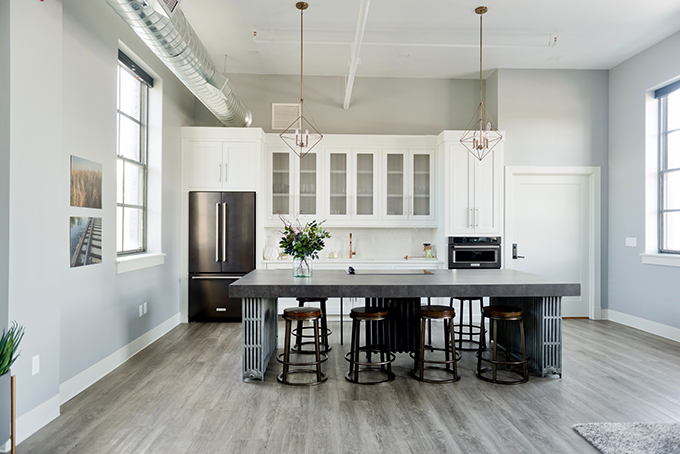 2. Make Clusters
There's a design idea known as the kitchen triangle that's been the traditional way of designing the kitchen. It states that the sink, refrigerator, and stove each make up a point on a triangle.
More modern design theory suggests thinking in terms of clustering related activities. So you can have your stove, prep counter, and sink all grouped together, for example.
You should only use your prep space for prepping activities and also have easy access to the garbage bin.
Your fridge can be a bit further away because it's a fairly big appliance and will have to be tucked away.
3. Shake Up Your Cabinets
Shaker cabinets are great for those who are trying to achieve a timeless style. These kinds of cabinets go great with contemporary, transitional, and even traditional designs.
The simple design of shaker cabinets provides a clean look. They tend to feature basic hardware, light finishes, and recessed panel doors.
4. Know When to Use Doors and Drawers
Drawers are great for reaching to the back of your cabinet space. They're perfect for small saucepans, mixing bowls, and dishes. But things like skillets, cutting boards, and baking sheets are best accessed by doors.
These are considerations to keep in mind when designing your kitchen.
Using These Kitchen Design Tips for a Beautiful Kitchen
Hopefully, after reading the above article, you now have some useful kitchen design tips that you can use for your next renovation project. Just make sure that you take both the style and the functionality of your kitchen into consideration. And always remember that your kitchen is not an isolated area but it's part of a bigger unit and needs to fit in with the rest of your home.
When you do that, you'll have a much easier time with your designs.
Are you looking for other helpful articles like this one? If so, then make sure to check out the rest of our blog today for more!