Filipe Pina Arquitectura has completed this stunning private residence in the historic centre of Vila Nova de Foz Coa, Portugal. The project's main goal is to restore a decaying building from the end of the 19th century and turn it into a single-family home, adapting its historic architectural features to the needs of modern housing.
According to the requirements of the previous owners, many alterations, and related constructions, which had no architectural connection to the original construction, caused damage to the building's southern elevation over time. Nonetheless, the primary coating used on shale masonry structures is recognized as slate thresholds.
In order to respond to the traditional method of construction, which seeks to highlight the back elevation, directed to the south, and to assume it as the new main elevation of the dwelling, it is proposed to reorganize space and elevation on the basis of these two notable elements (slate and shale).
The existing granite sawmills and masonry are recovered on the northern and spring stretches without ignoring the historical significance of the remaining stretches, and new fans are opened south, leaving the ruins in shale, outer walls, and the colors of nature exposed for those living inside the house.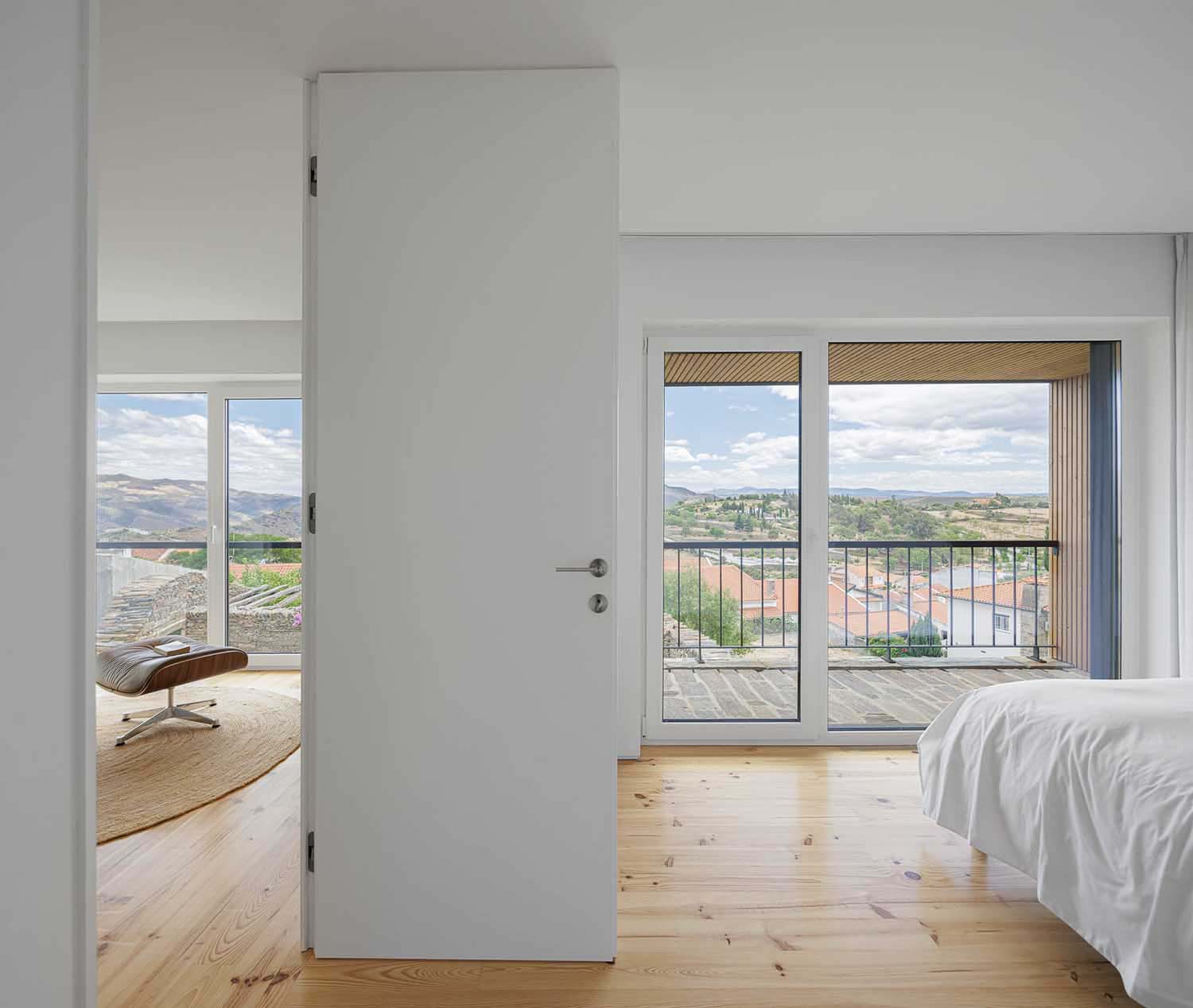 At the constructional level, conventional solutions have been adopted, including the use of materials of a natural origin, such as slate thresholds, agglomerated cork for floor insulation, and lime towing for façades and frames.
Programmatically, the residence is divided into two levels, with floor zero's southern elevation serving as the primary entrance point. The entire social area is placed on this floor in shale masonry in a linked expanse that is only divided by the pre-existing inner walls. On the first level, the three-quarters are divided into a series of symmetrical and rotating arrangements, with the meeting point culminating in a sizable area for the local natural scenery.
Project information
Project name: Casa Caldeira
Architecture Office: Filipe Pina www.fp-a.pt
Main Architect: Filipe Pina
Collaboration: Diana Cruz
—
Location: Vila Nova de Foz Côa – Portugal
Year of conclusion : 2021
Total area: 270m2
–
Engineering: Ricardo Pereira
–