Eerkes Architects have recently completed their latest residential design – the Rockaway Beach House. The eye-catching design makes the most of the picturesque waterfront setting and the mild climate of the area.
The residence is located on a double beachfront parcel on Bainbridge Island's Rockaway Beach and faces east toward Seattle's famous skyline. Views show the ships, ferries, and sailboats that make up the Salish Sea, which are a kaleidoscope of sparkling lights and vibrant colors.
"It's on an outcropping of rocks, so there are near views, far views, ferries, and orcas," notes Les Eerkes, AIA. "There are views of Seattle, Mount Rainier, Mount Baker, and the rest of the Cascades. And there are magical sunrises. The beach is 80% rocks, gravel, barnacles, and seaweed, and our tides change about 12 feet a day," he adds.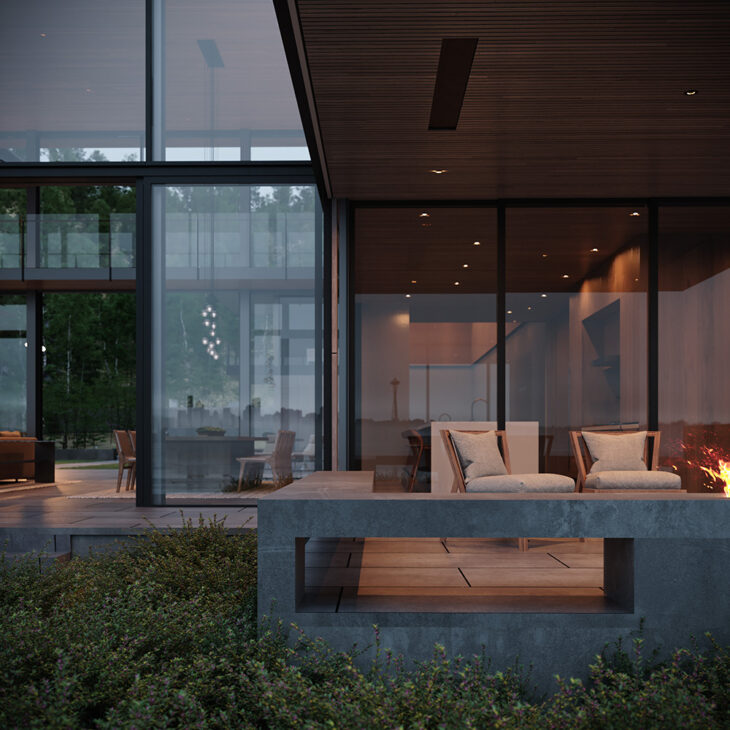 The 6,000 square foot house is placed to the lot's northern end and is designed as an L-shaped form. All significant rooms have window walls that provide views of the river and the forest in addition to providing access to the courtyard pool. The primary living space has two stories and is situated between the waterfront and the courtyard. A transparent barrier separates the patio from the lake thanks to glass walls. The main bedroom, which is on the second story, has a dramatic cantilever that stretches out to the view and covers the outdoor area below.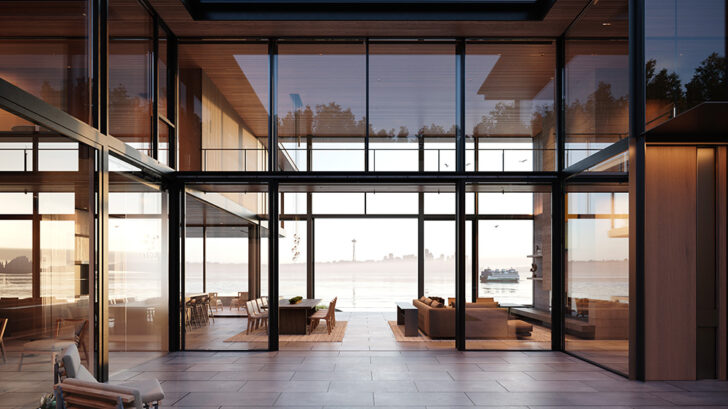 Eerkes Architects Team
Les Eerkes, Principal Architect
Lauren Rist, Project Manager
Project Consultant Team
Eerkes Architects (architecture)
Allworth Design (landscape architecture)
Quantum Consulting Engineers (structural engineering)
Toth Construction (general contractor)
Renderings by Notion Workshop
Find more projects by Eerkes Architects @eerkesarchitects