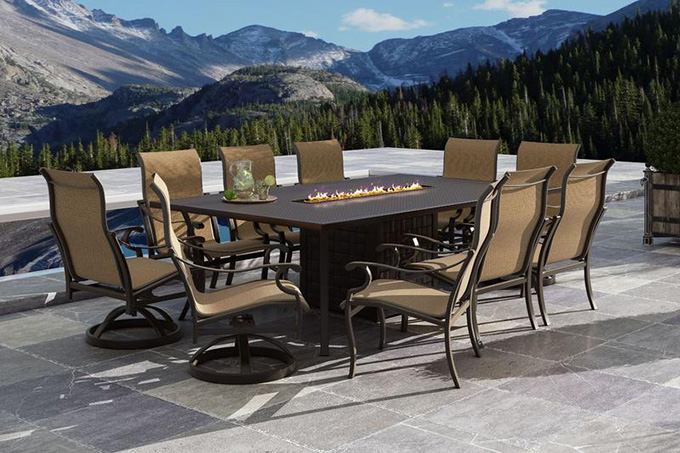 There's no better way to enjoy summer than having a meal in the sunshine and fresh air. By creating your own outdoor space complete with a functional and beautiful outdoor dining table, you'll have an oasis to truly enjoy the entire season.
This buying guide will help you choose a patio dining set you can use all summer long for enjoying meals, entertaining, sipping your morning coffee, and more. Keep these tips in mind when choosing the best outdoor dining set to add to your summer oasis.
Consider Your Outdoor Dining Space
Take a look at your patio, measure the available space, and note the dimensions. Being aware of what you have to work with matters since it'll influence what type of outdoor patio furniture set you can buy. For example, if you have a narrow deck, a large round table probably wouldn't be your best choice. A small square or rectangular patio dining table would be a better fit.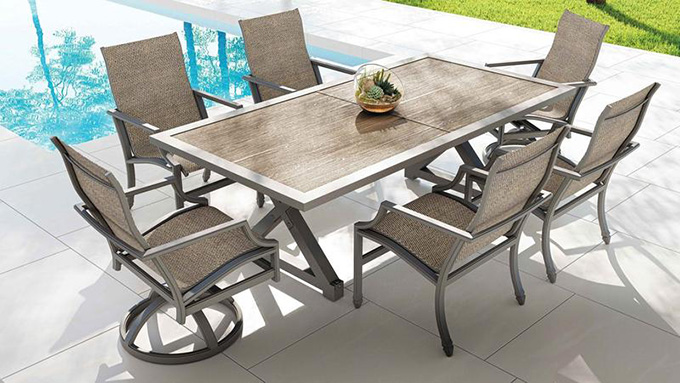 Comfort and spacing are other factors to consider when choosing a dining set. Guests should be able to move around tables and chairs comfortably. To ensure people have enough room to pull out their chairs, aim to have at least three feet of open space on all sides of the table. This is especially important if you have a deck, poolside, or an area with railings.
Select a Table Size & Shape
After you determine what table size and shape you can accommodate, you can begin to narrow down your patio dining set options.
If you host a large number of people regularly, consider oval or rectangular tables. These tables usually seat the most people and some even have built-in extension leaves to seat big groups or impromptu guests. Outdoor sectional dining sets are also great options that offer comfort and a variety of seating configurations.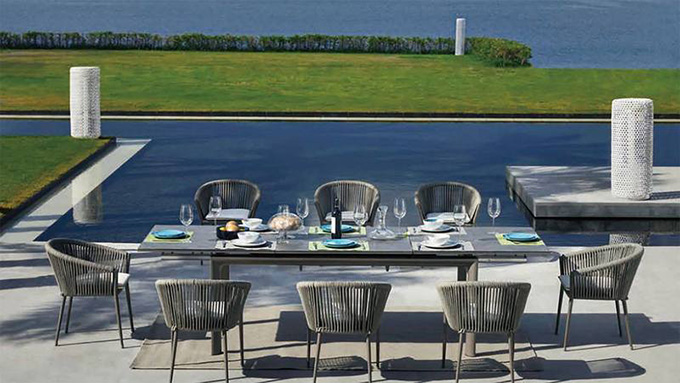 You can find luxury outdoor furniture that fits your space and style, even if you have a small balcony or backyard. Think about getting a bistro or bar-height patio set – these options can help you save on space and usually have smaller perimeters.
The shape of the patio dining furniture you choose helps you create the overall style and vibe of your outdoor space. For a formal setting, opt for rectangular or oval tables. Look at round or square tables if you're aiming for a more casual space.
Select a Table Material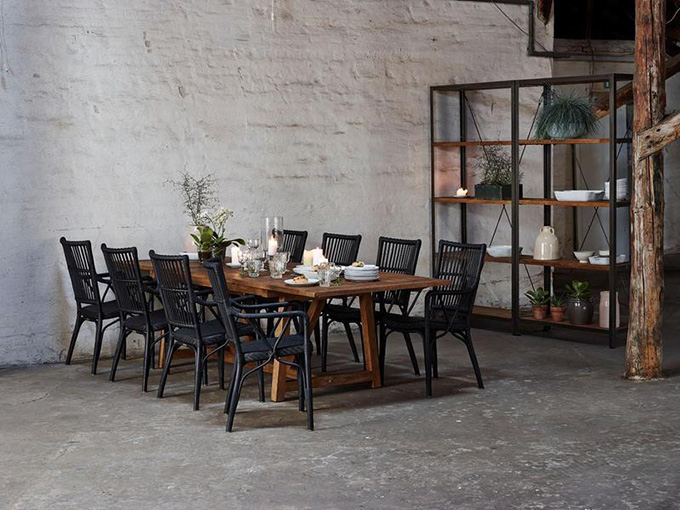 You might be wondering what the best material is for patio dining tables. While the answer largely comes down to personal preference, you should consider these two key factors: weather durability and maintenance.
Here are some good table material options:
Wood
Wood offers a classic and timeless look. However, not all wood types are suitable for outdoor environments. Placing patio furniture made of softwood on grass can cause the wood to rot. On the other hand, luxury outdoor furniture made of hardwood (such as teak) can withstand all elements and ages nicely.
Polywood
A great eco-friendly option for a patio dining set would be polywood furniture, which is derived from recycled plastic bottles. Since polywood is made from highly durable plastic, it's weather-resistant and easy to maintain.
Resin wicker
If you live somewhere that's often moist and humid, consider a patio set that's made of resin wicker. Resin wicker is made from a sturdy plastic-like material, making it much more durable than natural wicker. It's also waterproof and often UV resistant.
Metal
With so many different metal types out there, make sure you research how to properly clean and maintain your dining set – some metals corrode more easily than others. For a durable and stylish metal option, consider cast aluminum.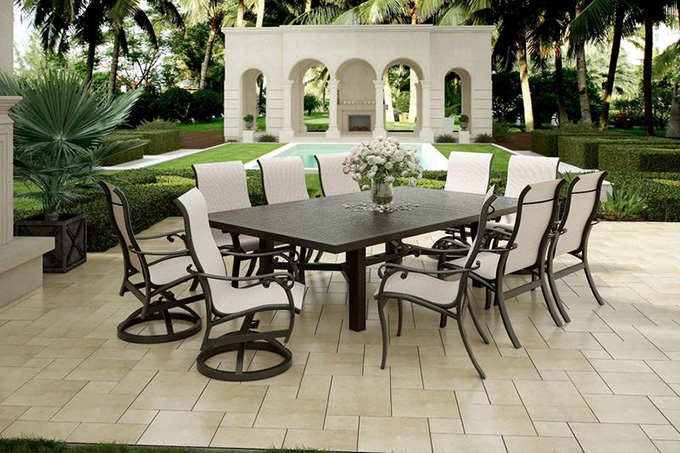 Create a Seating Plan
Creating a seating plan is an important step while you search for the best outdoor patio furniture. Standard tables usually seat four to eight people, but you can also find tables that seat 10 people or more. Outdoor dining sets usually come with the appropriate number of chairs for the table size, which eliminates the extra step of finding suitable chairs.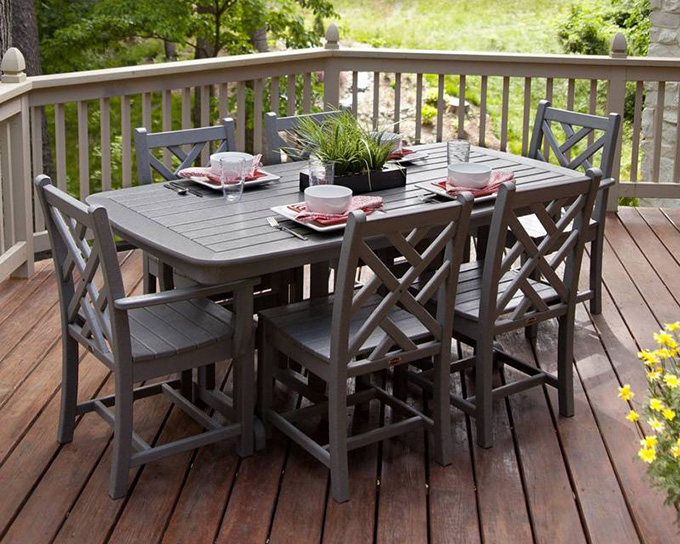 If you're buying chairs separately from the table, keep in mind that each diner at the table should have at least 24 inches of space to avoid bumping elbows. Ideally, the amount of space should be 30 inches.
Benches are a great alternative to chairs. They can fit more people and can easily add a fun and informal touch that kids and adults would enjoy.
Choose Your Chairs
When you're on the hunt for the best patio dining furniture, there are many components you have to consider. Patio chairs are one of them. Narrow down the chair features that are most important to you for dining and entertaining. If comfort is high on your list, look for chairs that have a sling or cushion included. Consider lightweight chairs if portability and ease of storage are priority to you.
Here are other key dining chair features to keep in mind as you shop:
Swivel chairs
Most swivel chairs come with arms, and many also offer a rocker feature.
Cushioned seats
There's no shortage of chairs with cushioned seats. You can easily swap out colours, patterns, and padding to suit your style and taste.
Stackable chairs
These lightweight chairs are practical and help you save big time on space.
Quick-dry materials
Choose metal, wood, or plastic chairs that repel moisture. These are the best options if you live in a rainy climate or plan to place your dining set by the pool.
Outdoor Dining Accessories
Your outdoor dining set may include additional furniture items, or offer them as add-ons to the package.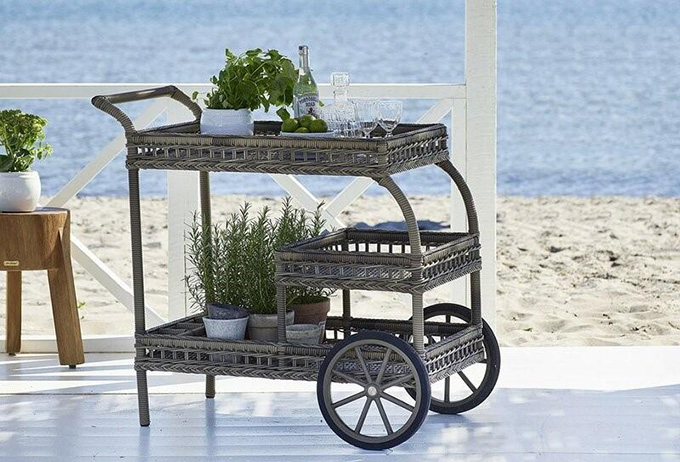 Umbrellas
Welcome some shade with an umbrella. Choose a table that has space to add one if your outdoor space doesn't get much shade.
Folding or stackable table
Tables that collapse are much easier to store away if needed, like in the winter. Look for a folding patio dining table that offers chair storage for extra convenience.
Storage space
Drawers or an under-table shelf lets you store items like utensils and napkins. A small deck box or outdoor storage ottoman are convenient storage options as well.
Extendable tables
An extending table or the option to add table leaves is a great option to accommodate more guests when you have larger gatherings.
Outdoor chair cushions
Make your wood or metal chairs extra comfortable and stylish by adding outdoor chair cushions. Consider handcrafted cushions that can be used indoors and outdoors.
There's no better way to spend a summer's day than indulging in a good meal in the open air. Outdoor dining is a great way to entertain, relax, and gather with friends and family. By following these tips on how to choose garden furniture, you'll create a backyard space that your guests will love all summer long.