iHouse estudio designed this stunning private residence in Punta del Este. The house unexpectedly emerges from the densely vegetated woodland, blended in with the surroundings.
The client's initiative to live completely surrounded by nature and in constant contact with it forms the foundation of the main concept. The initial strategy attempted to reinterpret single-family homes and was based on mid-century modern homes.
The home adjusts to the landscape by aligning itself to the higher street because the land is situated between two streets that have differing heights and clearly demonstrate a topographical difference. By including two horizontal planes as a part of the land, it is suggested to continue the upper level and create a habitable platform where dwellings will be built. Two walls are erected to divide the living area into separate rooms and to respond to the public streets.
The objective is to give the impression that you are in the woods while inside your home. To achieve this, two permit-exempt blocks are built inside the house, articulating the main areas and bridging the exterior limit with two parallel openings that provide a completely flexible space. The inner blocks hold bathrooms, kitchens, and closets, dividing the services from the remainder of the house. This frees up the remaining spaces to emphasize the contact with the outside.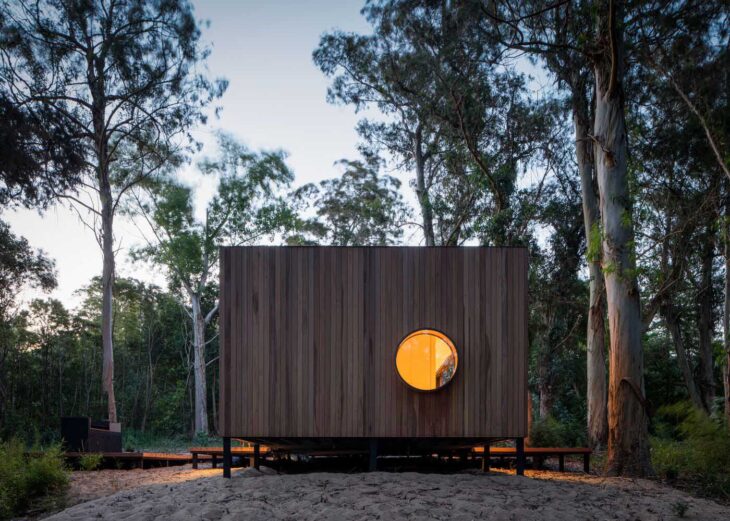 The house has a single circulation and no distinctions between the various spaces. It makes an attempt to understand the forest while permitting unrestricted movement for the user. The house is an unified space that incorporates the outdoor route and interprets the logic of the terrain to give the impression that you are constantly traveling amid the trees.
Project information
Architects: iHouse estudio – ihouse.com.uy
Area: 969 ft²
Year: 2021
Photographs: Aldo Lanzi
Manufacturers: AutoDesk, Adobe Systems Incorporated, Aluminions del Uruguay, Bia, FV Griferia, Maguinor Maderas, Manto, Silestone
Lead Architects: Andrés García, Marcelo Mederos
Design Team: Agustín Sica, Luciana Cano, Lucas Toledo
City: Punta del Este
Country: Uruguay