In the heart of Yekaterinburg, a vibrant and innovative residential project is taking shape, promising to redefine urban living in this historic city. The Na Nekrasova quarter, a venture by Brusnika, is set to transform an industrial area into a modern classic-style haven for city-dwellers.
From Industry to Urban Elegance
Situated in a central location that once primarily served an industrial function with utility blocks and private garages, Na Nekrasova's transformation began in 2020. Brusnika embarked on a comprehensive redevelopment project with the vision of integrating this area into the city's urban fabric, making it safe, appealing, and well-appointed.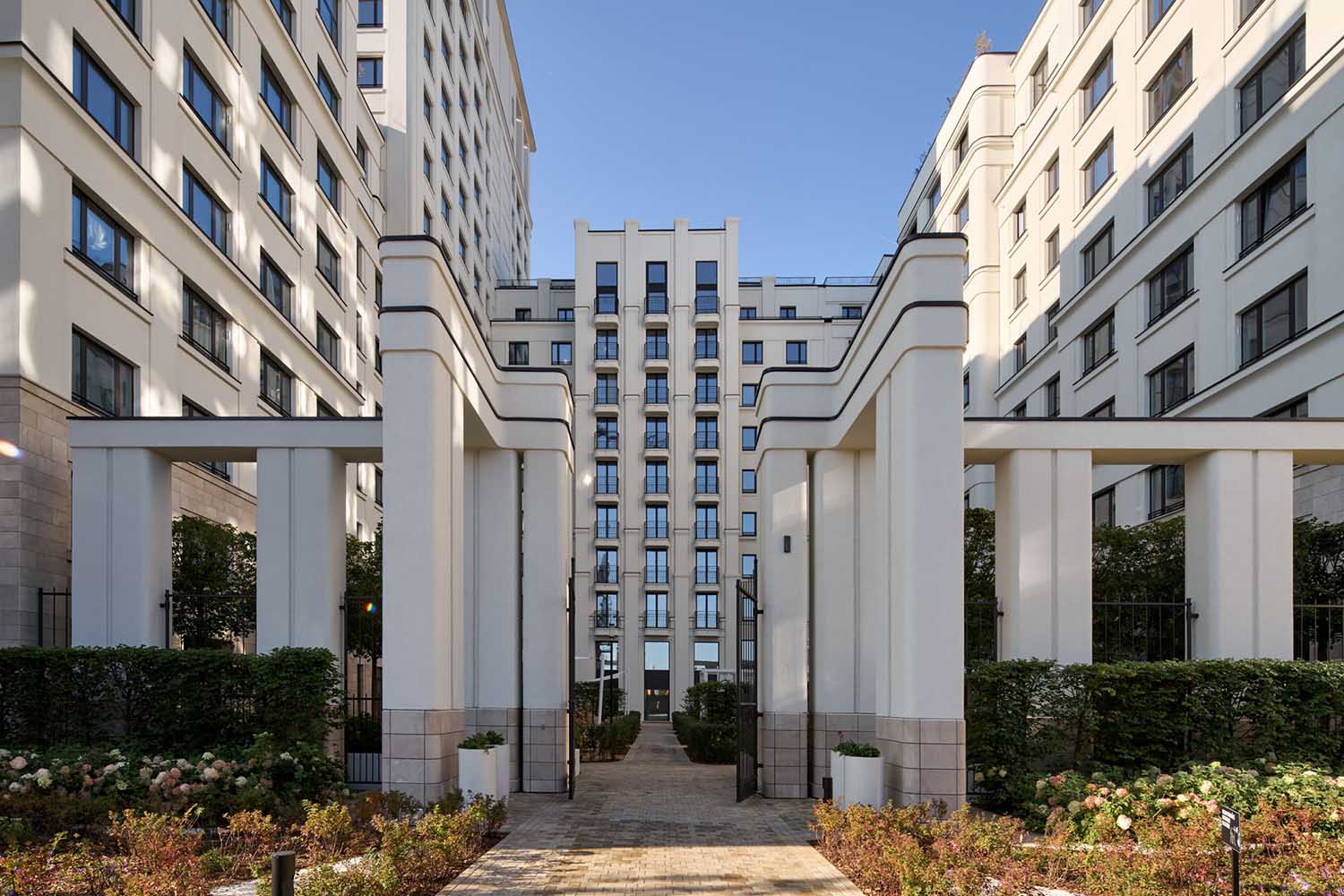 To bring this vision to life, Brusnika enlisted the expertise of Dutch architectural firm KCAP Architects & Planners. The architects devised a master plan that divided the area into four distinct residential blocks, organized around a linear park. One side of the park features a pedestrian bridge and a ravine with disused railroad tracks, offering prospects for sports and recreation. On the other side, the plot connects to a city square and a park adjacent to the Railway Administration. The Soviet Neo-Classic style of the Railway Administration building greatly influenced the project's character and spatial design.
To ensure that the new development would harmonize with its historical surroundings while embodying contemporary architectural elements, Brusnika organized an international design competition in 2018. German architectural bureau Nöfer Architekten emerged as the winners and subsequently crafted the design for Na Nekrasova.
A Fusion of Styles and Heights
Na Nekrasova blends two architectural typologies – high-rises and C-shaped row houses – creating a dynamic urban landscape. The perimeter height of the buildings ranges from 7 to 9 stories, allowing ample daylight into courtyards and enhancing the transparency between structures. Iconic towers, rising from 17 to 25 stories, serve as architectural landmarks, adding a distinctive element to the cityscape, especially when illuminated at night.
The building facades adopt a Modern Classic style, maintaining a sense of tradition while introducing variety through intricate architectural elements. Facades are finished with ecru stucco, while travertine clads the house basements within the zone of human perception. The top sections of the blocks feature unique designs, including attics hosting two-level flats, penthouses, and terraces. Vertical elements, such as faceted bay windows and French balconies, create the illusion of multiple volumes within a single building, enhancing its visual appeal.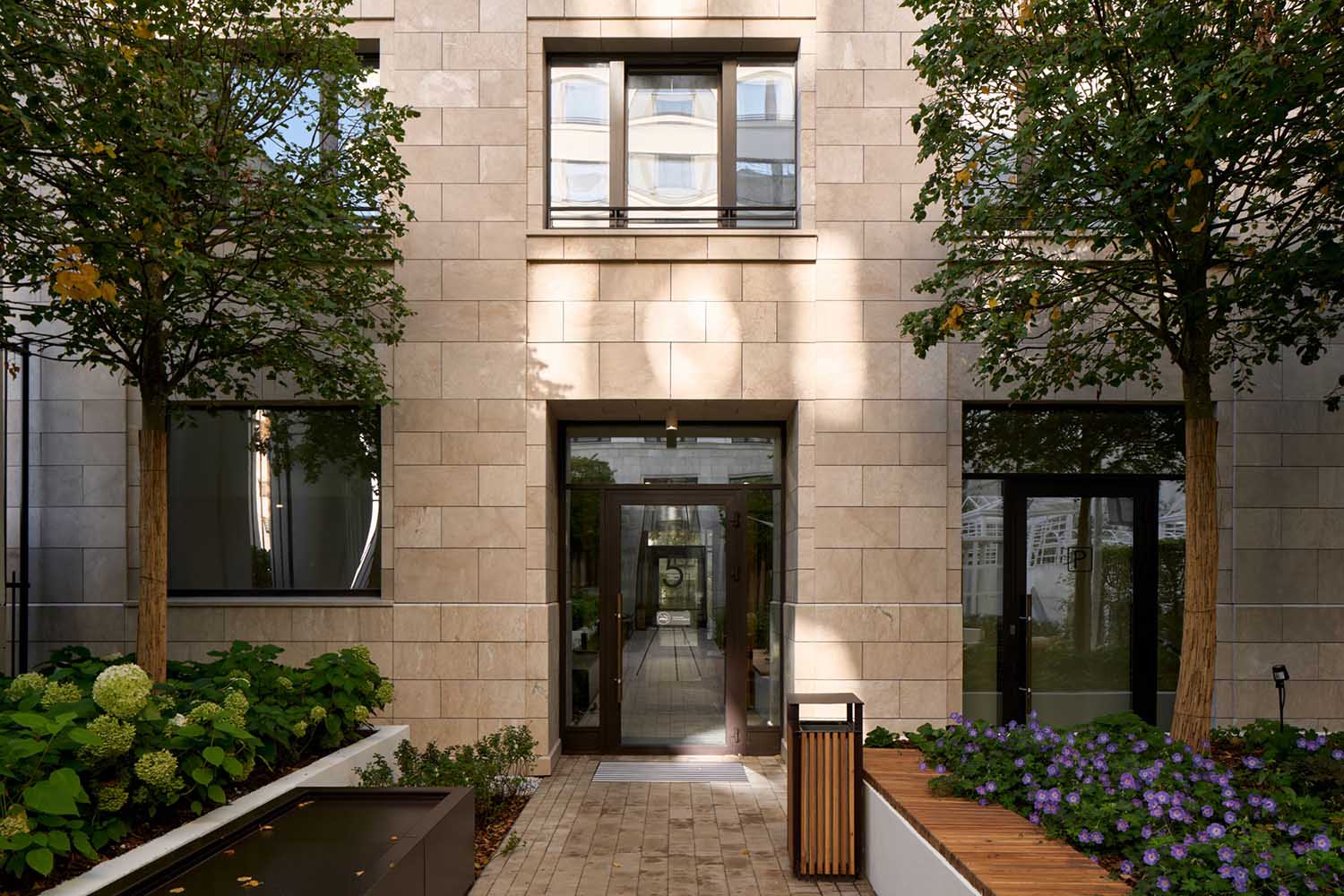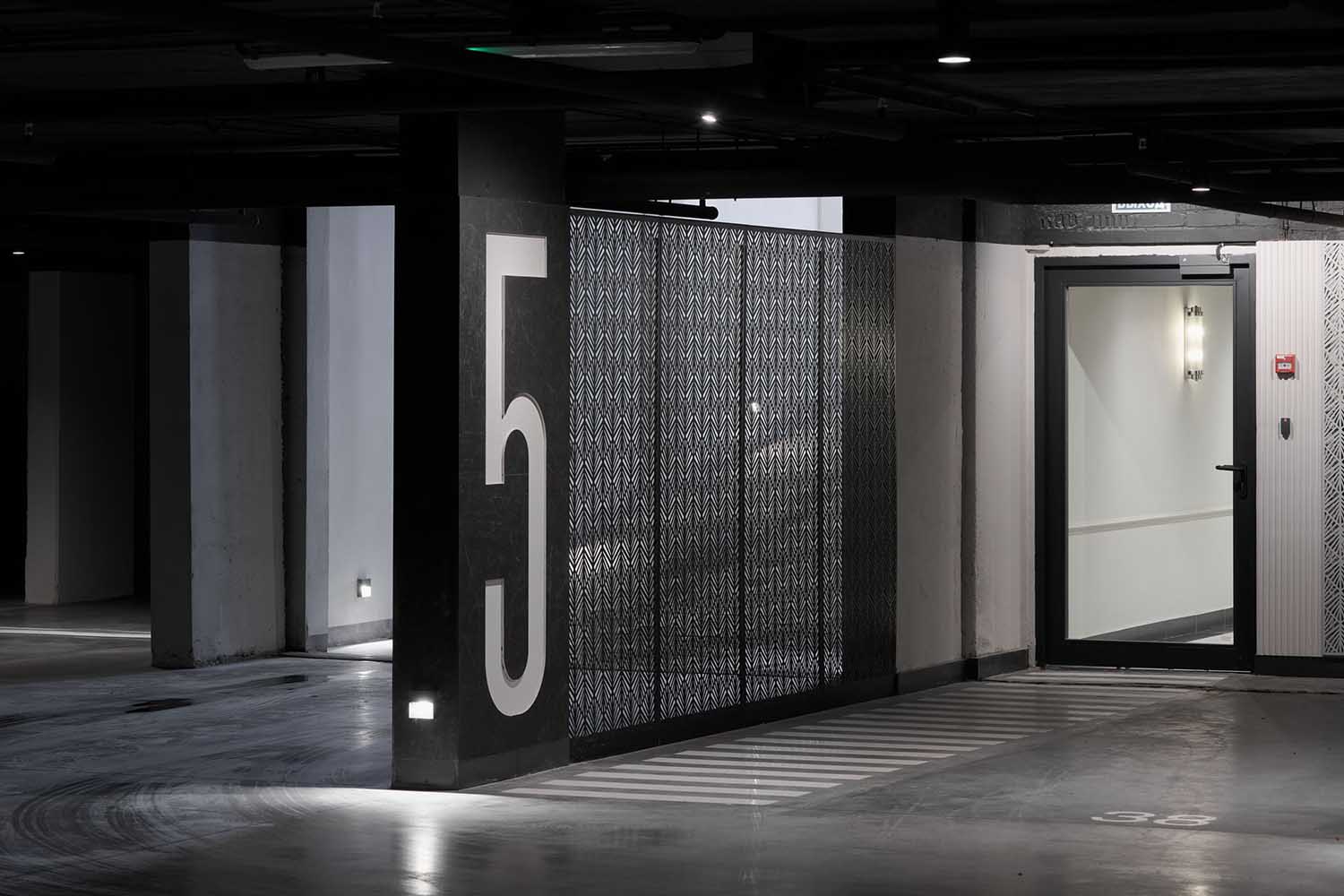 Elevated Urban Living
The courtyards of Na Nekrasova are meticulously designed to offer residents a rich living experience. Depending on the block typology, entrances are graced with orderly colonnades or alleys of pruned lime trees, following symmetrical paths. Each courtyard combines landscaped greenery, fountains, shrubs, and recreational areas, making them inviting spaces for residents of all ages.
Approximately 70% of the courtyard area is dedicated to plants, adhering to a classic garden aesthetic with meticulous planning and geometric design. The landscape architects prioritized both plant layering and seasonal variety, ensuring that the courtyards remain appealing throughout the year. Evergreen conifers and decorative grass blossom clusters contribute to the landscape's allure, especially when illuminated.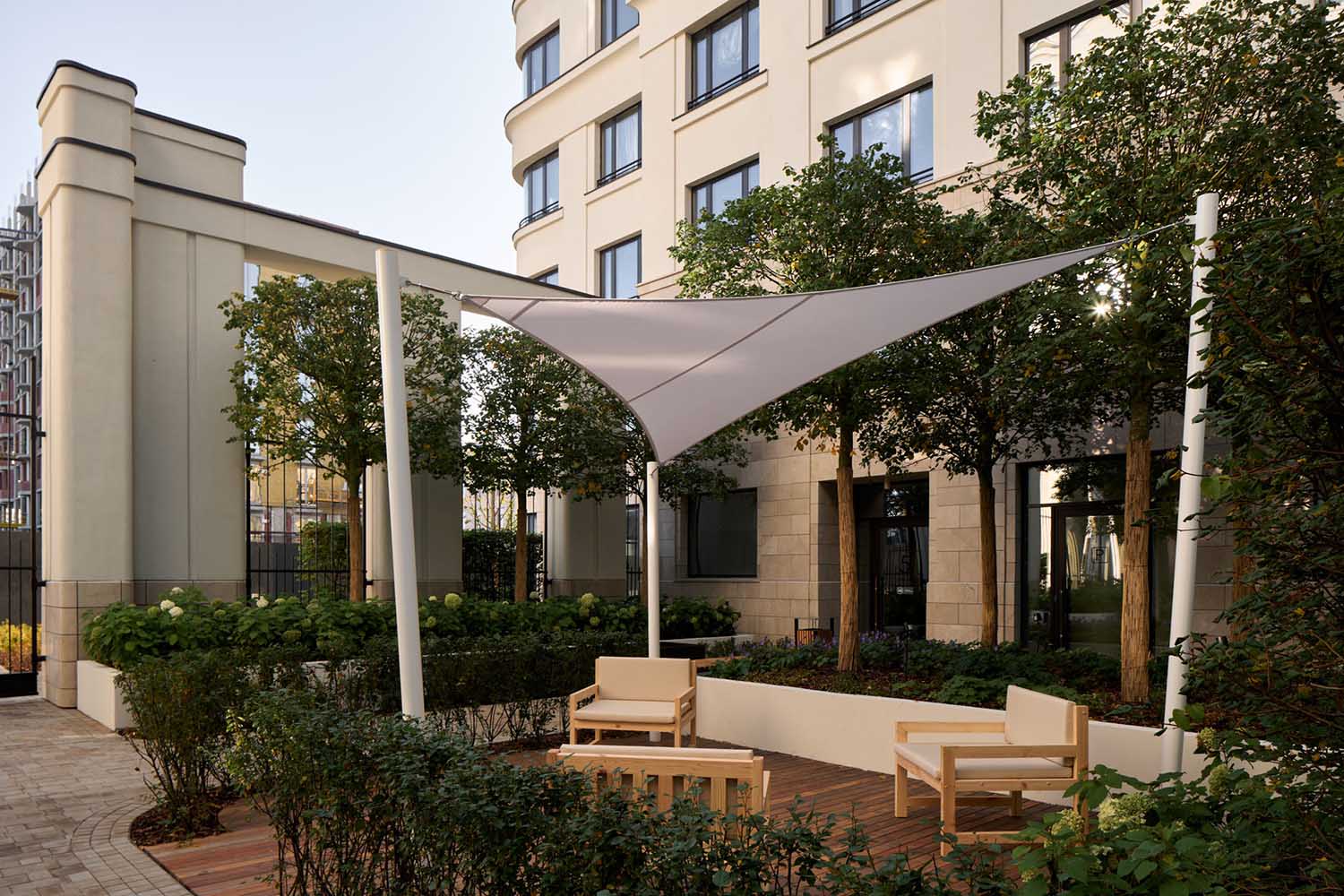 A Public Oasis
The centerpiece of the Na Nekrasova quarter is the linear park, a series of interlocked public spaces designed for residents and visitors alike. Equipped with play and sports grounds, jogging and cycling lanes, a fountain, pergolas, and landscaped zones, this park offers a vibrant oasis within the urban landscape. Summer terraces of cafes, restaurants, and retail outlets along the park's perimeter further enhance the quarter's social appeal.
The project's architectural elegance extends to entrance hall interiors and underground parking, ensuring a seamless transition from the outdoors to the indoors. The entrance halls feature a Nordic-inspired design with light beige walls, contrasting elements, stained glass frames, and decorative 3D panels.
The parking area is more than just a utilitarian space; it serves as a private area for drivers, offering a smooth entry to their apartments. The light-colored interior is complemented by openwork grids and ornamental panels that echo the project's architectural motifs.
A Contemporary Addition to Yekaterinburg
Na Nekrasova represents an independent and authentic urban area that enriches Yekaterinburg's architectural landscape while creating new civic spaces. With its fusion of Modern Classic style and contemporary design, this residential quarter is poised to become a standout landmark in the city.
Project information
Location: Yekaterinburg, Russia
Developer: Brusnika
Master Plan: KCAP Architects & Planners
Chief Architect: Tobias Nöfer
Architects: Christian Elssner, Viktor Bredel
Landscape Design: Greenhance
Construction: Brusnika
Completion: 2024
Volumetric Data:
Construction Area: 2.62 ha
Plot Area: 24,500 m2
Gross Floor Area: 59,500 m2
Accommodation: 54,950 m2
Commercial Quarters: 3,530 m2
Parking: 4,400 m2
Project Timeline:
Design: 2019–2022
Completion: 2024
Renderings by Vitaly Dulger, BSM Company; Photo by Maxim Loskutov