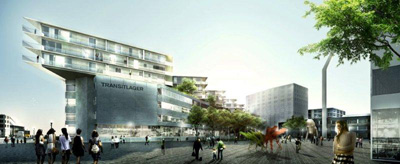 Project: Transitlager
Designed by Bjarke Ingels Group (BIG)
Partner in Charge: Bjarke Ingels Group, Andreas Klok Pedersen
Project Leader: Jakob Henke
Design Team: Gul Ertekin, Ioannis Gio, Ricardo Palma, Alexandra Gustafson, Bara Srpkova, Marcelina Kolasinska, Ryohei Koike
Client: Nuesch Development RG, UBS Fund Management, Christoph Merian Stiftung
Collaborators: Bollinger+Grohmann, HL- Technik
Size: 30,000 sqm
Location: Basel, Switzerland
Website: www.big.dk
BIG's groundbreaking ideas help the noted practice win the competition to renovate and extend a concrete warehouse in Basel dating from the 60's and create the multi-functional Transitlager. For more of the project and architects description continue after the jump:
From The Architects:
The stacking of two complimentary structures – one on top of the other – has generated a new take on the typology of the communal courtyard. Where the typical residential courtyard finds itself incarcerated by walls of program, the roofyards of the Transitlager combine the tranquility and communal space of the courtyard with the sunlight and panoramic views of the penthouse. A penthouse for the people.
We propose a transformation of the Transitlager that builds on the industrial logic of the existing building and of the surrounding area. The extension doubles the size of the Transitlager and becomes an opposite twin – based on the same structure, but with a different geometry. The combined building becomes a spectrum of optimal conditions: From open and flexible plans to tailor made units, public programs to private residences, vibrant urban space to peaceful green gardens and from cool industrial to warm and refined.