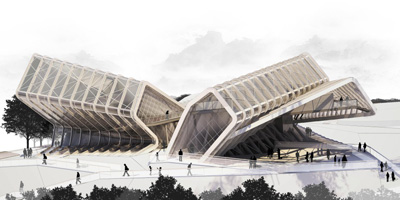 Project: Media Complex
Designed by CAAT Studio Architecture
Project Team: Mahdi Kamboozia, Helena Ghanbari;
Partner architects: Nasim Ghafari, Khatereh Lotfi, Semiramis, Ghorbani, Negar Vahdati, Anahita Tabrizi
Location: Tehran, Iran
CAAT Studio Architecture brings this vast media complex project by delivering a different perception when it comes to design of this type of buildings. For more images and architects description continue after the jump:
About Project:
The Abbas-Abad hill is one of four beautiful hills placed in the Tehran foothills of Albourz mountain. These lands are important for their special location. There, you can access three main area highways which are Hemmat, Modarres, Resalat and also Africa boulevard. Also, a rich green area and surrounding parks have influenced this zone to be known as the lungs of Tehran. The Abo-Atash park is angled in the north-east side of the site. The land dimension is about 32,400 m, and it has north-south steep. Under the existing regulations 10 to 15 % of the land can be structured which is estimated about 4000 m.
The physical program displayed by the client added with our opinions and spatial suggestions leads to forming a new physical program with spaces such as: galleries (temporary and permanent video art), workshops (multimedia workshop, music studio, performance room, media department, photography studio and photo gallery, training workshop) office, restaurant, café, and mechanical room.
Today a media is not able to response to all the people's needs. In marketing, there is more room for those products which includes a variety of media. In other words they inform more in comparison to a single media. Therefore, it happens to create a multimedia. One of its most important features is that although it is generally integrated, it is independent in components (multifunction). This appears as folding a flat strip according to the physical plan and position of different functions in the project's volume. These folds create the surfaces, facades, plans and finally the landscape. Folds are in line with those 4 mentioned main area directions around the project.
Their goal is to show that the human itself, acts as a media in the project. During the day, the presence of humans can make the project alive by moving towards different parts of it such as amphitheatre on the roof and other spaces. Moving starts by getting a code from the entrance gate and getting in, like a data to the system and this would let the people use the facilities and visit all parts containing the restaurant, galleries and studios. Finally, this process would end by giving back the code and exiting the complex and we can see its reflection at night. During the night, the building acts as a reaction to the day's happenings by projecting images of peoples' activities in the day through advertisements and important events like concerts and news, on all of its 4 surfaces which can be seen from those 4 main axes of the surrounding area.
Source ArchDaily. *