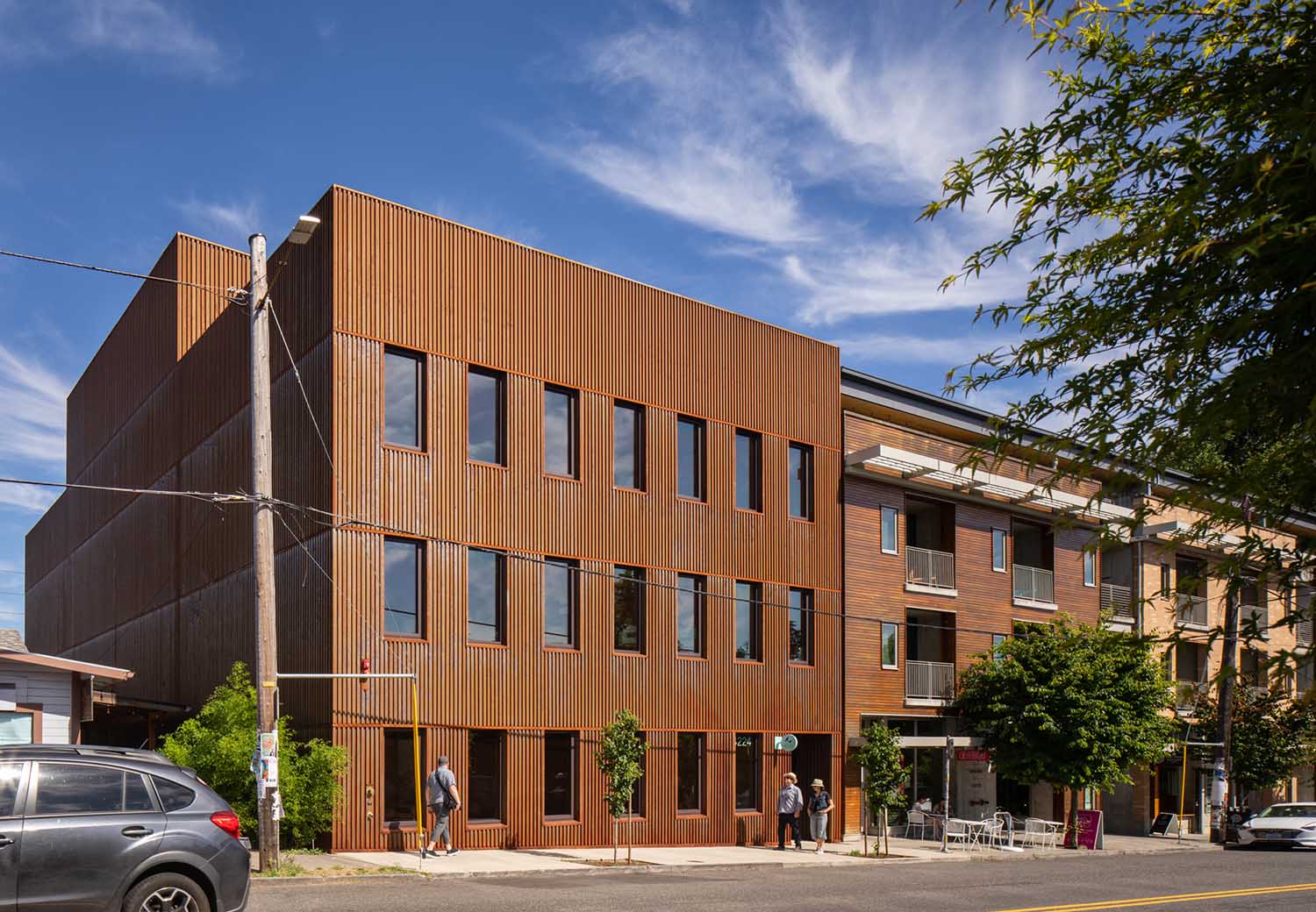 The Mississippi Workshop, crafted by Waechter Architecture, is the culmination of a decade-long process of meticulous planning, modeling, and exploration. The structure was envisioned as a platform for testing sustainable building systems and "all-wood" construction technologies, while also serving as a space for innovative discussions.
Situated in the bustling Mississippi Avenue neighborhood of Portland, the 9,550-square-foot structure stands out as a prime example of eco-friendly and considerate infill development. The Workshop embodies a contemporary take on the traditional industrial loft style, providing a harmonious blend of personality, adaptability, and enduring design.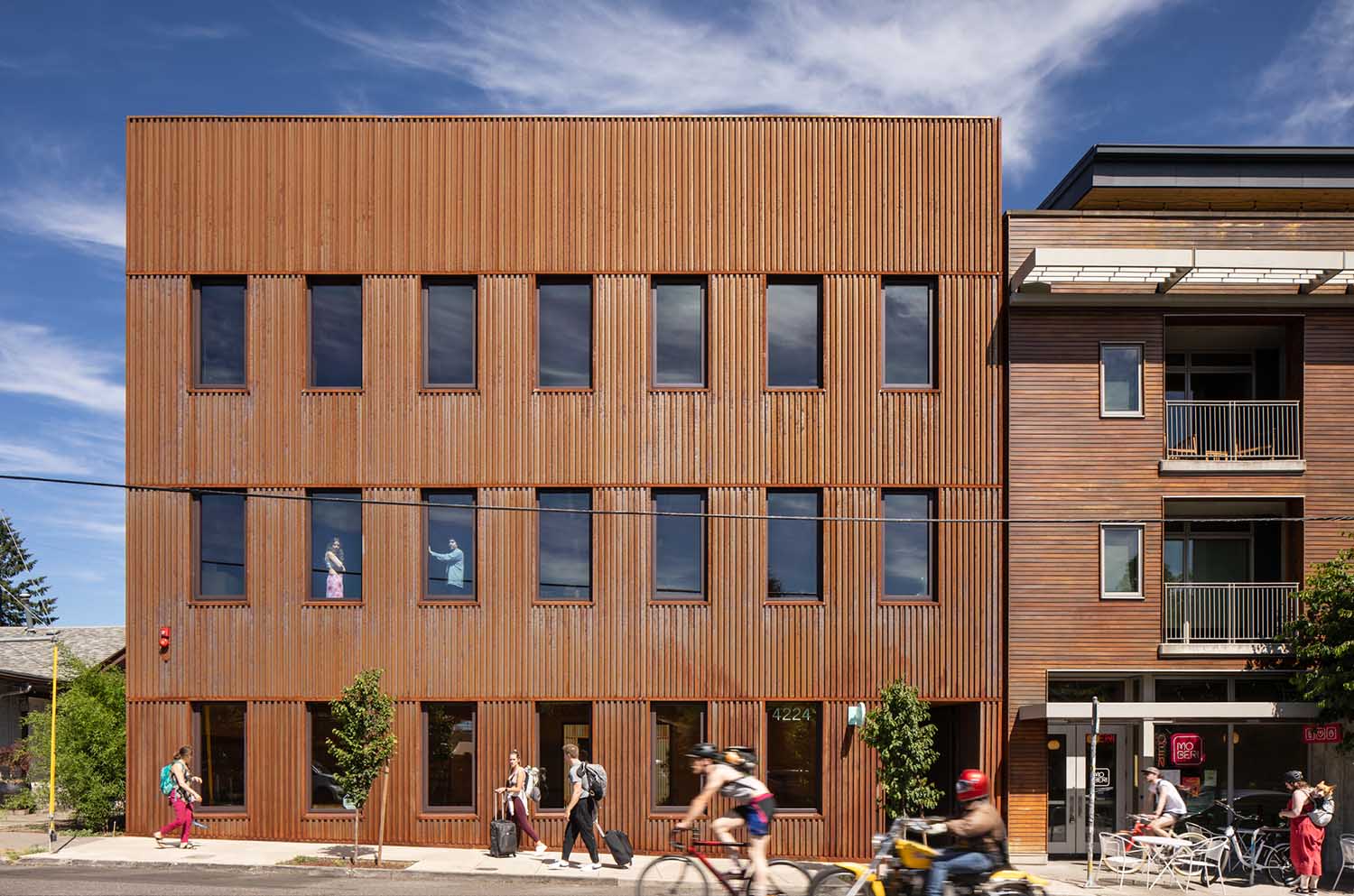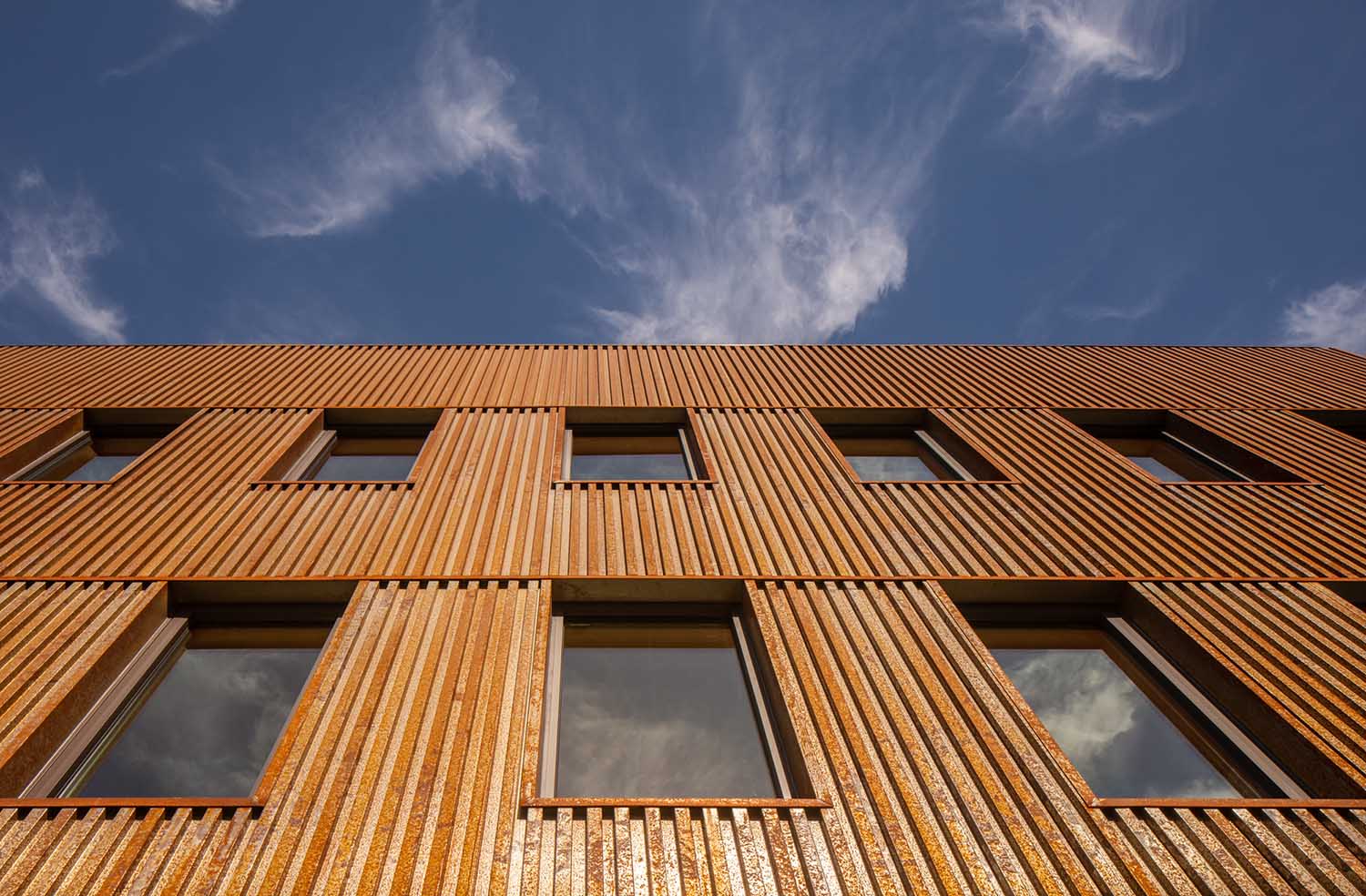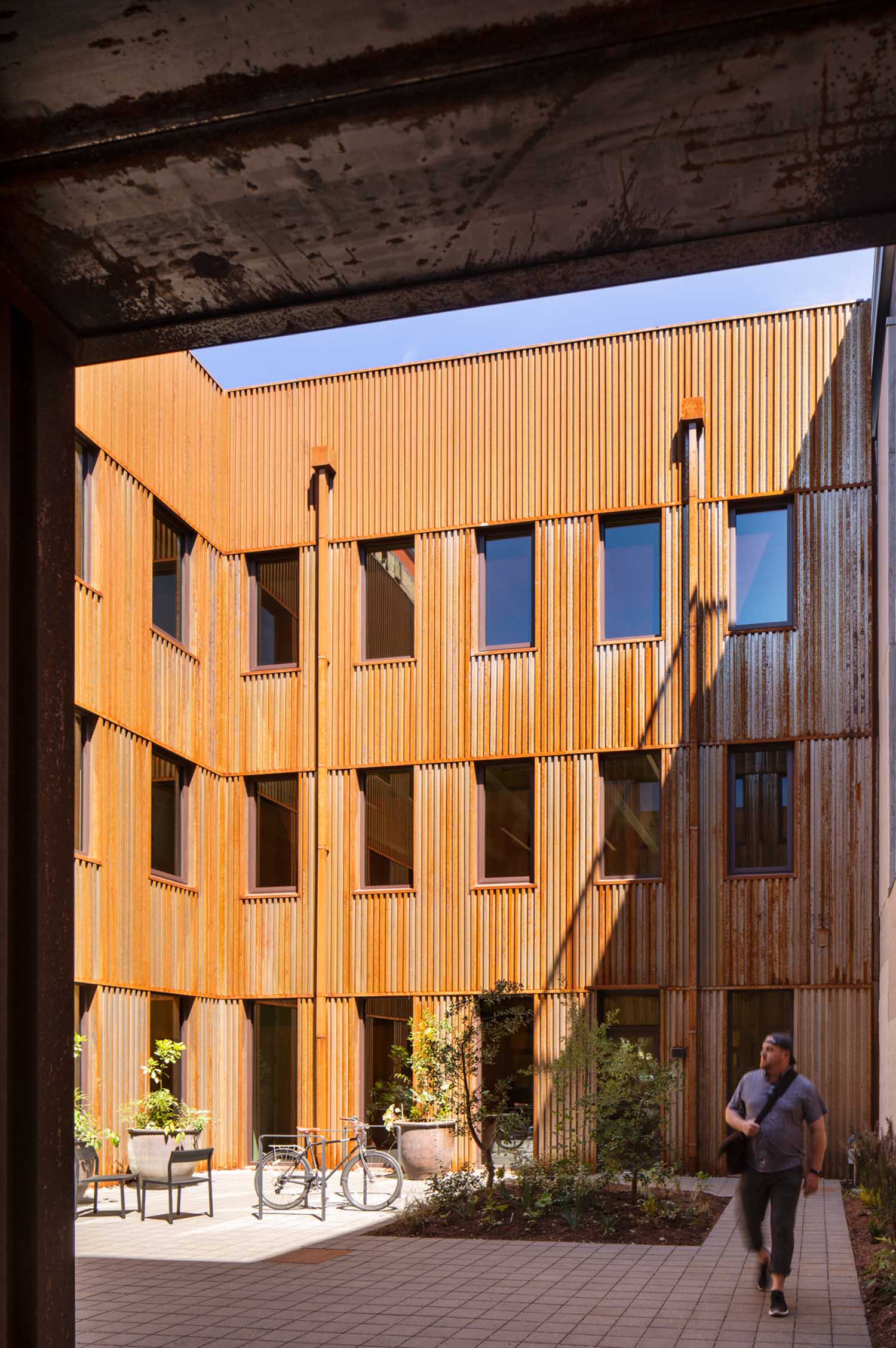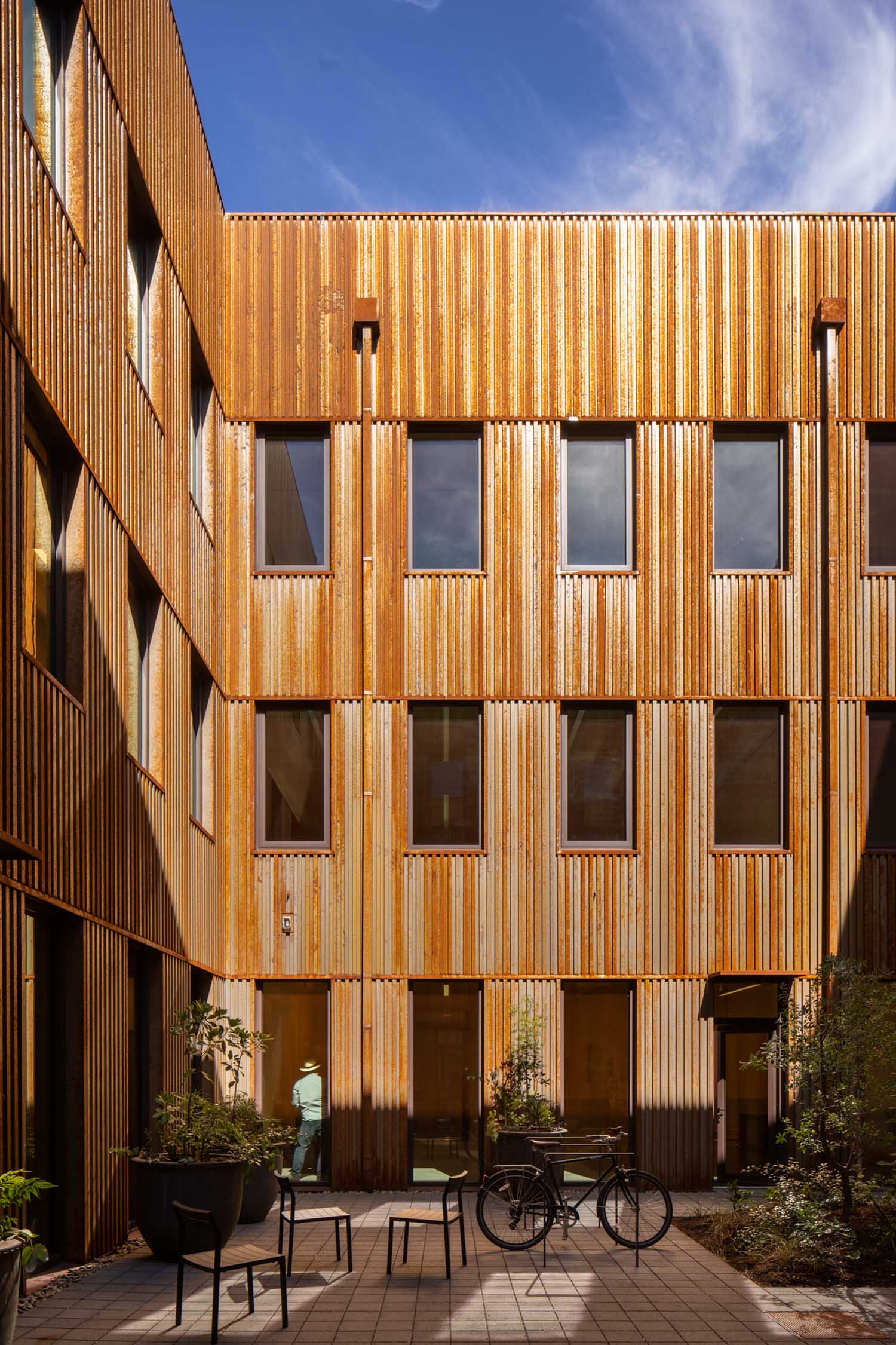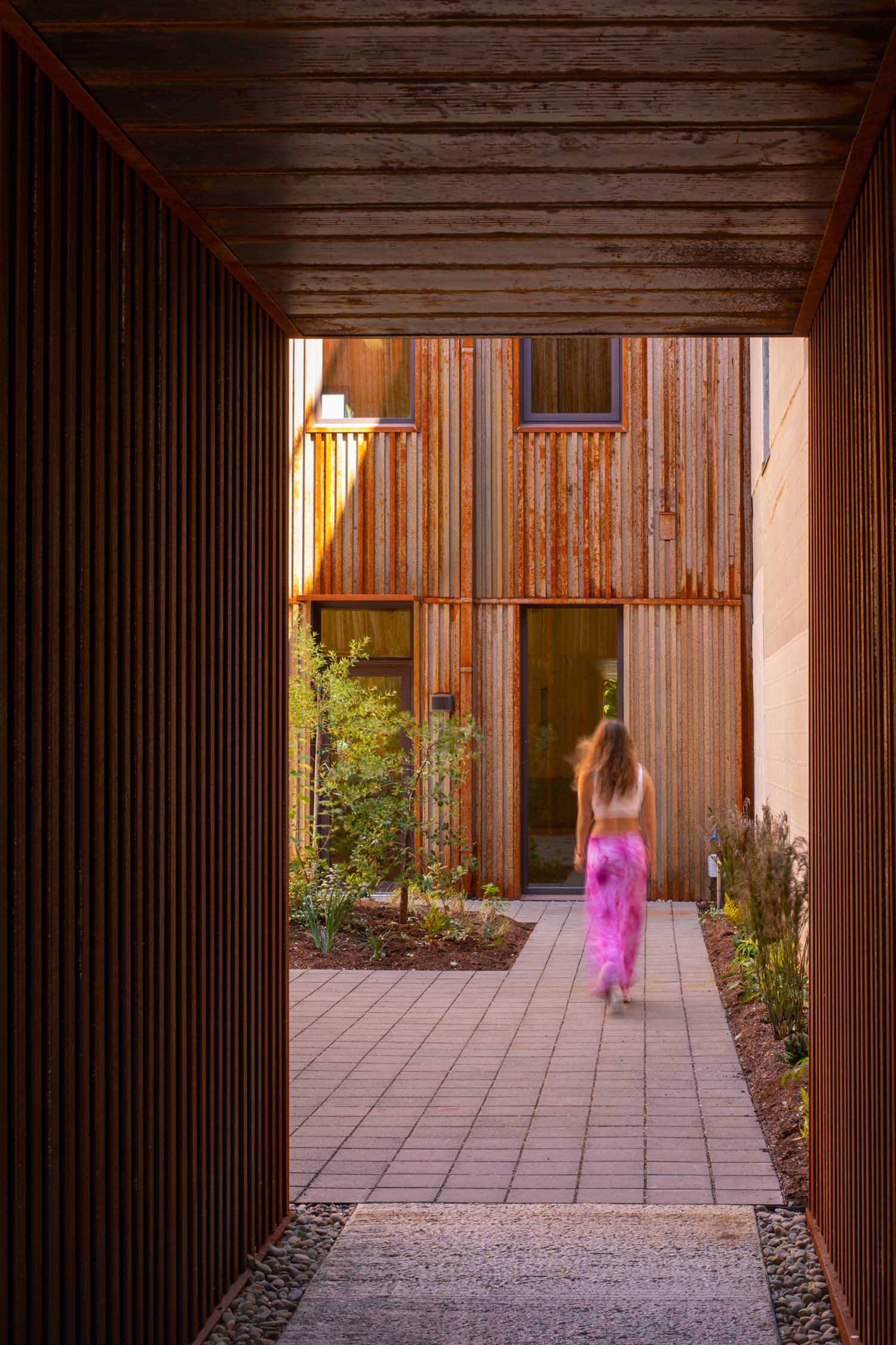 The Mississippi project in Oregon is a noteworthy commercial development that has implemented mass timber construction for all of its building components. The building's exterior is clad in a weathering steel 'rain jacket' and features radiant concrete flooring. Inside, the structural components and surfaces are left exposed, showcasing the natural beauty of the wood without the need for additional finishes or fireproofing. The approach employed here achieves a sense of simplicity and unity that is not typically found in projects utilizing hybrid cross-laminated timber or traditional framing techniques. The resulting spaces exhibit a unique combination of warmth and resilience.
Furthermore, Waechter Architecture has been granted a Wood Innovations Program subsidy from the USDA and US Forest Service to analyze the edifice's functionality and to determine the feasibility of implementing its pioneering methodology in other commercial, institutional, and residential contexts.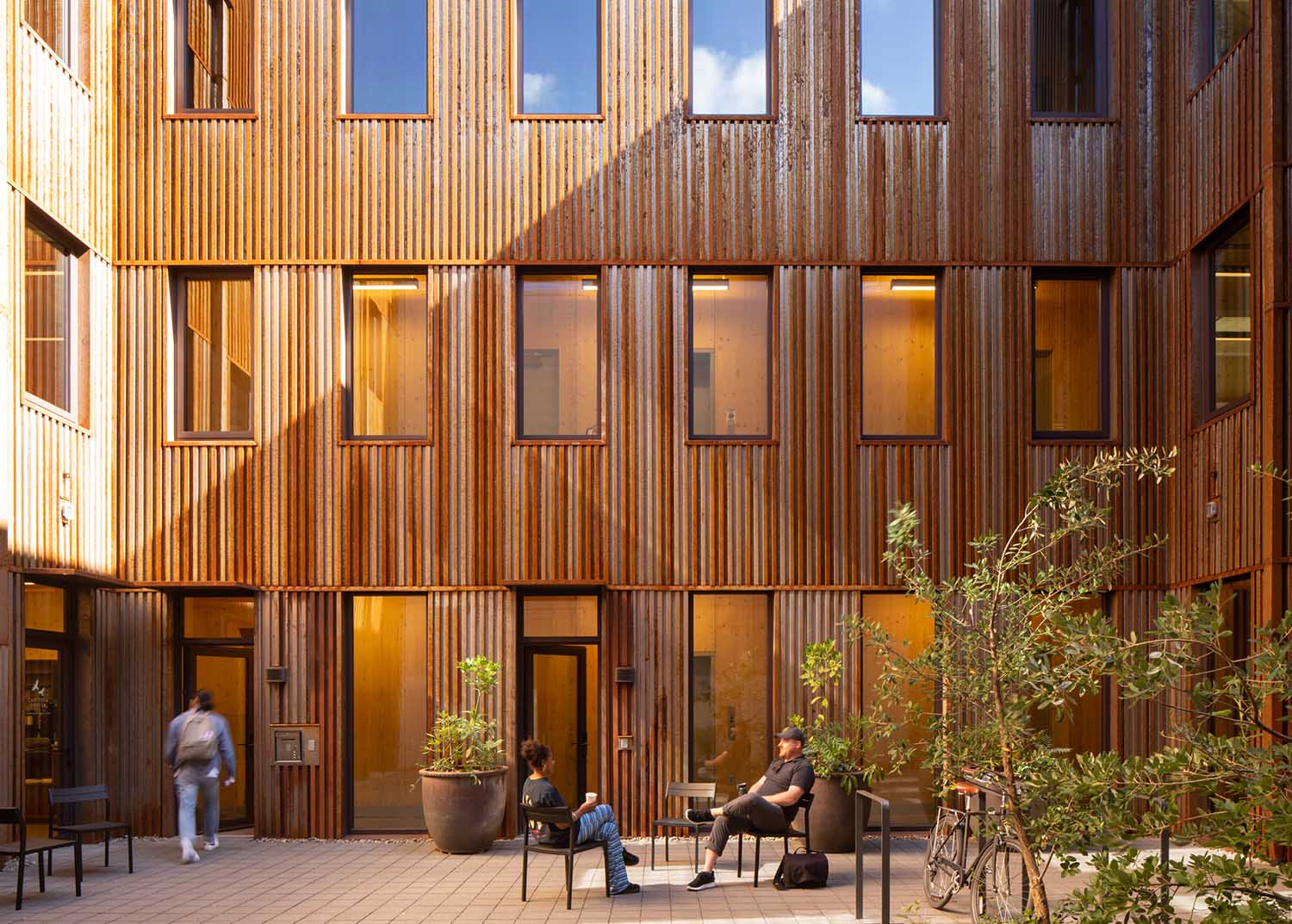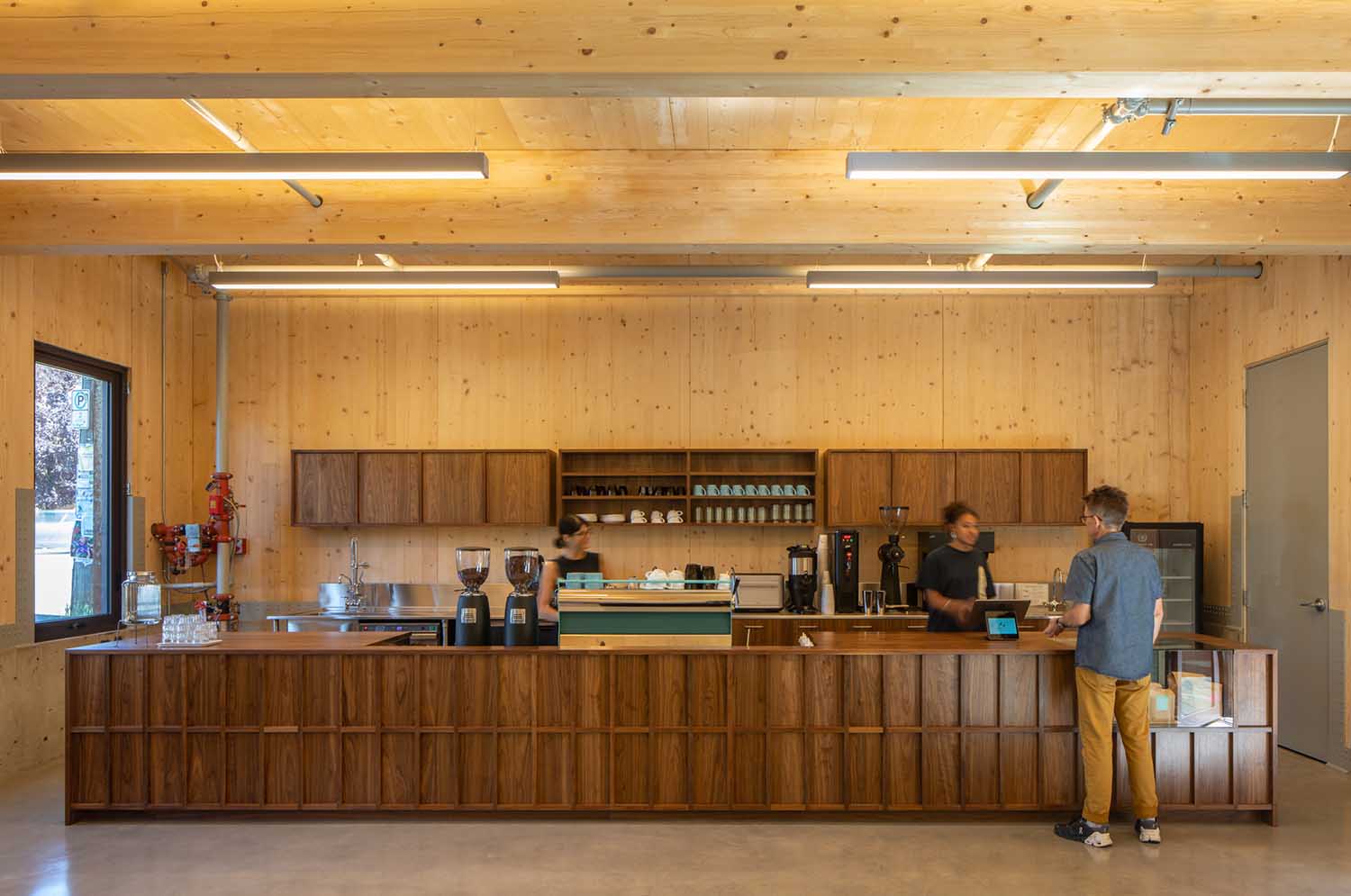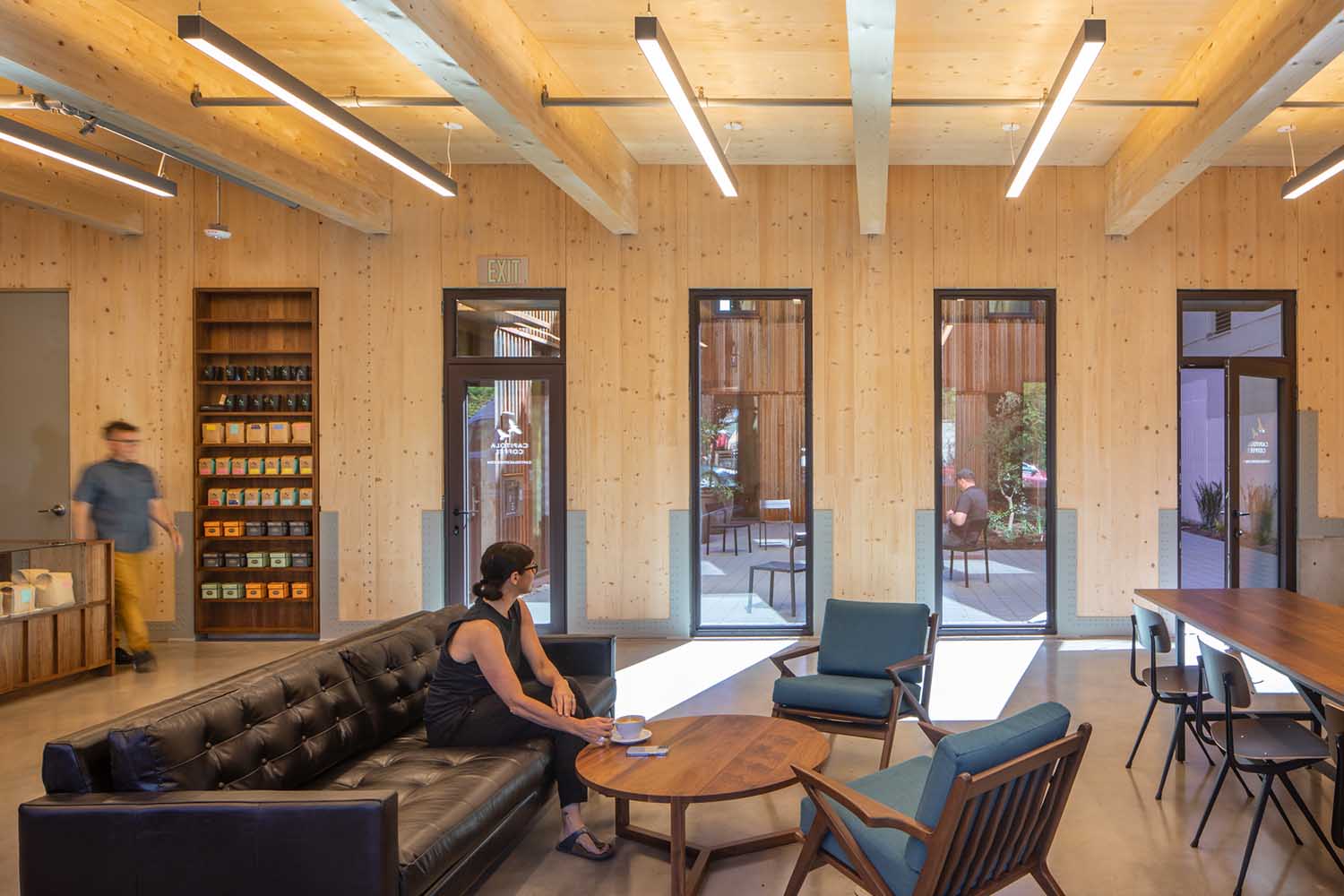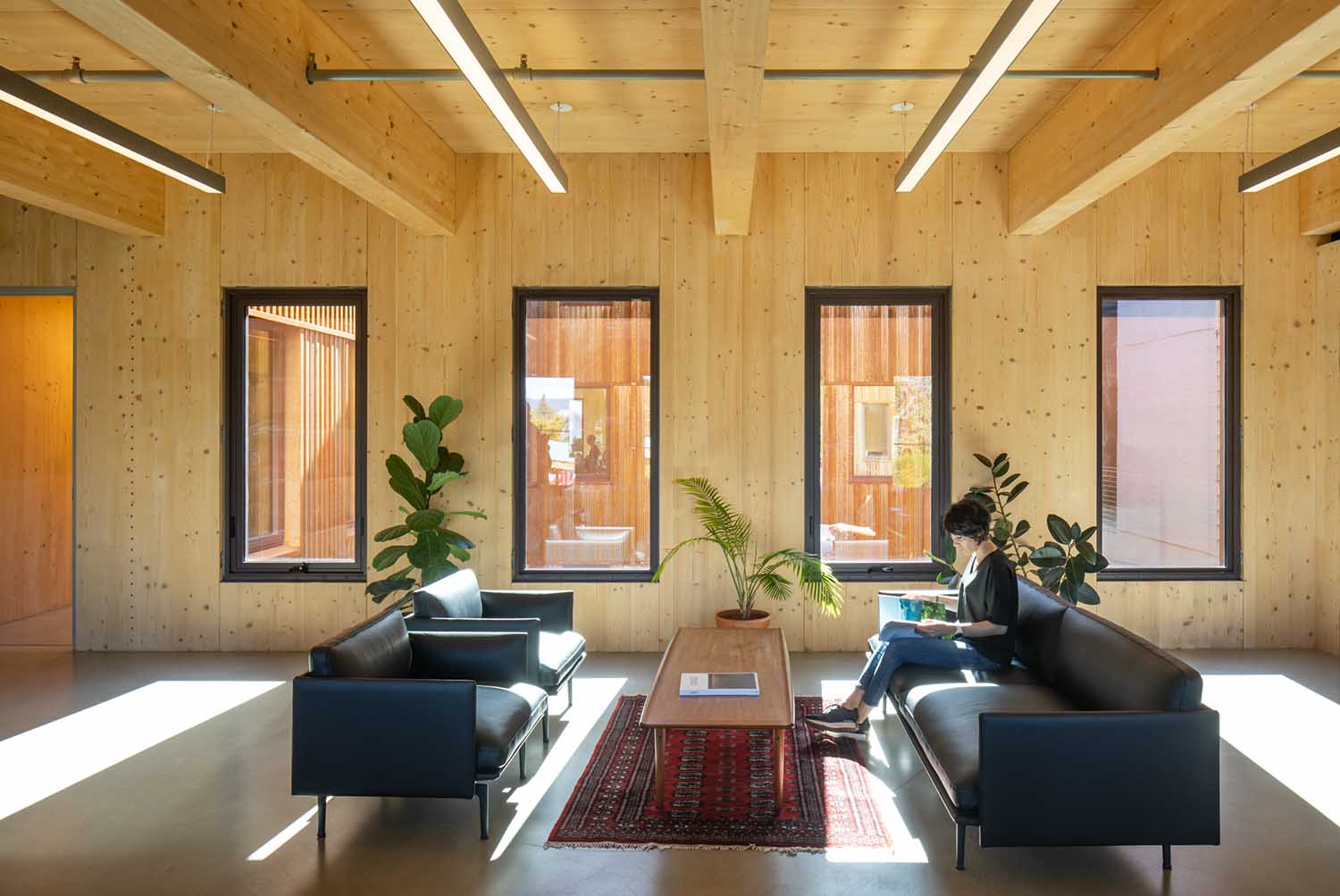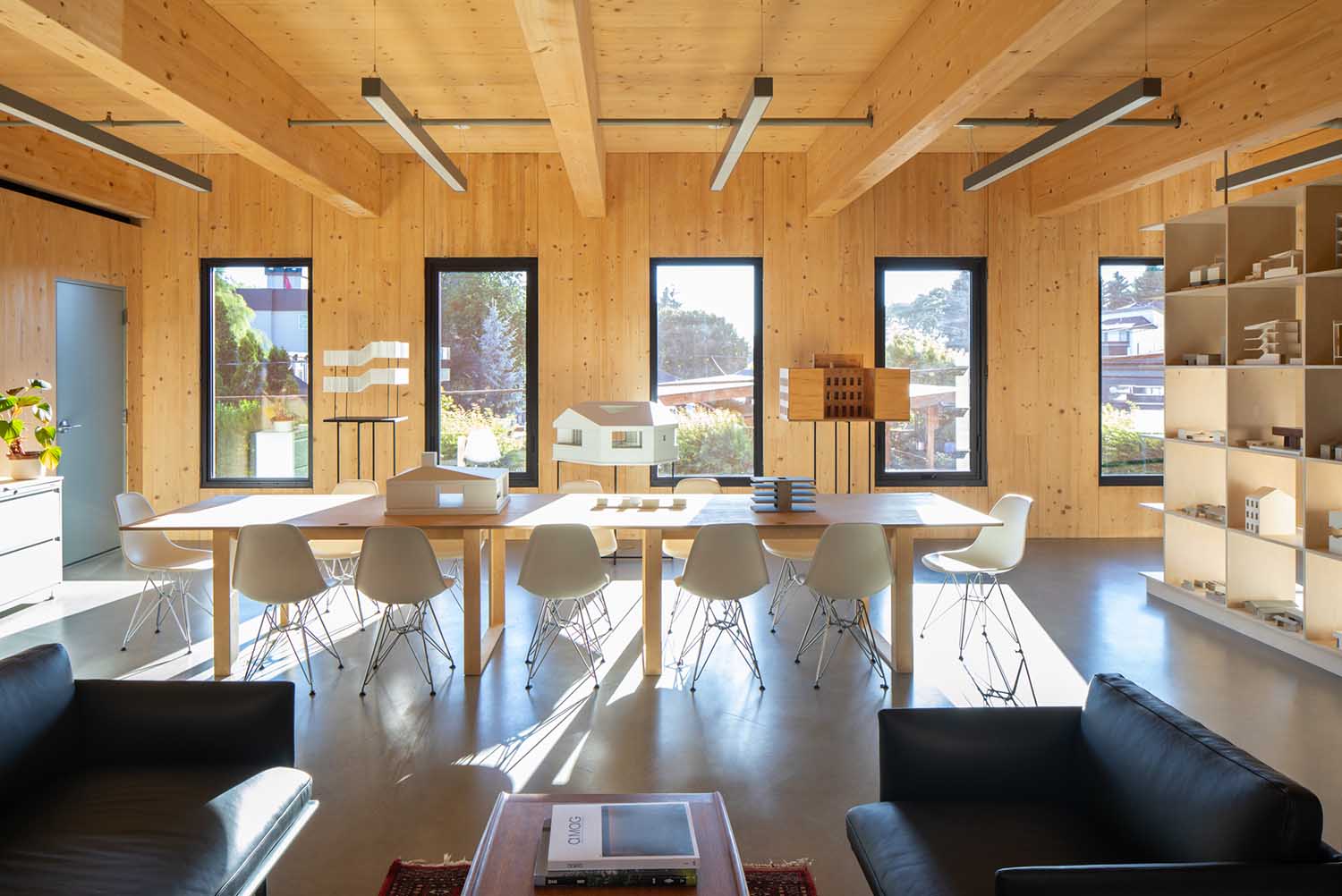 The spatial arrangement of Mississippi is designed to establish discrete areas for various programs and amenities. The structure features a symmetrical arrangement of six uniform rooms, arranged in three levels on either side of a central courtyard and service core. The clear span volumes are designed to function as independent units or as a cohesive ensemble, with plumbing rough-ins, outlets, and anchor points to support various configurations. Each unit is equipped as a "plug and play" space, allowing for easy installation and operation.
The structure currently serves a diverse range of functions. The ground level of the building features a street-facing cafe, Capitola Coffee, which serves as a communal amenity for both the building's occupants and the surrounding community. The space features a maker area, bicycle parking, and service zone that overlooks the alley. These amenities are designed to facilitate a range of workshops and foster various forms of creative production. The second floor of Waechter's building is currently designated as studio and meeting spaces, while the third floor houses a single three-bedroom residence.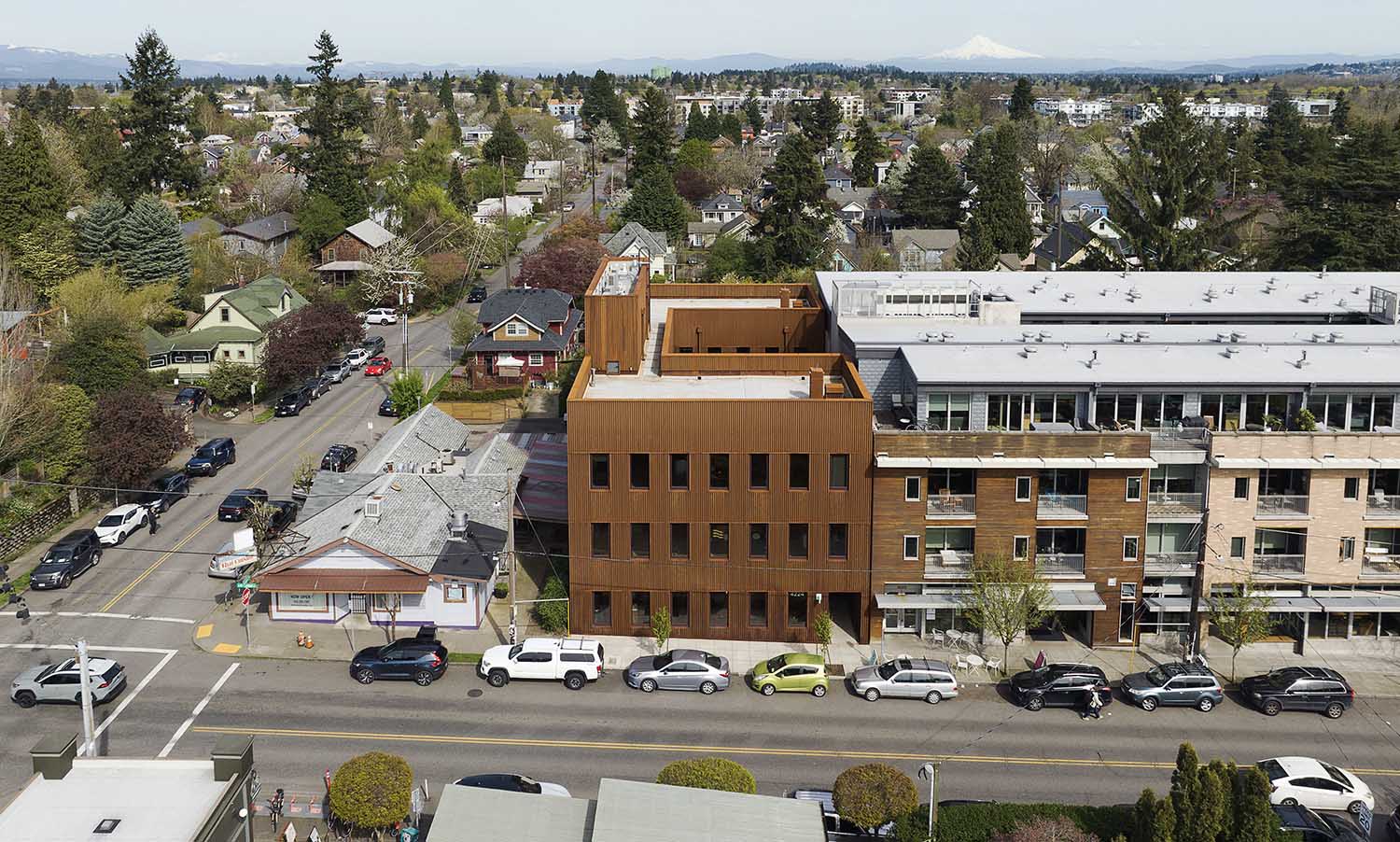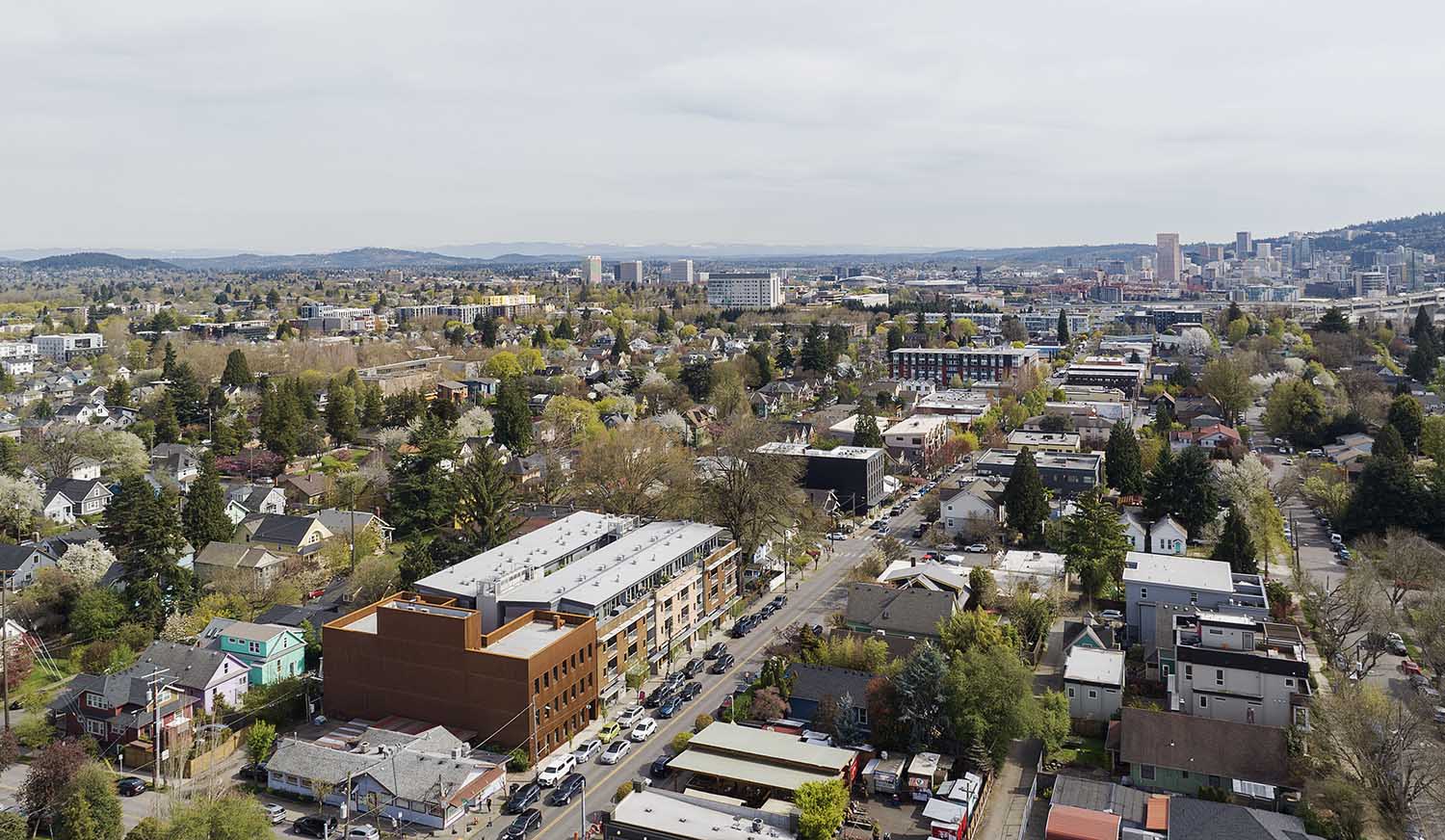 Mississippi boasts a commercial structure with a civic core. The open-air courtyard serves as a versatile space for both relaxation and community engagement. It functions as a "pocket park" that offers a respite from the bustling street, while also providing a platform for a variety of events, installations, and performances.
The building's design reflects a commitment to resilience and longevity, evident in its well-organized layout and use of sustainable, high-performance materials and systems. The project's objective was to design a building with a distinct identity, elegance, and longevity while also being replicable and adaptable for future use.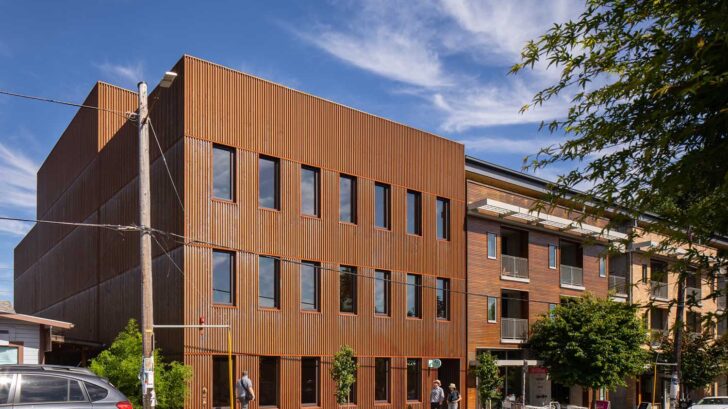 Project information
Waechter Architecture team
Ben Waechter, Principal Architect
Alexis Coir, Project Manager
Giovanni Sidari, Project Architect
Duncan Scovil, Designer
Project team
Architecture, Interiors, Construction Manager: Waechter Architecture
Mass Timber Fabrication: KLH Massivholz (USA / Austria)
Mass Timber Installation: Mustang Ridge
Civil and Structural Engineer: KPFF
Mechanical/Electrical/Plumbing Engineer: PAE
Code / Fire Protection: Code Unlimited
Construction Management: Owen Gabbert LLC, Cutwater Design & Build Solutions
Landscaping: Cistus Nursery
Client/Operator: 4224 N Mississippi LLC
Photography
Lara Swimmer (building)
Jeremy Bittermann (aerials)
Find more projects by Waechter Architecture: waechterarchitecture.com