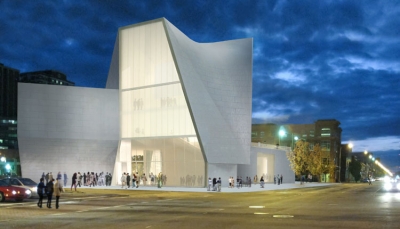 Project: Institute for Contemporary Art
Designed by Steven Holl Architects
Design Architect: Steven Holl, Chris McVoy
Project Architect: Dimitra Tsachrelia
Priject Team: Garrick Ambrose, Scott Fredricks, Gary He, Christina Yessios
Building Area: 32 315 sf
Location: Richmond, Virginia, USA
Website: www.stevenholl.com
Institute for Contemporary Art project designed by the world-renowned Steven Holl Architects for a location in Richmond, the building is set to link the University with the surrounding community.
From the Architects:
Sited at the edge of the Virginia Commonwealth University campus in Richmond, Virginia, the new Institute for Contemporary Art will link the University with the surrounding community. On the busiest intersection of Richmond at Broad and Belvidere Streets, the building will form a gateway to the University with an inviting sense of openness.

The main entrance is formed by an intersection of the performance space and forum, adding a "Z" component to the "X-Y" movement of the intersection. The torsion of these intersecting bodies is joined by a "plane of the present" to the galleries in "forking time."

The idea of "forking time" suggests that in the world of contemporary art there are many parallel times. The notion of one ongoing time and its "grand narrative" of history is questioned. The new Institute for Contemporary Art is organized in four galleries, each with a different character.

With its inviting double-fronted forum opening to a serene sculpture garden, the 38,000 sq ft building will provide spatial energy for the most important cutting-edge contemporary art exhibits. Propelled by VCU's top-ranked School of the Arts, the ICA's architecture is an instrument for exhibitions, film screenings, public lectures, performances, symposia, and community events, engaging the University, the city, and beyond.