Project: National Music Centre of Canada
Designed by Allied Works Architecture
Location: Calgary, Canada
Website: www.alliedworks.com
Recently revealed winning design proposal by Allied Works Architecture for the National Music Centre of Canada project set to rise in Calgary, planned completion date comes in the year 2014.
For more images and architects description continue after the jump: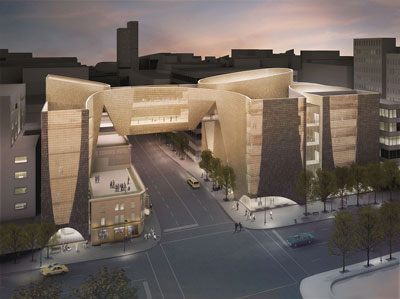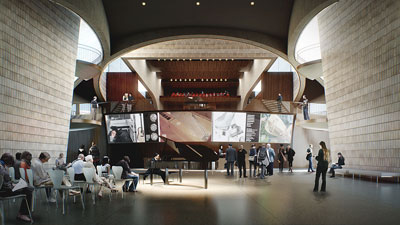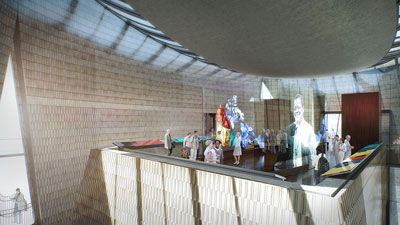 Two years after holding an international architectural competition that saw world renowned designers face off in a public presentation, the National Music Centre revealed competition-winner Allied Works Architecture's extraordinary final design.
"We have worked tirelessly over the last two years to create a space unlike any other in the world," says NMC President and CEO Andrew Mosker. "We're ecstatic with the results and with the experience we had working with Allied Works, GEC and the rest of the team. We truly believe this building will join the ranks of iconic architecture in Canada."
The National Music Centre's design pays homage to the western Canadian landscape with a series of "resonant vessels" informed by the crags and canyons of the Rocky Mountains, the hoodoos of southern Alberta and the vast openness of the prairies creating spaces that will resonate with the sounds of NMC's dynamic program offering.
Built around the historical (and condemned) King Edward Hotel, many have speculated on how the design would treat this piece of Calgary's musical history that closed in 2004 after serving as a hotbed of blues music in Canada for decades. "It was important to us to respect the King Eddy," says architect Brad Cloepfil. "While reclamation and restoration is certainly necessary, we didn't want to scrub it too clean. We don't want to scare the ghosts away."
One of the more unique features of the building is a two-story bridge that spans 4th Street SE. The span not only creates interesting event and performance spaces for NMC, but also serves as a very strong, visual gateway into a revitalized East Village.
"We worked closely with the Calgary Municipal Land Corporation to ensure our design meshed with the overall vision for East Village," says Mosker. "We've created a strong visual anchor in addition to a vibrant, street-level atmosphere that speaks to the work, play live philosophy the CMLC is striving for."
Projected to open in 2014, the 135,000-sq.-ft. National Music Centre will give Canadians a place that amplifies the love, the sharing and the understanding of music through collections, programs and collaborations across the country.
"The completion of the design marks an important milestone in the creation of the National Music Centre," says Mosker. "Combined with funding commitments from three levels of government, partnerships with the Canadian Academy of Recording Arts and Sciences and the Canadian Country Music Association and an aggressive fundraising campaign, the project has a great deal of momentum here in Calgary and across Canada. We're very excited."