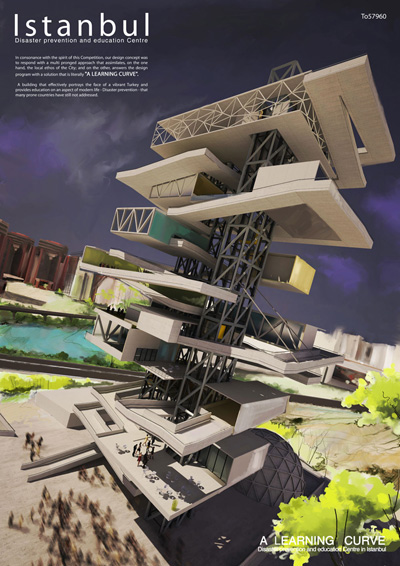 Project: Disaster prevention and education Centre
Designed by Triple O Studio
Team members: Arshad Syed, Anupriya Subbian, Nithesh Khatod, Rajan Gero, Sriram Adithya, Tahaer Zoyab, Vamsi Kirshna
Client: ThyssenKrupp Elevator
Location: Istanbul, Turkey
Website: www.tripleostudio.com
Triple O Studio share with us their project for Disaster prevention and education Centre in Turkey, going with the theme of the competition they describe their design as a learning curve. Find out more about it after the jump: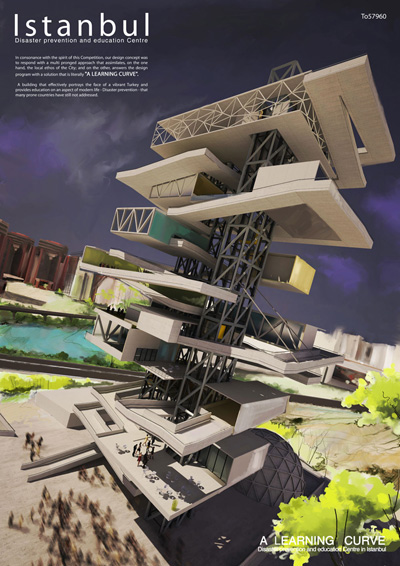 From the Architects:
The Concept. In consonance with the spirit of this Competition, our design concept was to respond with a multi pronged approach that assimilates, on the one hand, the local ethos of the City; and on the other, answers the design program with a solution that is literally "A Learning Curve".
– A building that effectively portrays the face of a vibrant Turkey and provides education on an aspect of modern life – Disaster prevention – that many prone countries have still not addressed.
The Building.
The design theme – Disaster – is broken into three distinct phases:Before, During and After: The goal is to design an experiential space that educates people through each of these stages of any disaster.
All natural disasters – whether Geological, hydrological or meterological – having their own peculiar characteristics, are treated as individual, disconnected sections but with carefully articulated flows into each zone.
The design should serve as an informative / educative journey culminating in an expansive heavenly experience at the end.
These three opening parameters established a design structure that required
An easily negotiable upward linear movement;
Independent, self contained but disconnected modules for each type of disaster; and
Grand panoramic views along the journey with a fitting climax at the end.
The structure was, in part, inspired by the soaring minarets of the City and is deliberately raised into the sky to create an ethereal experience.
The Site. The site faces the back of several prominent buildings and is visually disconnected from the surroundings. To overcome this well articulated access zones are required, some of which have already been proposed in the current Master Plan.
To make its presence felt as a landmark in the region, our building needs to stand tall and unencumbered. By locating it at the opposite end of the site from the proposed Mosque complex, we create not only a large public plaza between the two iconic structures but also ensure that they do not compete with each other for visual attention.
For the rest, the building design speaks for itself.