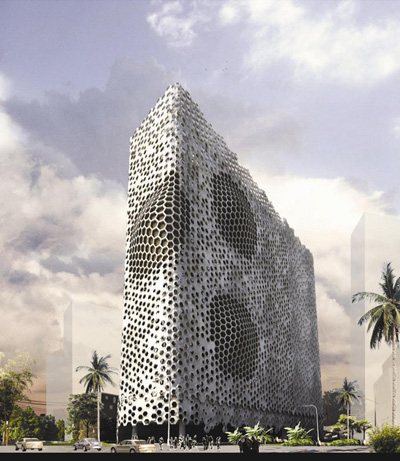 Project: Mumbai School
Designed by Sanjay Puri Architects
Storey: 7 – 15
Location: Mumbai, India
Website: www.sanjaypuriarchitects.com
When it comes to architecture in India creating a facade able to reduce hit-gain is of utmost importance, Sanjay Puri Architects managed to do so but at the same time they designed an inviting and functioning facade for their Mumbai School project.
From the Architecture:
The modules on the façade have small openings on the southern side to reduce heat gain into the building while providing cross ventilation since the sun during most of the year is on the southern side in this location while southwest breeze blows throughout the year. Towards the northern side, with indirect sunlight, the hexagons are like truncated pipes moving in and out and creating additional usable spaces for sitting, playing or reading as extensions to the open spaces on each floor.
Due to several design constrains, the project had to use up the entire available height of 45 m, leaving only marginal open spaces on all sides. Lack of free ground level space influenced the programmatic distribution; the school is planned with a sheltered open space below the footprint of the building, a large auditorium space in the basement and sporting facilities planned in the topmost level and the terrace. At each floor, classrooms occupy the periphery with a central circulation spine that is punctuated connecting a few levels vertically while opening out on the northern side.
The modular façade design transforms the school in a self-contained environment, sheltered from the densely populated neighborhood.
Source Evolo. *