Project: European Spallation Source (ESS)
Designed by MANDAWORKS
Project Team: Martin Arfalk, Nicholas Bigelow, Gregorio Cherici, Ivana Součková
Collaborators: Benthem Crouwel Architects, West8, Arup
Size: 75ha
Location: Lund, Sweden
Website: www.mandaworks.com
Another proposal from the international competition for European Spallation Source (ESS) in Lund, Sweden, and this one is realized by MANDAWORKS practice. Find more info about the project after the break: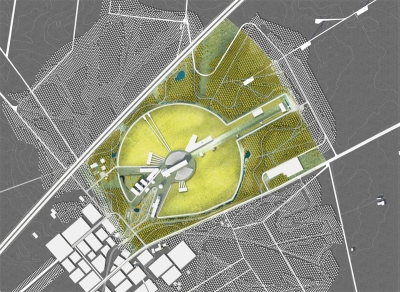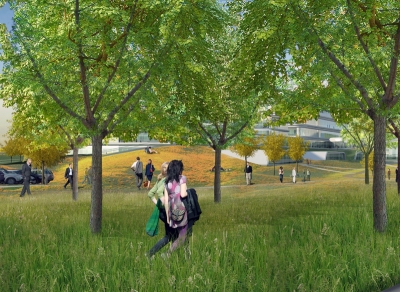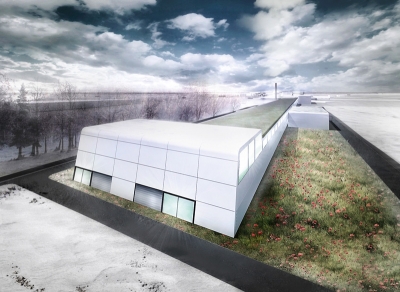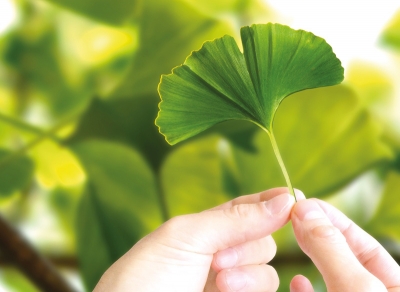 From the Architects:
The Golden Forest

As spring arrives in Lund, the ESS campus landscape awakens. The fan-shaped leaves of the Spallation Ginkgo remind arriving researchers of the resilience of biological life. Known as the oldest living tree, the ginkgo leaf's fossil record dates back 270 million years with species found throughout the world. Having weathered the ice age and survived the nuclear bombings of Hiroshima, the Ginkgo's record of resilience has made its radiating leaf a powerful symbol of love, peace and longevity. As it turns towards fall, the symbolism of the Ginkgo's leaf shines as its golden color brings a powerful identity.

It is in this golden state were the spallation forest emerges to present a new gem to Skåne's landscape. With guests coming from around the world, the golden forest encapsulates the impressive scale of the accelerator and helps to present layered views to the thousands of travelers passing the facility on the E22. Through the expression of the natural ginkgo, the individualism and the quirkiness of nature is presented as a collective image for all visitor's to experience through the meandering recreational paths. With sounds of song birds, wetland environments and filtered forest light, the golden forest is a place where everyone can enjoy the energy of innovation and immerse themselves in the facilities stunning environment.

As one emerges from the golden forest, the entrance Garden connects ESS to the world. Connecting Lund Science Village to the heart of the campus, the garden is defined by the Spallation Ginkgo's evocative branching pattern. Inspired by the neutron guides diverging layout, the 'Spallation Ginkgo' combines traditional horticultural methods with the facilities hi-tech inner workings to bond together the human search for innovation with our tradition of interacting with nature. It is in this search between innovation and the natural world that the golden spallation landscape brings new textures, powerful colors, and evocative forms to Skåne's landscape to show ESS's dual commitment to innovative technology and environmental sensitivity and make it a place to remember.