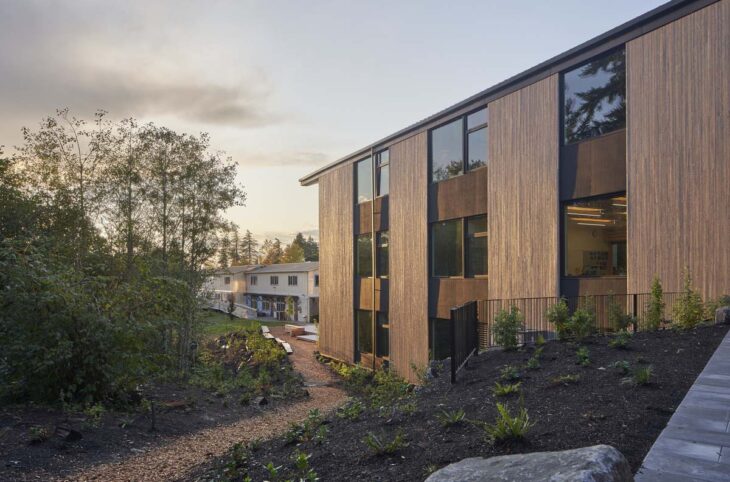 Hacker Architects has recently completed works on its latest project, the French American International School's Gilkey International Middle School. Located in Portland, Oregon, the L-shaped building hugs the wooded campus edge, evoking the idea of a 'nurse log,' a fallen tree limb full of nooks inhabited by different critters. The 26,500-square-foot building placement on the site takes advantage of both the natural beauty and the educational opportunities offered by the forested campus. Classroom wings are joined by a social hub where students can gather for lunch or special events. The project improves connectivity among the whole campus with the creation of a pedestrian street, amphitheater, outdoor dining facilities, and a new trailhead deck leading to forested trails. Additionally, the project is compliant with AIA 2030 guidelines and the Energy Trust of Oregon's Path to Net Zero program.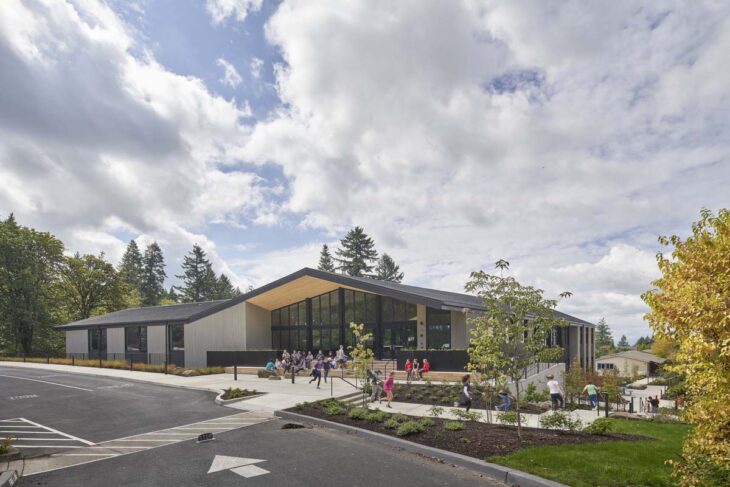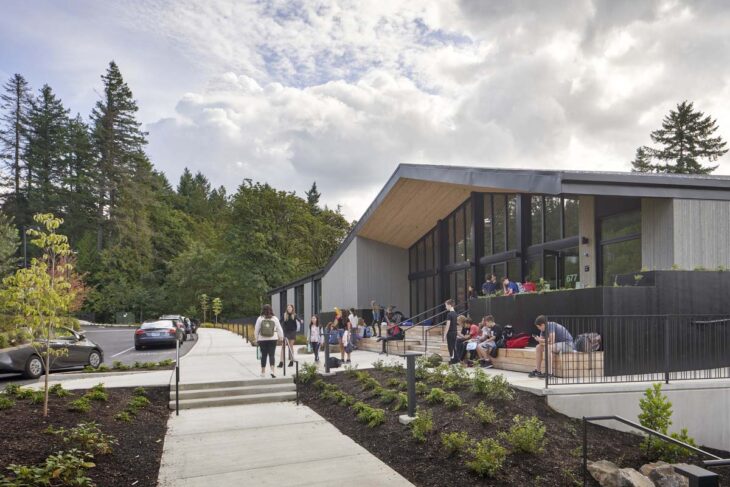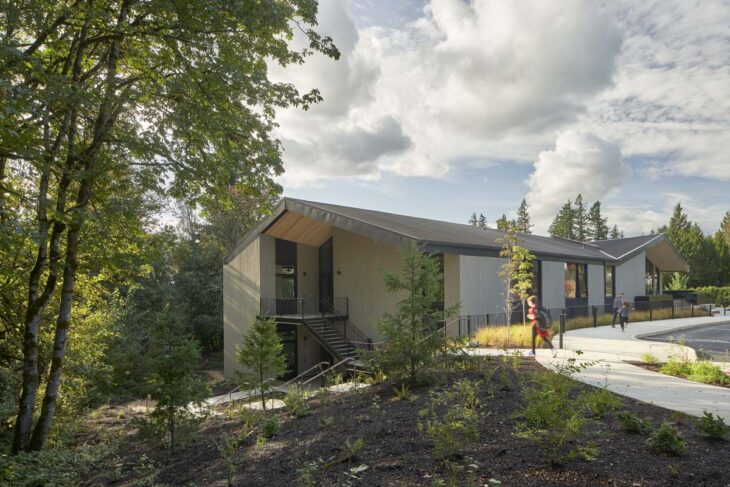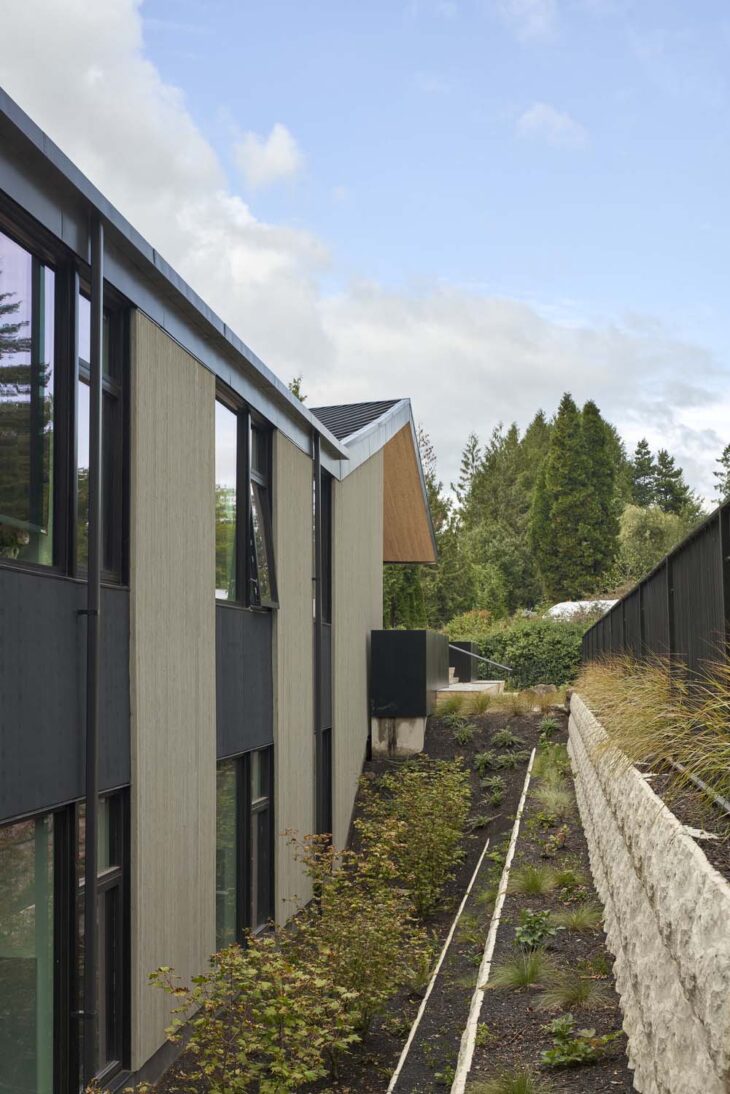 The design was inspired by the nurse logs that were found below the site, whose decomposing mass served as a nutritive substrate for a variety of natural forest saplings. This abundance gave rise to Hacker's idea for the 26,500 square foot project: to build a habitat for middle school students that would nourish their hearts, brains, and bodies, to collaborate with their teachers, and to challenge them to develop their own inspiration and independence.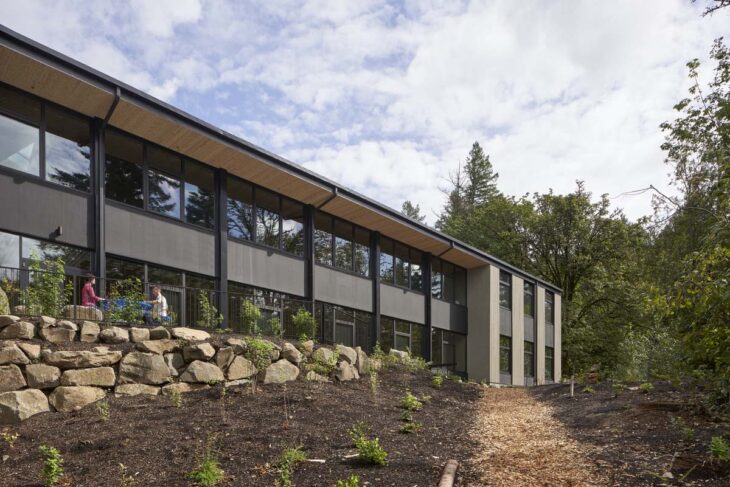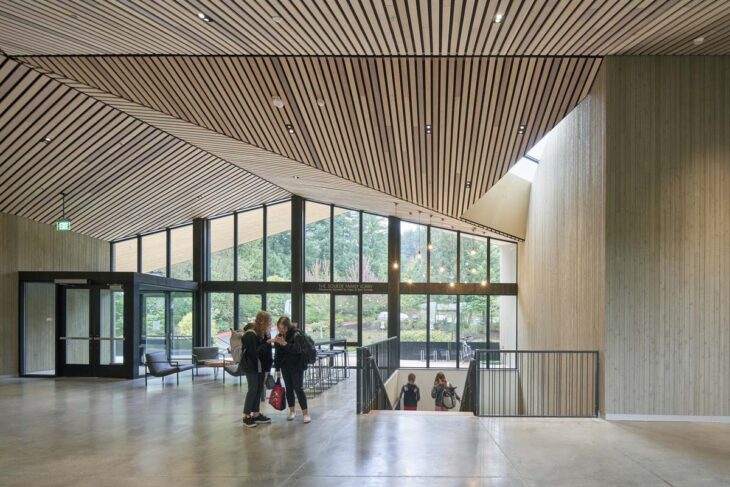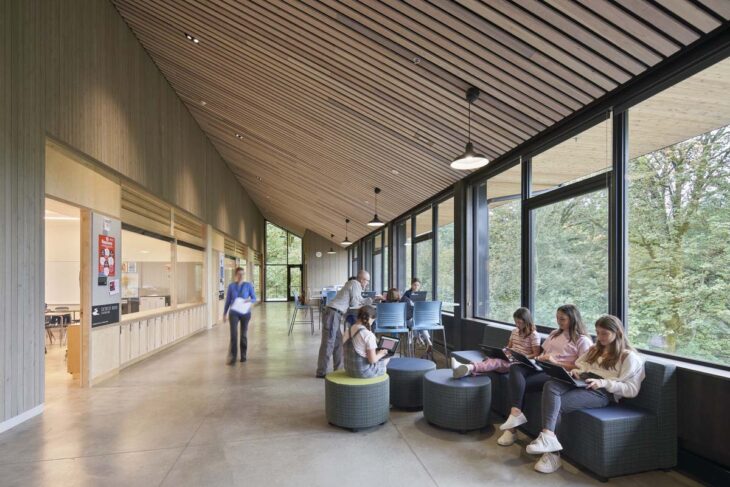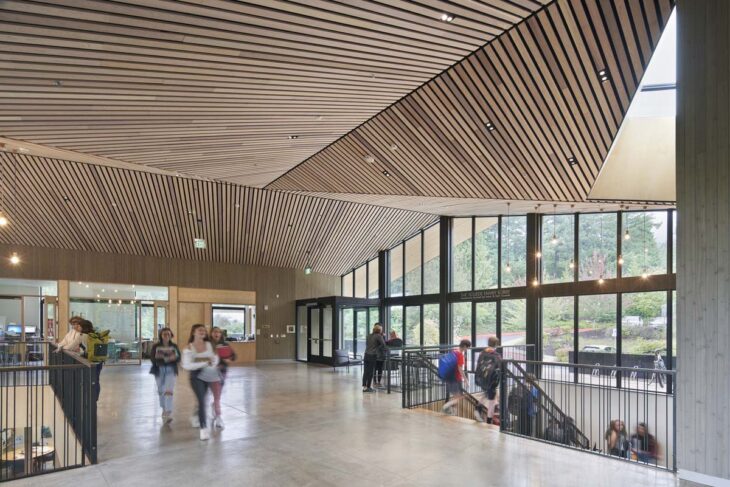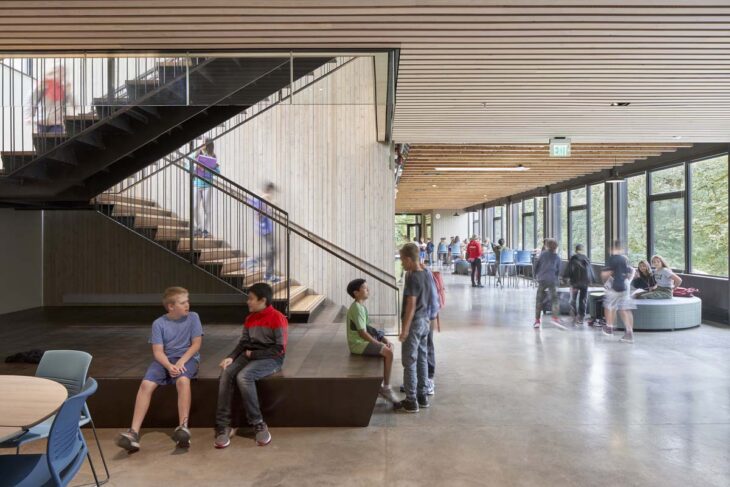 These program spaces—14 classrooms, 5 teacher pods, and administrative offices—are grouped together to create "cabins in the woods," another architectural idea motivated by the forest surroundings. Each cabin's four walls, whether interior or external, are made of wood, allowing the forest to permeate the structure and obfuscate the distinction between inside and out. The arrangement of these cottages forms a boomerang that follows the contour of the area before coming together beneath a roof whose sculptural form frames the view of the forest beyond. Large moveable windows that visually and acoustically connect occupants to the sylvan habitat along the forest wing and to the social activity along the campus wing define the area between the cabins.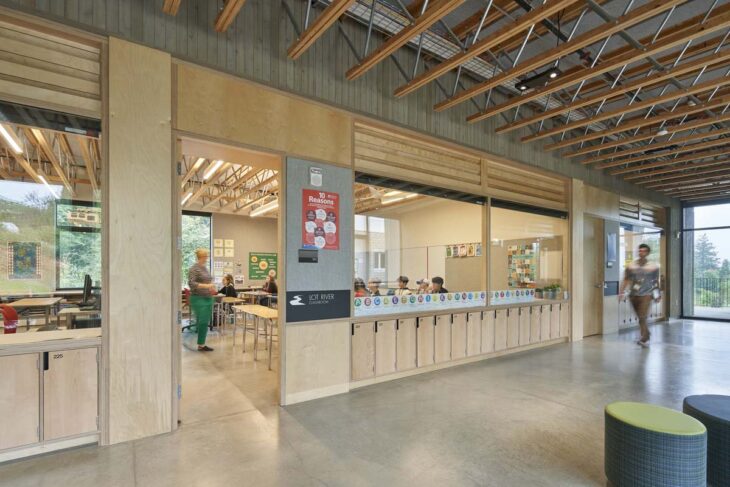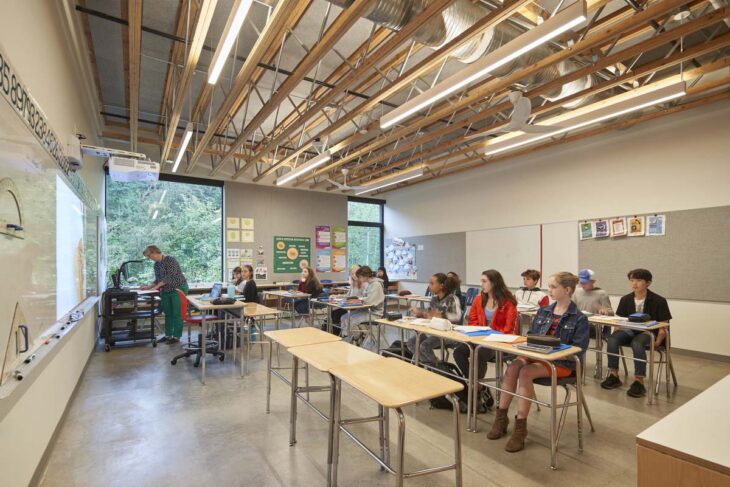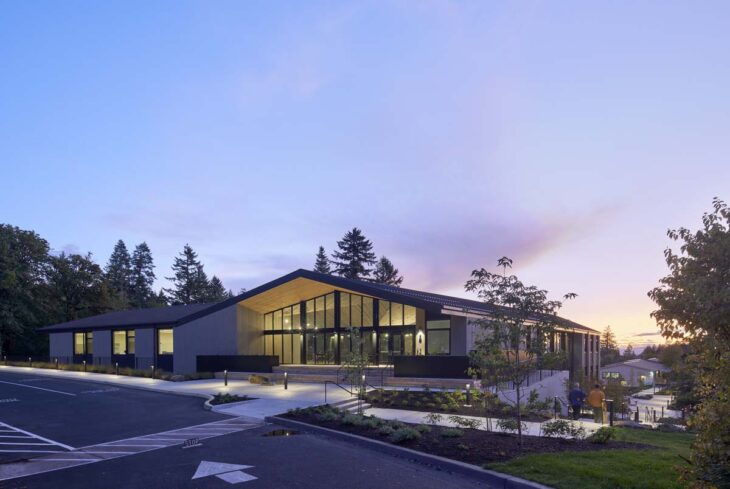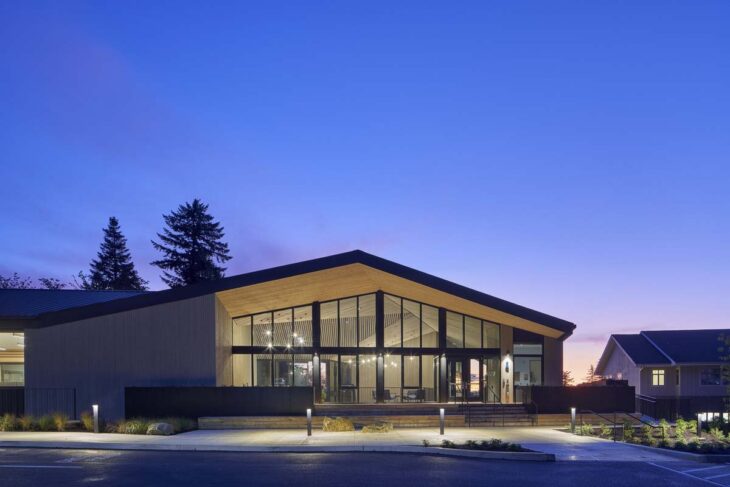 Along with the Hub, a central two-story gathering space that anchors the entry sequence and encourages wayfinding throughout the building's boomerang form, a dynamic single-loaded corridor offers casual social learning. This arrangement offers a lot of natural light, a view of the outside, and the ability for cross-ventilation to happen naturally.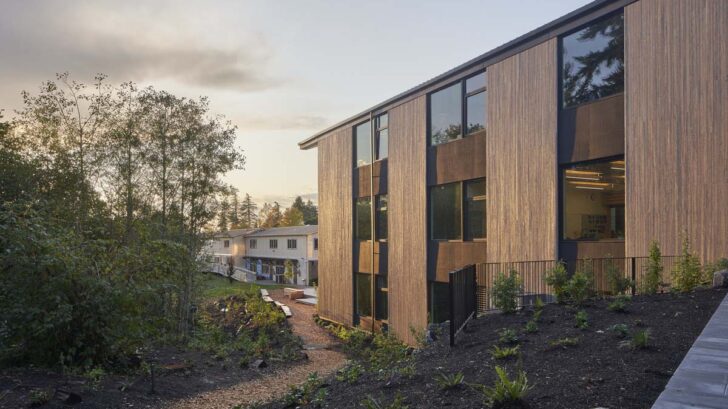 Hacker Design Team
Stefee Knudsen – Project Manager
David Keltner – Design Principal
Sarah Post-Holmberg – Project Architect
Lewis Williams – Design Team
Project Team
Architecture and Interiors: Hacker
Landscape: PLACE
Civil Engineer: Standridge
Structural Engineer: Madden & Baughman
Mechanical & Plumbing Engineer: PAE
Electrical Engineer: PAE
Client: French American International School
Photography
Bruce Damonte
Find more projects by Hacker: www.hackerarchitects.com