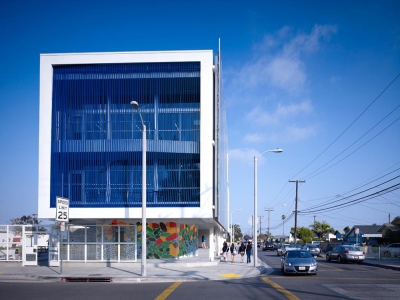 Project: Green Dot Animo Leadership High School
Designed by Brooks + Scarpa Architects
Project Team: Lawrence Scarpa, FAIA, Peter Borrego, Angela Brooks, AIA, Mark Buckland, Brad Buter, Silke Clemens, Emily Hodgdon, Ching Luk, Gwynne Pugh, Sru Sumantri
Engineering: Thorton Thomassetti-Structural, E2DIMechanical Electrical and Plumbing, Veneklaussen-Acoustical, Barbara Hall-Civil
Client: GreenDot Public Schools
Total Area: 53 000 sqf
Location: Los Angeles County, CA, USA
Website: brooksscarpa.com
The recently completed building of the Green Dot Animo Leadership High School is set to welcome 500 students. The contemporary shaped Green Dot School project comes from Brooks + Scarpa Architects and it's designed for a location in South Los Angeles, CA. More images and architects' description after the break:
From the Architects:
This new public school for 500 students is located in a tough South Los Angeles neighborhood almost directly under the flight path into LAX and adjacent to the very busy 105 Century freeway. The design was influenced by the New Orleans architects Curtis and Davis who designed and built many schools in the early 1950s in Louisiana. Their designs adapted to the harsh southern climate without using air conditioning, creating sustainable light filled and poetic spaces for kids to learn.

Similarly, this project is designed to enhance passive sustainable strategies. It allows for abundant natural light, ventilation and view, while shading itself and inducing airflow. The south facade is clad with 650 solar panels that shade the building and provides 75% of the energy needs for the school. Implementing these strategies will reduce carbon emissions by over 3 million pounds.

With a project target of CHPS and/or LEED Certification at the minimum, aesthetics, sustainability, and cost-effectiveness were considered in every design decision. Taking full advantage of the region's temperate climate, the designers eschewed the fully contained "big box" idiom of conventional schools on the primary use site. Instead, a landscaped courtyard with multifunctional "bleacher" terracing flows into the open-air covered lobby and the multilayered paseo, lending the school the appeal of a collegiate campus and offering significant environmental benefits—improving daylighting and access to fresh air both inside and out—while providing substantial cost savings by limiting artificial lighting and thermal conditioning to the smaller enclosed spaces.