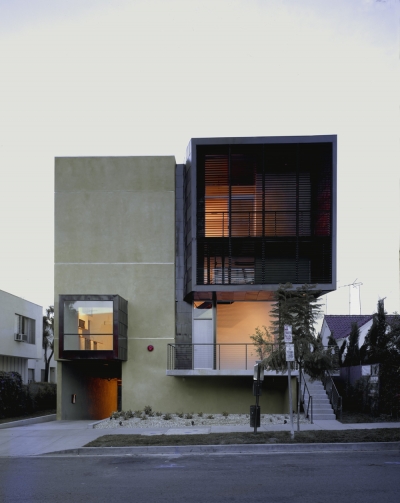 Project: Orange Grove
Designed by Brooks + Scarpa Architects
Project Team: Lawrence Scarpa, FAIA – Principal- in-Charge. Angela Brooks, AIA, Silke Clemens, Vanessa Hardy, Ching Luk, Project Architect, Gwynne Pugh, AIA, Lawrence Scarpa, Katrin Terstegen
Engineering: Oxford Engineering – Structural, Helfman Halloossim – MEP
General Contractor: Becker General Contractors – Sandy Becker
Client: Urban Environments, Inc.
Total Square Footage: 6 700 sqf
Location: West Hollywood, California, USA
Website: www.brooksscarpa.com
Photography: Marvin Rand
Brooks + Scarpa Architects share with us their project for a beautifully shaped house project in West Hollywood, by subtle selection of materials and volumes Orange Groove comes as a landmark of the neighborhood. Discover more of the project along with architects description after the jump:
From the Architects:
Located in a neighborhood characterized by traditional bungalow style single-family residences, Orange Grove is a new landmark for the City of West Hollywood. The building is sensitively designed and compatible with the neighborhood, but differs in material palette and scale from its neighbors. Referencing architectural conventions of modernism rather than the pitched roof forms of traditional domesticity, the project presents a characteristic that is consistent with the eclectic and often unconventional demographic of West Hollywood. Distinct from neighboring structures, the building creates a strong relationship to the street by virtue of its large amount of highly usable balcony area in the front façade.
While there are dramatic and larger scale elements that define the building, it is also broken down into comprehensible human scale parts, and is itself broken down into two different buildings. Orange Grove displays a similar kind of iconoclasm as the Schindler House, an icon of California modernism, located a short distance away. Like the Schindler House, the conventional architectural elements of windows and porches become part of an abstract sculptural ensemble. At the Schindler House, windows are found in the gaps between structural concrete wall panels. At Orange Grove, windows are inserted in gaps between different sections of the building.
The design of Orange Grove is generated by a subtle balance of tensions. Building volumes and the placement of windows, doors and balconies are not static but rather constitute an active three-dimensional composition in motion. Each piece of the building is a strong and clearly defined shape, such as the corrugated metal surround that encloses the second story balcony in the east and north facades. Another example of this clear delineation is the use of two square profile balcony surrounds in the front façade that set up a dialogue between them—one is small, the other large, one is open at the front, the other is veiled with stainless steel slats. At the same time each balcony is balanced and related to other elements in the building, the smaller one to the driveway gate below and the other to the roll-up door and first floor balcony. Each building element is intended to read as an abstract form in itself—such as a window becoming a slit or windows becoming a framed box, while also becoming part of a larger whole. Although this building may not mirror the status quo it answers to the desires of consumers in a burgeoning niche market who want large, simple interior volumes of space, and a paradigm based on space, light and industrial materials of the loft rather than the bungalow.