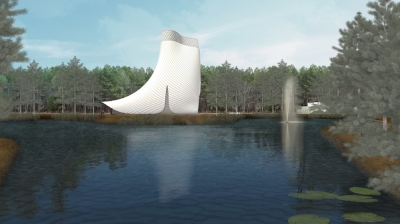 Project: New Interfaith Chapel at the University of North Florida
Designed by Brooks + Scarpa Architects & KZF Design
Location: Jacksonville, Florida, USA
Website: www.pugh-scarpa.com & www.kzf.com
Brooks + Scarpa share with us their impressive design for the New Interfaith Chapel at the University of North Florida shaped in collaboration with KZF Design.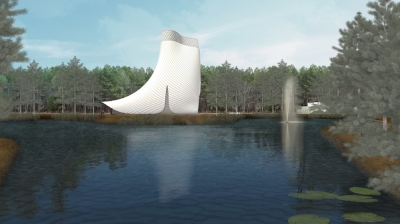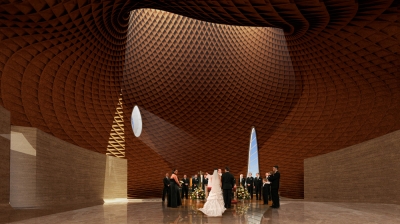 From the Architects:
The proposed 7000 square foot Interfaith Chapel is designed to be a special place where students and others can slow down their lives, re-focus on their spiritual needs and reflect. At the same time, the Chapel will support a variety of diverse religious services, student ceremonies, weddings, other intimate events, lectures, meditative practices and musical performances.

The informal shape of the building footprint symbolizes an allegorical figure, such as Justice, Faith, Hope, Charity, Prudence and Fortitude. The buildings form draws upon references of flowing formal gowns used in weddings and other ceremonial rituals. The top of the building culminates with a large skylight that is shaded by a wooden lattice spire whose form is derived from the symbol of infinity. This combination of flowing natural and cosmic elements results in a unique, formal building while providing a warm interior with soft filtered and reflected light. It inspires an indelible wonder; a dreamlike state of mind that engages the user, heightens their sense of awareness, and brings a deeper understanding to their experience.

The building is organized with a variety of features that reinforce a sense of spirituality and selfreflection, and embrace the local natural environment as well as the macro, cosmological world. Viewed from the center of the sanctuary, a window has been placed high above the ground, facing directly north at 30 degrees above the horizontal. This window is aligned with and provides a direct nighttime view of the Polaris.

The Polaris, or North Star, is a historically important navigational and otherworldly star. Because of its position in the sky, no matter where you are in the Northern Hemisphere, if you face north you are facing toward Polaris. This direct connection from the sanctuary's interior to an important cosmic symbol encourages the viewer to reflect and forge a deeper and more meaningful understanding of the fundamental, yet delicate relationships that exist between themselves, our collective cultures, the natural world and its vital resources.

The proposed design has other windows and openings strategically placed around the building to allow for views and visual connections to adjacent lake, nearby woods, and other important natural and cosmic features. Some windows are aligned with the winter and summer solstices to allow for the penetration of unique qualities of natural light that occur only during sunrise and sunset of this special moment. Other openings view the lake, garden and provide a welcoming arrival to the chapel. All of these features allow the opportunity for users to co-mingle with special moments of natural phenomena that connect to and honor the role of faith and spirituality.

Structure
The strategy developed for the structural system emerges from the intent to develop a flowing, flexible interior layout shrouded in a gown-like veil. To achieve this intent, a wood lamella truss system is utilized to frame the building. Initially developed for warehouses and other industrial uses as a low-tech structure able to achieve very long spans, wood lamella truss systems have been used for nearly 100 years.

Structural spans and individual wood glue laminated members are connected along a pattern of intersecting diagonal lines to form a framed vaulted roof structure in an egg crate like pattern. This approach to the building structure enables a viable systematic approach to the complex perimeter enclosure.

Sustainability
The building distinguishes itself from most conventionally developed projects in that it incorporates passive and active energy efficient measures and optimize building performance that ensure reduced energy use during all phases of construction and occupancy. The large roof structure creates an ever-changing continuous loop around the building moving inside and out like a pen that is never lifted from the page, but reinforces the intent to spatially weave together, as a single space, the indoors with the outside space. In doing so, the roof also provides shade to cool the building, reducing direct solar gain, enhancing privacy, while still allowing for great natural light and ventilation when humidity is at tolerable levels. Passive design strategies include: locating and orienting the building to control solar cooling loads; shaping and orienting the building for exposure to prevailing winds; shaping the building to induce buoyancy for natural ventilation; designing windows to maximize day lighting; shading south and west-facing glazing; designing windows to maximize natural ventilation; utilizing low flow fixtures and storm water management; shaping and planning the interior to enhance daylight and natural air flow distribution. Sun studies and a preliminary energy analysis informed the location of overhangs and placement of glazing. Specific variations from the regional climatic conditions were studied incorporating the microclimate with regional strategies; proper orientation, natural light, materials and technologies.

Form Generation
Spirituality is the concept of an ultimate immaterial reality: an inner path enabling a person to discover the deepest value and meanings by which people live. The spiritual experience should yield a more comprehensive self: joining with the human community, nature, the cosmos or the divine realm. These symbols are intended to evoke a sense of wonder where the world comes from, why we are here, and to be moved by values such as beauty and creativity to reveal a meaning or power beyond our tangible world.