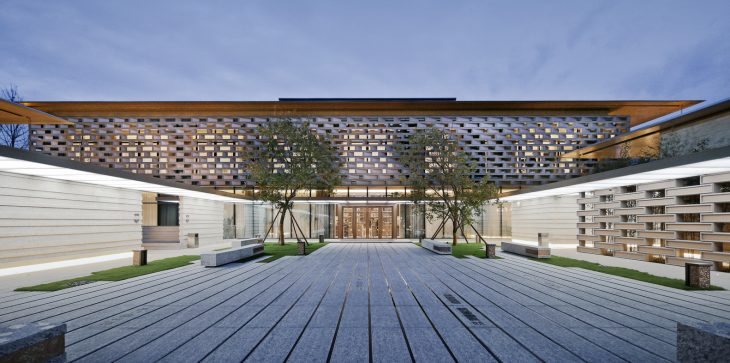 Tianjin Luneng sales center is designed with quiet and open attitude to create an innovative exhibit space. We try to weaken the spatial form of Academy. Courtyard of outdoor space to multifunctional steps of interior space consists of this project's central space. Located in Tianjin Haihe Education Park, besides Nankai University, with Maritime College to the north, the sales center possessesrich educational resources and profound cultural heritage. The architect keenly combines Tianjin culture with unique humanistic atmosphere and come up with the design concept of "New Tianjin CollegeStyle", trying to create cultural architectural space and highlightthe brand value. Followed the Neo-Chinese architectural style, simple and elegant, we create an elegant and quiet academy atmosphere via transformation of light and metal roof with deep eaves, various façade, and light trail corridor.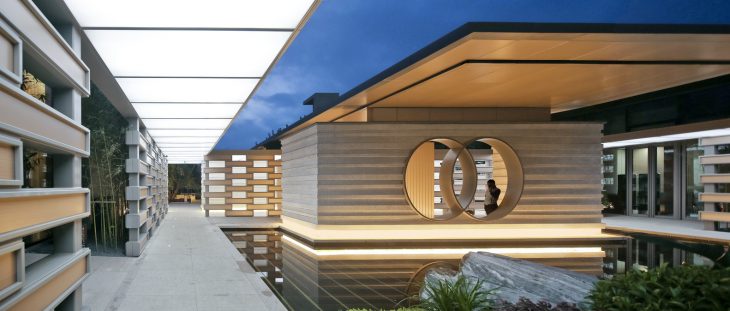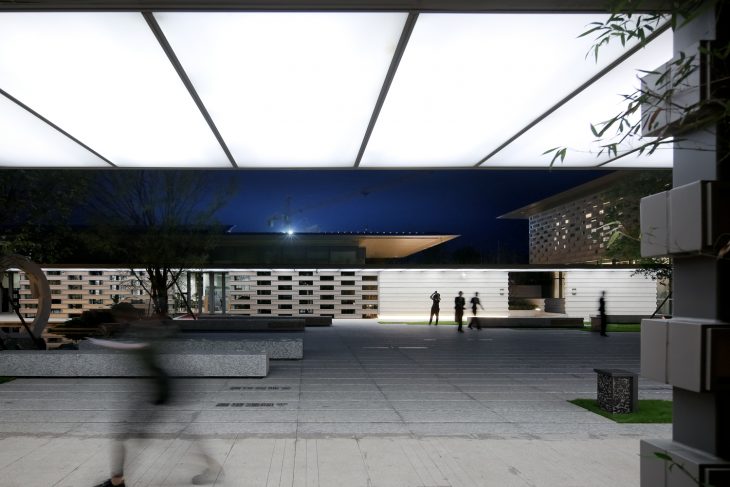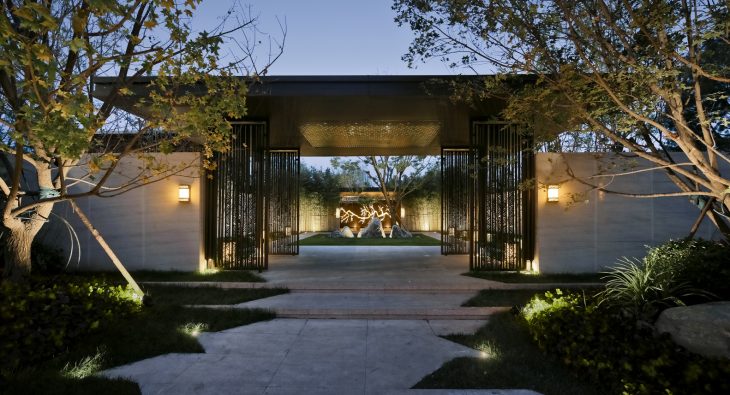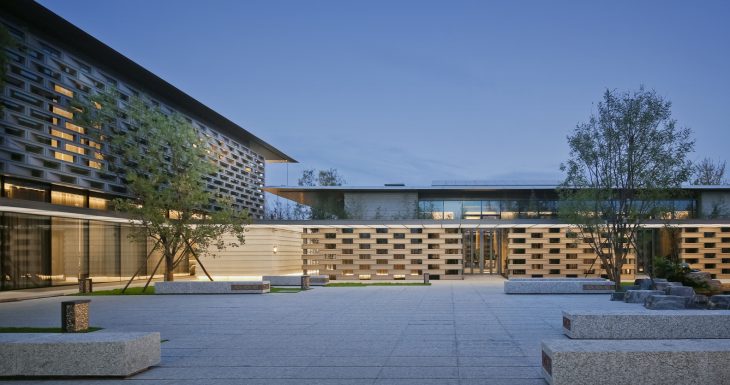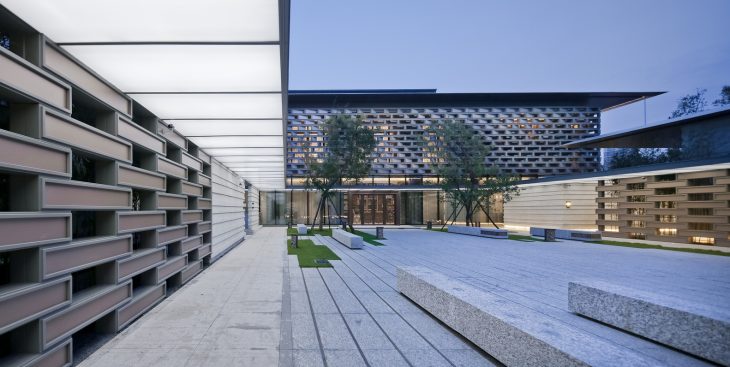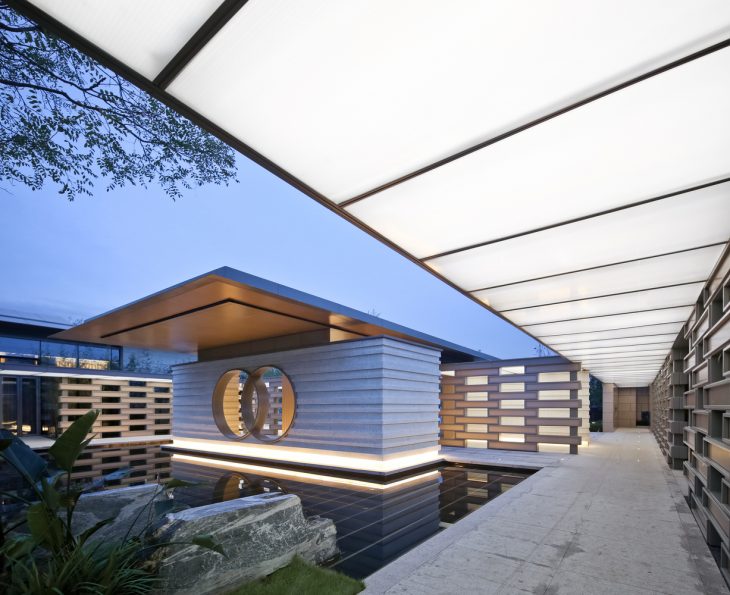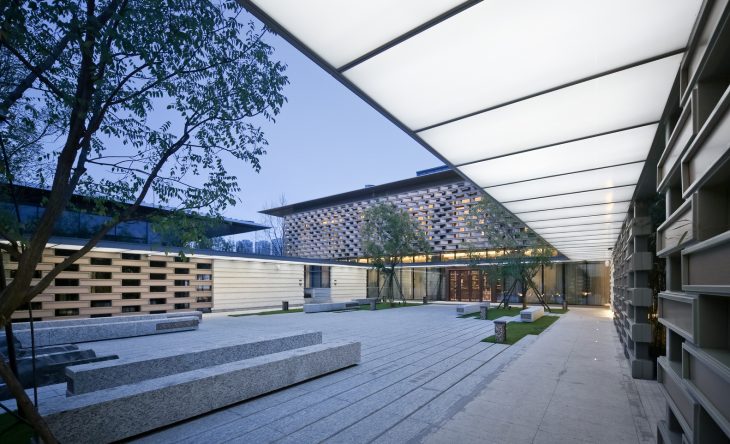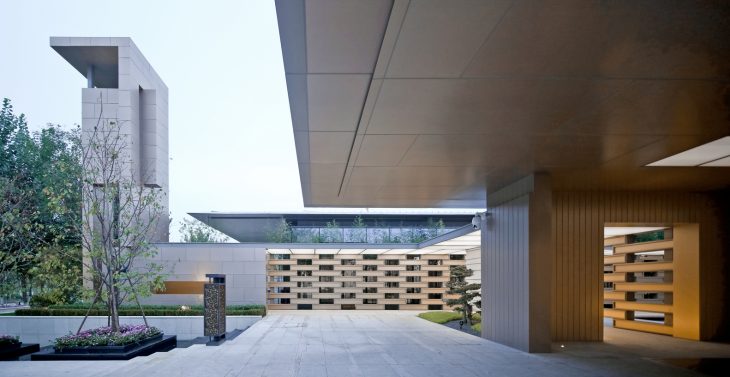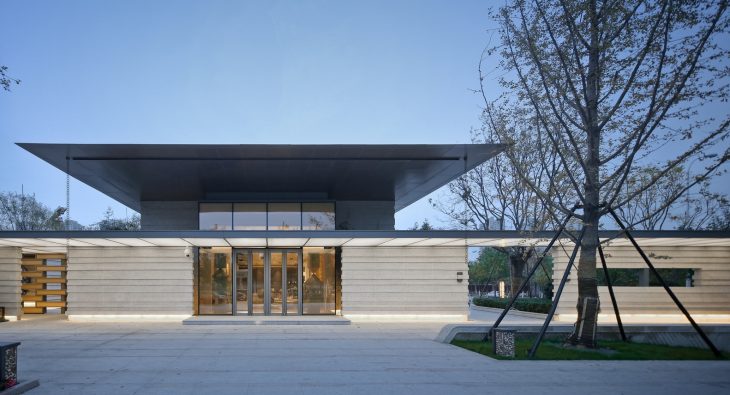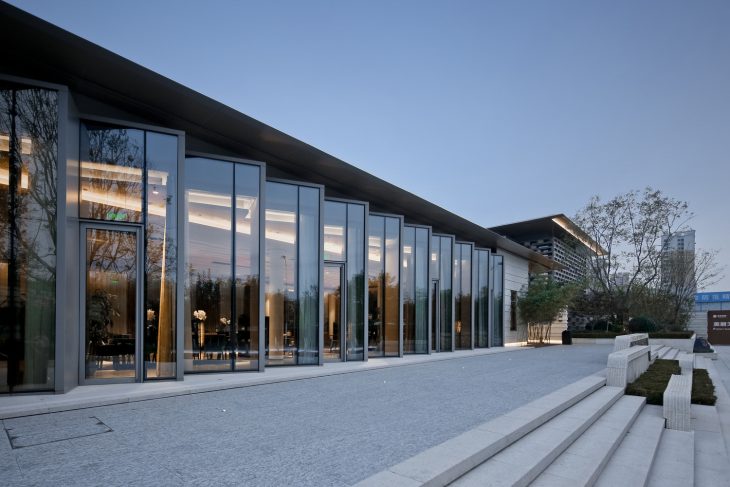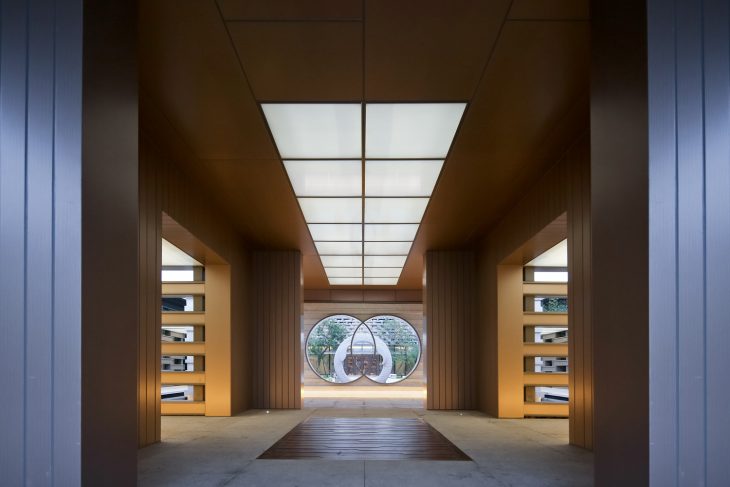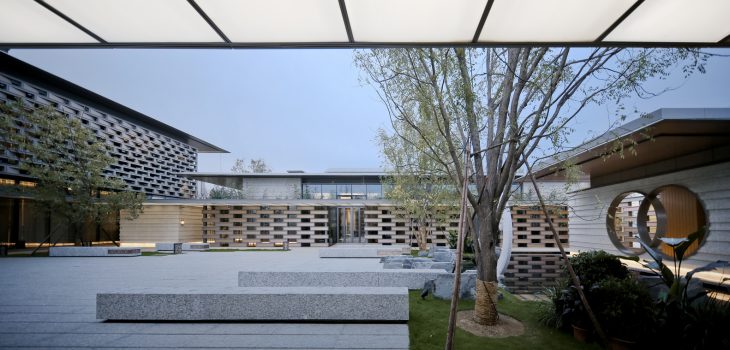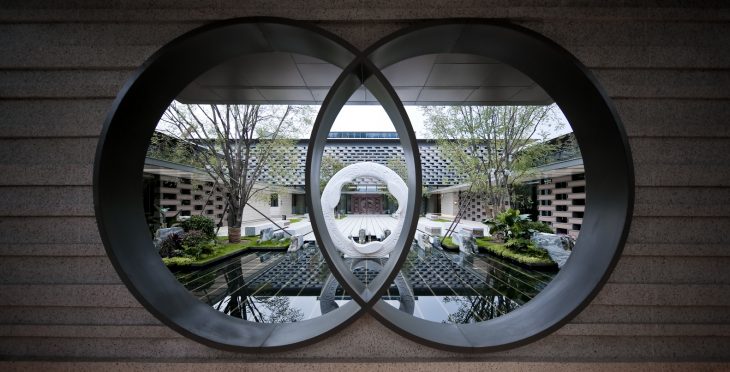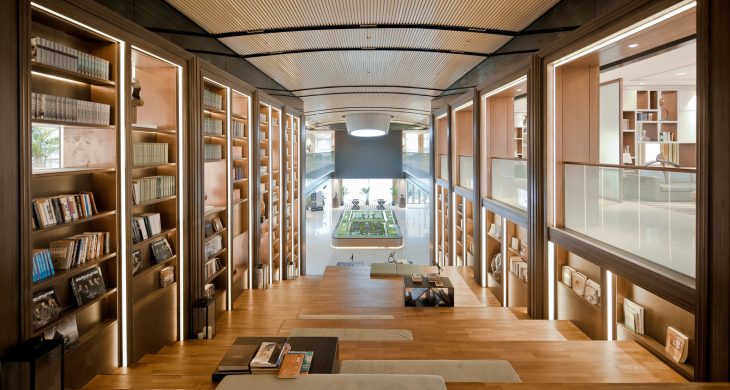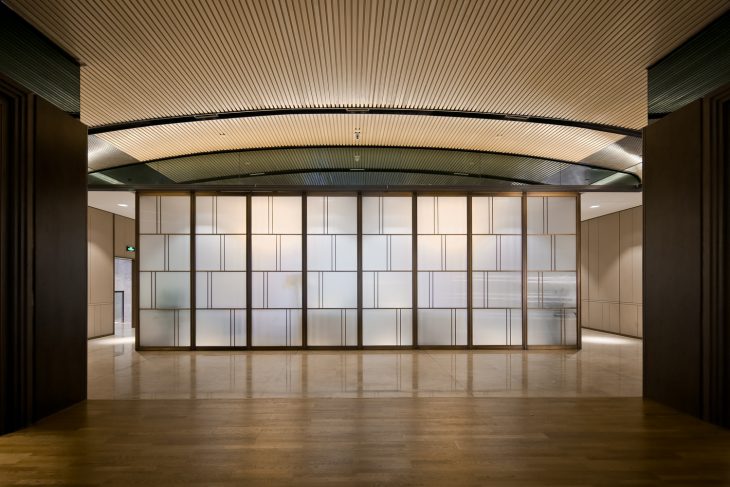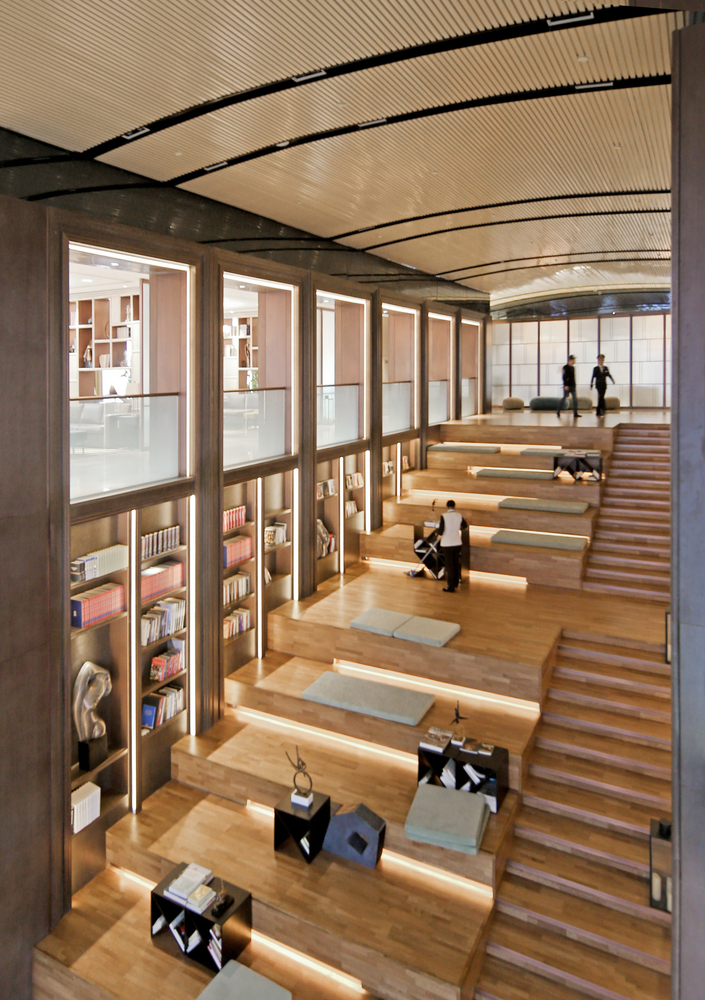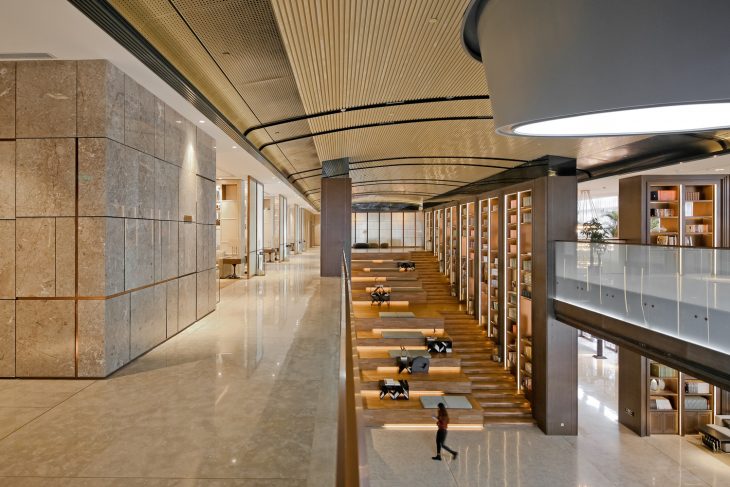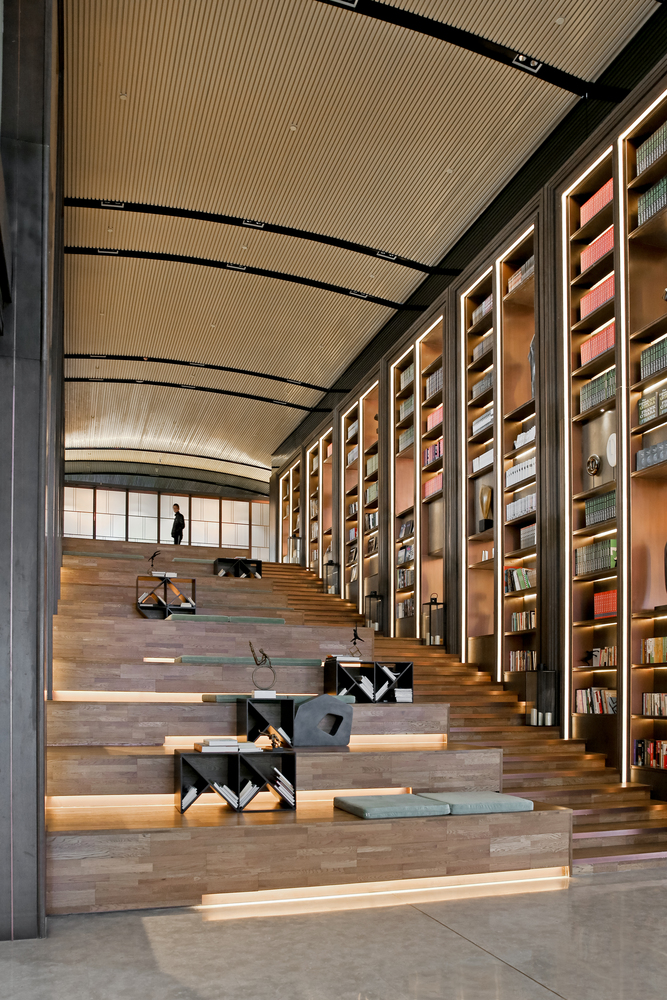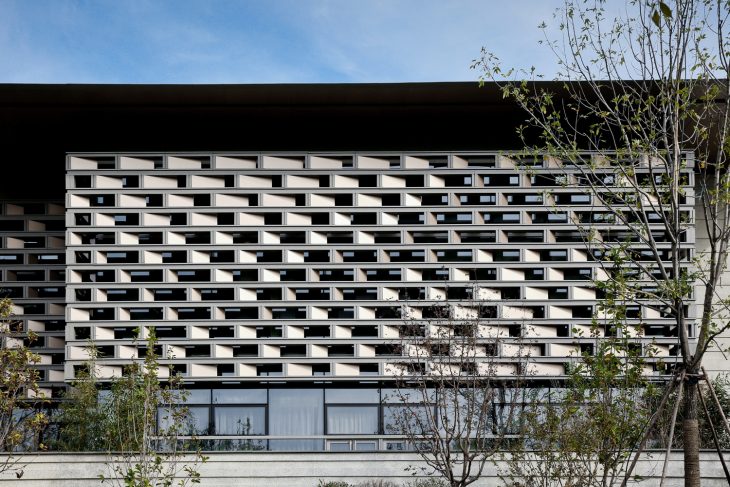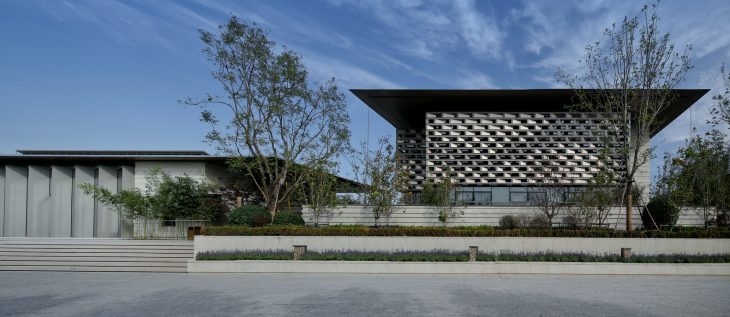 SPACE & SEQUENCE
Draw on Chinese traditional academy layout prototype, the architect form a small community concept of the inward courtyard space surrounded with three different scales of rectangular blocks. Primary and secondary the entire layout is clear, the main sales center on the east lead people's visual focus.The whole building hidden in the landscape and corridor, lead people into the site experiencing changing at every turn step by step with no leakage point. The architectural layout creates a quiet atmosphere of college.
In addition, the construction has been further mixed with the essence of traditional architecture such as doorway, screen, pavilion, large eave, corridor, walls, etc. The corridors interlink this small architectural complex, playing an intimation role in the whole sales center's visit circulation.
ARCHITECTURAL IMAGE & FACADE
We try to create a light changeable and modern Chinese façade effect via concise architectural form, far-reaching large roof, Click-and-Mortar façade effect, modern materials and craftworks.
"The metal roofs with huge overhanging eaves" and "metal bricks" are used as two important parts of the sales center facade. Metal roof with steel structures, which provides overhanging eaves' distance and ensure roof's lightness, has endowed time meaning to traditional style. The exterior façades of the eastern main building, drawing inspiration from Chinese landscape painting, constitute a Chinese landscape style façade through changes of several metal bricks with different modulus. Various façades show splendid shades of change under light.
TECHNIQUE & MATERIAL
The building form a visual focus by using warm grey aluminum and pale yellow imitation rock paint as main materials, and imitation copper aluminum as ornament. The combination of different materials, strengthen the nature of space in accordance with the "academy" introverted modest temperament.Horizontal line-based main wall is combined with several different modules. Concave-convex material is used to strengthen light and shadow of the building surface which make the façade more vivid. At night, the landscape corridor adds a different view to the building by using translucent material decorated with exquisite metal buckle on the ceiling surface.
INDOOR SPACE
The interior space has been consistent with academy style. Main space, sited in the center of sales center, is composed of multifunctional staircases and bookcases, forming an interactive space linked two layers. Meanwhile, the stage face to the best landscape, connecting visitors' sight from indoor to outdoor.