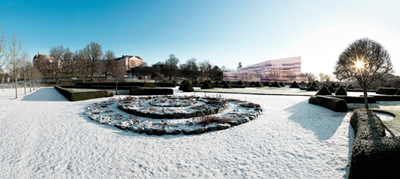 Project: UADM Uppsala University
Designed by 3XN
Project Team: Kim Herforth Nielsen, Jan Ammundsen, Christian Wamberg, Olaf Kunert, Tobias Gagner, Stig Vesterager Gothelf, Majbritt Lerche, Rasmus Hjortshøj, Eva Hviid-Nielsen
Client: Akademiska Hus and Uppsala Universitet
Size: 25 000 m2
Location: Uppsala, Sweden
Website: www.3xn.dk
Denmark based 3XN design the excellent winning proposal for the UADM Uppsala University in Sweden, shaped for the massive 25,000 square meters.
From the Architects:
UADM is designed with particular attention to Uppsala University's historical location and legacy combined with today's modern and transparent working environments, which invite social interaction in a multi-disciplinary forum. The building will house the University management, administration, restaurant, and a small study hall.
The building concept is a simple construction of overlapping office wings placed on top of each other. In doing so, the result is an open atrium which unites the building. The atrium is serves as the backdrop for the staircase which not only connects the floors, but also provides mezzanine areas in connection with the atrium. The building's entrance and lower floor has a sense for the human scale, while the higher floors open up and grant a treetop view over to the Uppsala Castle, the botanical garden and the university campus area.
The design of the floorplate gives a dynamic and variation to the whole building. The open spaces increase the experience of being a part of the same environment, while the small and large plazas create the feelings of intimacy and community.
UADM is a multi-purpose building within a unified structure. It respectfully integrates the landscape and lines from the surrounding buildings, most importantly the 16th century Uppsala Castle. With flexible design and integrated environments, UADM lives up to the University's ambition of creating new ways of working, studying and interacting.