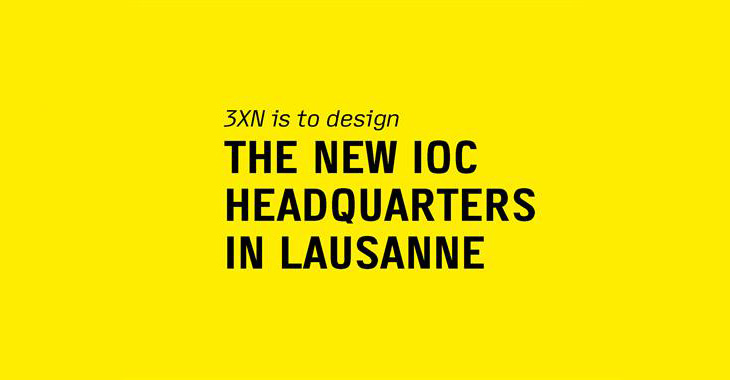 3XN has been chosen by the International Olympic Committee (IOC) as its preferred architectural partner for the design of the new IOC headquarters in Lausanne. The decision follows a unanimous recommendation by the IOC Architecture College.
From the Architects:
3XN's winning concept for the new International Olympic Committee (IOC) Headquarters will be a building that clearly reflects the values of IOC and is to serve as a catalyst for collaboration and interaction for the IOC Staff and Olympic Movement Stakeholders.

Kim Herforth Nielsen, Principal and Creative Director of 3XN, says: 'This is an incredible honour for our studio. The Olympic Movement has many expressions that are about people coming together in the best possible way. We have designed the new IOC Headquarters as a physical expression of the Olympic Movement and its values expressed through Architecture.'

The winning concept for the IOC Headquarters will be located on a 24.000 square meter site on the banks of Lake Geneva, with the 14.000 square meter building providing an 'Olympic campus' of administrative buildings and service for 450 employees.

3XN has been working on the project since last July where 12 international all-star practices were chosen to each give their proposal for a new Headquarter.

Jan Ammundsen, Partner and Head of Design at 3XN describes the competition by saying, 'It has been a process of hard work with a dedicated team in collaboration with the IOC Project Group and their experts. This has resulted in a highly developed design submission and is an example of a very well organized design process.'

The concept will be revealed at a later date as set by the IOC.

With this project 3XN adds another building to the number of projects for big international organizations such as DreamWorks Animation and United Nations.
Project: New IOC Headquarter
Designed by 3XN
Location: Lausanne, Switzerland
Website: www.3xn.com