In his greatest display to date, British designer Lee Broom showcased six new lighting designs at Salone del Mobile in a setting that evokes brutalist architecture and places of worship. Broom has occupied the entirety of a building in Milan's Brera neighborhood with more than 100 lights as part of the Divine Inspiration display. The architect is showcasing objects that draw inspiration from the colossal, ethereal qualities of religious structures and artifacts, notably those created in the middle of the 20th century. Discover more after the jump.
Broom's investigation into the realm of Brutalist architecture served as the catalyst for Divine Inspiration. This inspired him to research religious institutions throughout history as well as the monumental design vocabulary connected to religious architecture, interiors, and artifacts. These new works take into account how light is frequently connected to sacred locations, creating a sense of silence, reverence, and contemplation, with a tendency toward the pared down silhouettes of Modernism and the Brutalist buildings that surrounded Broom as he grew up.
Lee Broom, who is renowned for pushing the limits of material use and exploring the connection between architecture, art, and design, introduces 30 new objects in a variety of combinations, finishes, and unexplored materials. These materials include plaster, Jesmonite, extruded aluminum, and carved oak.
"When initially designing this collection which celebrates 15 years, I decided to look back at some of things that inspired me to be a designer in the first place. So I began looking at the Brutalist architecture I grew up with as a child, a period of architecture that I love. Delving deeper my attention became engaged with brutalist places of worship. This led me on a fascinating journey to researching cathedrals, temples, and churches from antiquity to mid-century, to the present day. I wanted to create a lighting collection that invoked that same sense of awe and mysticism as those buildings and their interiors. This is not a religious collection, but a reflection on the impact religious architecture, interiors and artefacts have had on the psyche as well as the history of art and architecture."
-Lee Broom
Requiem
Requiem, a limited-edition series of ethereal pieces created by Lee Broom himself in his London workshop, is featured in the collection and represents a new phase for the designer. The marble draperies on old statues and sarcophagi serve as inspiration for the collection. Each item is substantial in shape yet seems weightless and flowing because it was manually draped across lit rings, tubes, or spheres. When Broom was a student at Central Saint Martins, he used this process to make mirrors that he sold on Portobello Market. These ghostly shapes are then moulded into shape and fixed until solid. The visual effect is one of delicate fabric that seems to be catching a floating light source.
In addition to Requiem, the exhibition also introduces the Vesper, Pantheum, Altar, Hail, and Chant lighting collections.
Vesper
The straightforward geometric shapes of Brutalist art and modernist cathedral lighting served as inspiration for Vesper. Vesper, a piece made of extruded aluminum, examines the delicate balance and connections between its rectangular cubes and lit spheres. The light sculpture, which hangs from wires, is displayed in brushed silver and brushed gold anodized duo and quadruple variants. The exhibition's placement of it draws attention to the drama of vaulted spaces and the sublime nature of light.
Pantheum
Pantheum was influenced by Brutalist architecture's straight lines and geometric shapes as well as the Pantheon's characteristic coffered concrete roof. Broom has hand-cast a stepped tile-like square in Jesmonite, which is then sand-blasted to give Pantheum its rough, hewn surface. Each light may be hung independently or combined into symmetrical clusters to form a constellation on a wall or ceiling.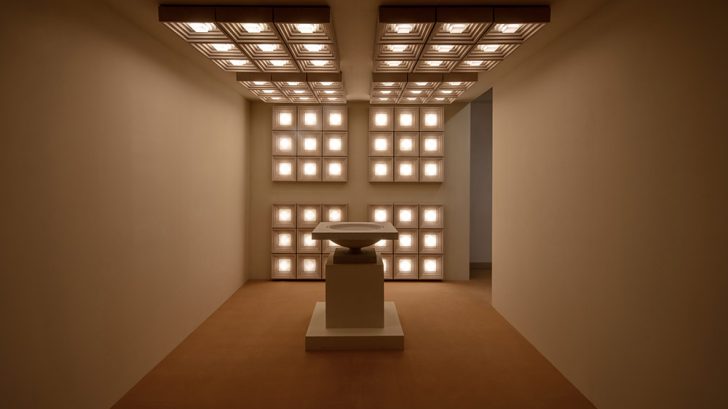 Altar
Altar is a tribute to Broom's study of the angular altars and churches of the mid-20th century, which frequently used fonts and pews made of warmer natural materials. The exquisite, fluted form of the altar is made of solid oak, and it is finished with an illuminated tube that is skillfully nestled into the architectural grooves of the form. The almost one-meter-long light may be mounted flush to the ceiling or suspended from a wire.
Hail
Hail makes allusion to lancet windows in huge church arches that cast shards of light and darkness. An installation of Hail lights is on display in the main atrium and is placed above a mirror pool to provide an endless number of reflections. The installation in this cathedral-like setting forms a six-meter-high circular design that alludes to the idea of "The Rapture." Hail is an elongated fluted shape made of aluminum with asymmetrically positioned reeded glass lightbulbs. It comes in three sizes and a gold or silver finish.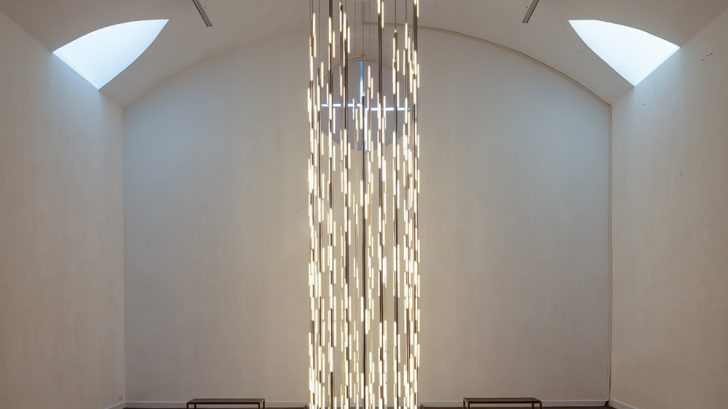 Chant
Chant is made of blown cubes with a distinct circular feature in clear or frosted glass and was inspired by the pressed glass bricks that were frequently used in place of worship during the 1970s as an alternative to stained glass. The glass cubes, which are built in square arrangements, join to create shimmering chandeliers that resemble bricks and are shown here in the exhibition's crypt.
Photography by Luke Hayes