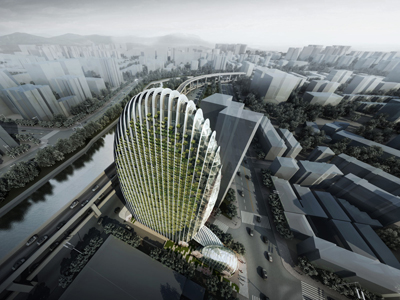 Project: Taipei Nangang Office Tower
Designed by Aedas Beijing Ltd
Architect Team: Benjamin Chan, Yijun Qian, Jihyeun Byeon
Location: Taipei, Taiwan
Client: Earnest Development & Construction Corporation
Project Area: 9,153 sqm
Site Area: 2,310 sqm
Website: www.aedas.com
Taipei Nangang Office Tower inspired by a shape of a pebble coming from the noted practice of Aedas will redefine the skyline of this fast growing Asian city.
From the Architects:
The design is inspired by river pebbles, which have a unique softness and elegance, as well as strength and character. Located near the Jilong River, the tower is an opportunity to redefine the skyline of this rapidly developing area of Taipei.

The 18 storey building is like an 'incubator of knowledge,' where innovative ideas can be exchanged and realized. The rounded facade tapers as it gets higher using straight glass panel optimized by a rationalized geometry. The curtain wall inside harmonizes the facade with outdoor balconies providing unparalleled views.
The space is an efficient, healthy and inspiring environment, or an 'urban living room' made of kitchens, coffee shops, libraries and brainstorming areas that function together to promote creativity and interaction between people.
The sustainable design aims to be LEED gold certified. A breathable building envelope is introduced to create flexibility and diversity, and to control heat gain. The aluminum fins control the amount of sunlight coming into the building, assisted by planters on the west to provide shading and lower the interior temperature during summer.