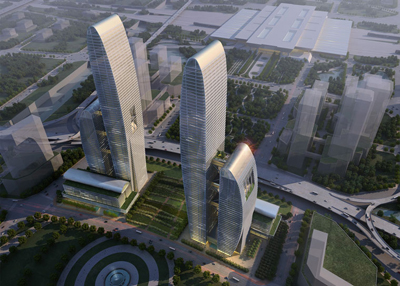 Project: Greenland Zhengzhou Towers
Designed by Brininstool, Kerwin and Lynch
Consultants: Magnusson Klemencic Associates, Structural; Arup, MEP Engineering; RJA International, Fire Protection; Lerch Bates, Vertical Transportation
Location: Zhengzhou, China
Project Area: 616,000 sqm
Website: www.bklarch.com
Brininstool, Kerwin and Lynch design the massive Greenland Zhengzhou Towers reflecting on the standards of green architecture and sustainability for more than 600,000 square meters of space.
From the Architects:
Brininstool, Kerwin and Lynch's towers are unique and expressive forms rooted in cultural influence, in which the massing is identifiable with the mountain formations found outside of Zhengzhou. The expression is balanced between historical symbolism and contemporary innovation.
The lightness and delicacy of the buildings' skins implies a sense of motion anchored by a structural system that is conceived as a highly efficient and dynamic frame. The form of the buildings readily resolve the varied types of occupancy, while the floor plans and building envelope work together seamlessly to optimize views and provide natural light throughout the buildings.
Sky-bridges connect the towers and create locations for corporate and hotel amenities and opportunities for green space. These landscaped platforms provide dramatic views and moments of repose.
Effective sustainability will be achieved with minimal resources to provide optimal performance. The design relies primarily on passive strategies of harnessing and shielding the sun for energy savings and the reclamation of water. The design of the office floors offers optimum efficiency and flexibility. Each space can be easily configured for either single or multiple tenants.