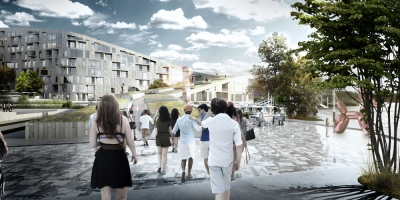 Project: Red Line
Designed by Bjarke Ingels Group (BIG)
Partners in Charge: Bjarke Ingels, Andreas Klok Pedersen
Project Leader: Søren Martinussen
Team: David Tao, Jesper Victor Henriksson, Lucian Racovitan, Taylor McNally-Anderson
Client: Rakennustomisto Pohjola Oy & YH-Länsi Oy
Size: 65 550 sqm
Location: Tampere, Finland
Website: www.big.dk
World renowned Danish practice Bjarke Ingels Group designs the winning proposal for the Red Line masterplan project in Tampere. Developed on 50,000 square meters, the new project will comprise of residential, commercial and cultural program forming a new urban hub for the city.
For more images and architects description continue after the jump:
The challenge of developing a unique destination as the Ratinanniemi Peninsula is to avoid privatization and domestication of the public space. We propose a project defined by a linear public space that like a red line ties the three distinct urban areas together. It invites public life along a new water front promenade, brings it onto a rooftop hiking path to enjoy the views over Tampere, and into the tribunes of the new improved stadium. The three-dimensional public space injects sports into the city, and urban life into the stadium of Tampere", Bjarke Ingels, Founding Partner, BIG.
The three areas are conceived as different architectural typologies targeting the potentials of each of the sites. The zone north of the Ratina Stadium holds the potential of becoming a new urban skyline of Tampere visible from the city centre. BIG proposes a miniature skyline of point houses built on pillars in the water all varying in height. The houses are programmed with offices, commercial and cultural space on the ground floor supporting the public life along the waterfront, while private residences with rooftop gardens and spectacular views occupy the higher levels.
The second area, on the tip of the peninsula encompasses an urban perimeter block which surrounds a green courtyard and is distorted to follow the natural topography allowing views from all housing units. The building touches the ground in both ends which allows people to access the building roof featuring a publicly accessible hiking track. Small zones along the route invite for a break on the way up, light workout or a chance to enjoy the spectacular views of the city.
At the street of Tampereen Valtatie a new building with retail, offices and culture doubles as an extension to the spectator stands, forming a hybrid building which breaths life into the stadium. The facades are clad in horizontal louvers that filter the sun towards south and become stepped spectator stands on the north side.
The roof top hiking track promotes informal activity in the urban space and becomes symbolic of the area's transformation from a mono-functional and formalized sport facility into a stadium truly integrated in an urban environment." Andreas Klok Pedersen, Partner-in-Charge, BIG.
A linear public space, the red line, meanders through the three new developments and connects them to the surrounding neighbourhoods. The red line changes shape and function throughout the area – from a boardwalk with harbor baths and saunas along the miniature skyline to a public hiking path reaching the peak of the perimeter block, finally ending as a running track along the stadium building. – from Bjarke Ingels Group