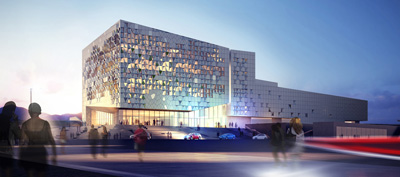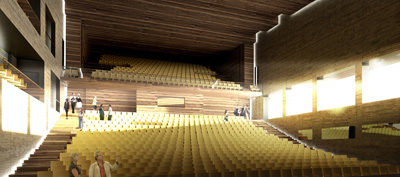 Project: Convention Hall
Designed by Henning Larsen Architects
Location: Lanzarote, Spain
Client: Gobierno de Canarias
Partners: Spanish architect, Carlos Morales
Gross floor area: 15 000 m2
Website: www.henninglarsen.com
Shaped in the true Henning Larsen Architects aesthetic the impressive Convention Hall on Spanish island of Lanzarote is set for completion in 2013. For more images and architects description continue after the jump:
From the Architects:
The new Concert and Congress Centre, Palacio de Congresos, is inspired by the jagged and characteristic landscape of Lanzarote. The building emphasises the surrounding nature marking a new cultural hub for the Canary Islands.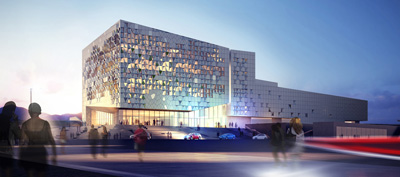 Palacio de Congresos will be located at the sea promenade of Arrecife, the island's main city. The crystalline shape accentuates the identity and evolves the profile of the city. The main entrance hall is elevated from the traffic and opens up towards the city and the ocean promenade. It welcomes visitors and shows the inner glow and activity, and the city park is activated as a part of the entrance plaza, leading the way to the 'red carpet area' and a grand entry of the building. One collective foyer, as a cave, accomplishes visual contact to all levels and converts, with precise views back to the city and the city park, the skyline of the mountains, the ocean horizon and the sky. From Arrecife, the Palacio de Congresos is very visible and significant at the end of the promenade. With no rear side, the building will appear a landmark from the ocean, the city and from all the access roads. The island's mild climate has made it possible to construct a large outdoor foyer making space for various public events and conventions.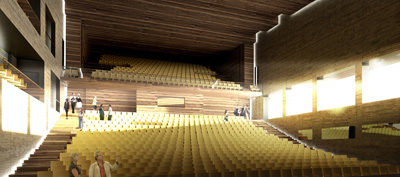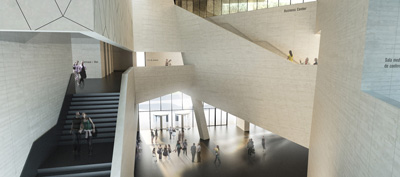 A series of sustainable initiatives have been integrated in order to minimize the building's consumption of energy. The building comprises the latest version of solar cells and is clad with semi- intelligent, shadow-providing shells ensuring a comfortable inner climate.