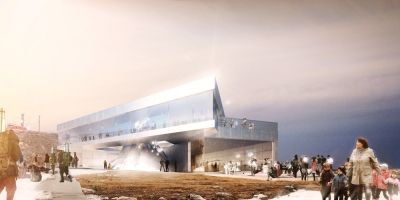 Project: Greenland Migrating
Designed by Henning Larsen Architects, David Garcia Studio and KITAA Architects
Website: www.henninglarsen.com, www.davidgarciastudio.blogspot.com & www.kitaa-arkitekter.gl
Famed Denmark based architecture practice Henning Larsen Architects share with us their Greenland Migrating design developed in collaboration with David Garcia Studio and KITAA Architects. Their design explores a development strategy for the Greenland town of Ilulissat.
Discover more after the jump:
From the Architects:
When the entire world comes to Greenland. The entire world is champing at the bit to go to Greenland. Tourists want to experience Greenlandic culture and the unique scenery in the island. Chinese businesses are poised to find minerals, and the large oil companies are drilling away for oil. At the same time, many young Greenlanders are leaving the country to pursue their studies abroad. The future holds many possibilities and large challenges. This is the theme of the exhibition 'Possible Greenland' in the Danish pavilion at the 13th International Architecture Exhibition in Venice, which will open to the audience on 29 August.
Henning Larsen Architects has developed the project 'Greenland Migrating' in collaboration with David Garcia Studio and KITAA Architects for the Danish pavilion. The project has aimed to develop a strategy for the Greenland town of Ilulissat. Migration is a natural part of Greenland's history but increased tourism and potential mineral exploration can cause a migration flow that might turn the Greenlandic population into a minority in their own country.
Today, Ilulissat has a population of 4,700 people, and the large cruise ships coming to the island in summer have more than 4,000 passengers. The total population of Greenland amounts to 57,000 people, and it is expected that 10-15,000 foreign workers will stay in the island in a few years.
"Greenland is faced with an adventure that will change the island forever. When the large oil and mining companies start their work, immigration will explode and put the Greenlandic society under huge pressure", says architect David Garcia, David Garcia Studio. "A fundamental social change is waiting ahead. It can be addressed by investing in urban development and look for architectural responses that disclose the inherent strengths and possibilities of the development."
'Greenland Migrating' suggests four interventions in Ilulissat where architecture can be the catalyst for the 'meeting' between people as a resource for growth. To create value for everyone – cruise ship tourists, immigrants and Greenlanders – the project proposes to establish a multi-purpose Culture Centre in the town centre, temporary housing on the harbour, a market, a sports plaza allowing for activities to take place all year round and a new glacial meeting hub – comprising a new UNESCO office, a tourist information centre and facilities for the new Faculty of Glacial Studies.
"Our project wishes to embrace the potential of migration. Greenland can benefit from the global contact. Hospitality forms part of Greenlandic culture, and openness is Greenland's trump card", says CEO Mette Kynne Frandsen, Henning Larsen Architects. "With a vision that includes both short-staying visitors and immigrants, Greenland will be in a strong position."
Danish-Greenlandic Professor in geology, Minik Rosing, and NORD Architects have been curators of the exhibition, which can be seen in Venice until 25 November.