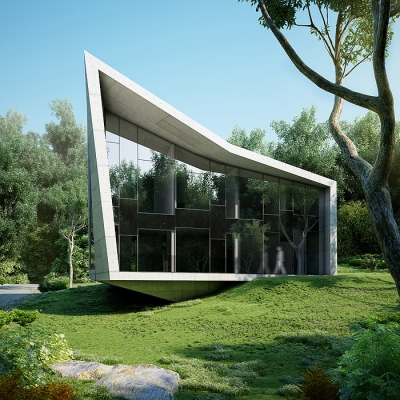 Project: The Edge House
Designed by STARH Architects
Location: Varna, Bulgaria
Website: starh.bg
Shaped in a sculptural manner architects at STARH studio have design The Edge House on a green location in Bulgarian city of Varna. Discover more of their project after the jump:
From the Architects:
The Edge House is situated in a suburban area near the city of Varna within a virgin forest environment adjacent to the sea. The house is meant for seasonal occupation by the client – a young family. Functionally the building is split into two levels, the first of which consists of a large living room, dining room and kitchen with storage space. Via a single run stairway, the first floor is connected to the three bedrooms with en-suite bathrooms on the second floor. All of the rooms are oriented south, towards the sea. A large curtain wall ensures a good link between the space inside and the outside world. The shape of the building is progressive and dynamic. The combination of bare concrete and glass underlines the originality of the architecture and contributes to the longevity of the house.