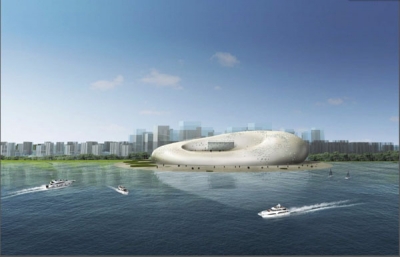 Project: Yingkou Convention and Exposition Center
Designed by 2DEFINE Architecture
Location: Yingkou, China
Website: www.define-arch.com
Yingkou Convention and Exposition Center design is coming from 2DEFINE Architecture, who shaped the solution responding to the city's needs in a way creating for it a new urban hub. Construction is slated to begin this year with completion date set for year 2014.
About the Project:
According to the architects, the aim was to design a building that could be used throughout the year, thus becoming the heart of the city. The 45 meter high center will feature several exhibition spaces, meeting rooms, a 200-sseat auditorium, a 900-seat banquet hall and a large atrium. The super structure will feature a unique rain screen system on the roof that will reflect natural light during the day, and create a soft glowing form at night with minimal use of artificial light. The half-acre roof-top terrace will overlook the Bohai Sea, and offer an outdoor space adjacent to the ballroom. An elevated four-lane road with pedestrian walkway will connect the island with the mainland.
Construction of the island will begin in 2012 and the building is slated for completion in 2014.
Source Evolo. *