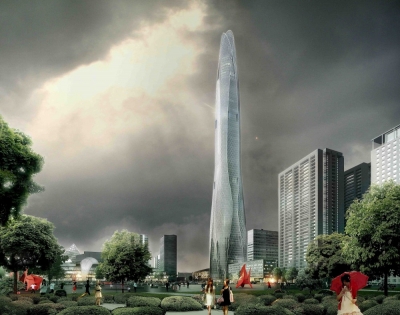 Project: The CTF Tianjin Tower
Designed by Skidmore, Owings & Merrill LLP (SOM)
Location: Tianjin, China
Website: www.som.com
The CTF Tianjin Tower project presented by Skidmore, Owings & Merrill for which the construction already began will come as a 530 meter tall tower (1,740 feet).
From the Architects:
Ground was broken on Tuesday, May 15, 2012 for Skidmore Owings & Merrill LLP (SOM)'s newest supertall building. The 96-story-tall CTF Tianjin Tower uses undulating curves to subtly express its three programmatic elements while presenting a bold monolithic expression on the TEDA district skyline outside Tianjin, China. The 1,740-feet (530-meter) tall tower houses offices, 300 service apartments and a 350-room, 5-star hotel beneath its boldly arched top.
The gently curving glass skin conceals eight sloping columns that lie behind the primary bends of the elevation. Integral to resolving gravity and lateral loads, these sloping columns increase the structure's stiffness in response to seismic concerns. Strategically placed, multi-story wind vents combined with the aerodynamic shape of the tower dramatically reduce wind forces by reducing vortex shedding. "The single most important structural parameter of a tall building is the architecture," says SOM Structural and Civil Engineering Partner William Baker. "The CTF Tianjin Tower will be significantly quieter, with less movement than other tall buildings. We tested 18 schemes in the wind tunnel before finalizing the design."
The 4.2-million-square-feet (389,980-square-meters) project has been designed to LEED® gold standards with a high performance envelope, optimized daylighting and landscaped green site areas among its sustainable strategies. If completed today, The CTF Tianjin Tower would only be shorter than the SOM-designed Burj Khalifa in Dubai.