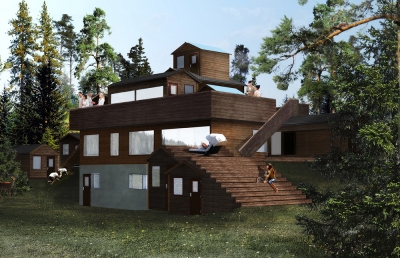 Project: Villa Village
Designed by visiondivision
Location: Tampere, Finland
Website: www.visiondivision.com
The always innovative Visiondivision architects share with us Villa Village project shaped for a location in Tampere. For more info on this engaging designed for a Finnish-Swiss family as an extension to a 1970's house continue after the jump:
From the Architects:
Visiondivision was contacted by a Finnish-Swiss family that lives outside Tampere, Finland, to create an extension to a 1970s house by a lake.
There are certain aspects that formed our concept for this project. One is about the clients' lifestyle and one is about economy and production.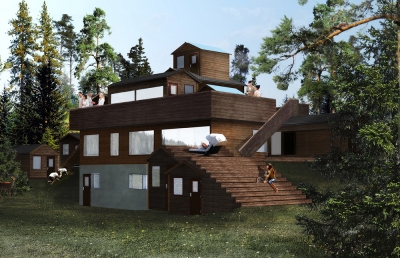 Lifestyle. As we noticed while visiting the clients, a couple with two children, they both worked a lot from home and that they almost used their existing house as if it was a small town, they worked on different places both outside and inside andSkyped each other as if they were in different parts of the town.
The more we came to think about it, the existing house and the surroundings seemed to be a very well used small village and that's what we emphasized and adapted our architecture to. We saw them as strollers in their own town, setting up their office in the park, at the café or in the sauna depending on where they might end up on their daily stroll. This way of life doesn't correspond to normal architecture where every room has its function. This way of life needs a village with several options of moving between different settings.
Our proposal is not do one extension; it is in fact to do as many as possible.
The clients will not be owners of one house anymore; they will be mayors of a small town.
A village of small units are placed to capture the beautiful surroundings but also to improve the existing house as well as the close area around it. The result will be a house as versatile and pleasant as a small town; an interesting structure for the clients to inhabit and walk about in many different fashions that will inspire them in their everyday activities, as well as for work as for leisure.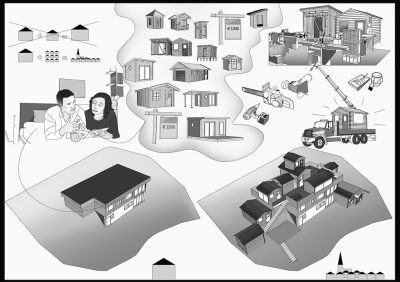 Economy and production. As an office we often try to investigate the production of architecture, the materials and techniques we as architects can work with in order to create something.
In recent projects we have been trying to harvest a material as gently as possible and we have also even planted and grown a house.
As for this project, we have investigated the opposite approach; to work with ready-mades and improve them, a sort of fancy dinner of fast food architecture, buffet style.
This approach came natural given the village atmosphere that we wanted to strive for as the most competitive segment in the building industry is the market for small sheds and cottages.
We have found over fifty different companies so far and the competition between them has led to ridiculous prices on prefabricated small houses where you can buy a 15 m2 shed for only 2000 Euros for example. The sheds have no special features but as a wooden structure they are quite easy to improve and being so cheap you can buy plenty of them and elaborate with how they interact with each other.
The advantage of building several extensions is of course also that the clients don't need to build everything at once and they can plan the growth of the village more gently and also adapt it easier to their economy.
The Village. The design has been as much about city planning as house design.
We have taken in consideration the outlooks, the sun and to make an interesting promenade that includes all the characteristics of the lake side site.
We have a town square with a lot of sun, cottages that overlook the lake, others that are directed to the forest and others that have more urban qualities.
Aesthetically we will treat and paint the exterior in a similar colour, change the windows to be better insulated and also larger at some of the modules.
The best view from the house is from the roof level, and given the fact that the existing roof is flat and that it is possible to build upon it, we have decided to put the main part of the village here.
A stair is built from the existing living room to the roof level, just over the staircase that leads down to the basement.
The staircase ends up inside a mid-sized cottage with large windows so the whole staircase also will act as a large light shaft for the existing house.
A family room is located in this cottage and glass sliding doors face the sunny town square/terrace, from the square it is possible to take an outdoor stair down to another terrace that connects the existing living room with the outside.
From the terrace a spacious stair/hangout area leads down to a relaxation area with sauna and a potential outdoor Jacuzzi. These cottages are linked from the basement level in the existing house.
From the new family room that is located on the roof level, the clients will reach another small cottage with a guest bathroom, and further on a cottage that faces the forest and would be an excellent guest house/office.
On the roof there is also a cottage that lies over the existing master bedroom that will give the bedroom a double ceiling height as well as a secluded space on the roof level that can be reached via Main Street.
Smaller sheds that acts as lanterns over the children's rooms could also be done.
A two-car garage is built next to the old one, making the old garage into a storage room.
A secluded cottage that lies a little bit further out in the woods can be reached via a stairway from the roof. While almost every new cottage can be reached from the existing house, some can only be reached by going outdoors first, giving the cottage more privacy and calm which is perfect if one has work that demands extra concentration, or guests that prefers this setting more.