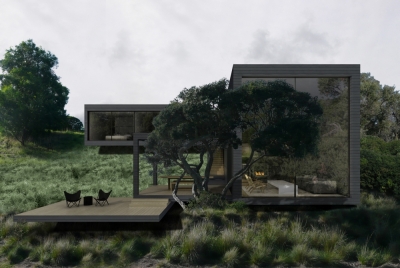 Project: Ridge Road Residence
Designed by StudioFour
Location: The Ridge Road, Moonah Links Golf Course, Fingal, Australia
Website: studiofournews.com
The Ridge Road residence shaped by an inviting contemporary sentiment is work of StudioFour architects. Discover more of their design after the jump:
From the Architects:
Ridge Road residence has been listed as a finalist for the houses awards 2012, in the category of new houses over 200 square metres. The houses awards are described as an annual program celebrating australia's best residential projects, rewarding excellence in eight categories, with the best house receiving the top award of australian house of the year.
Art installation. Our concept for this artwork evolved from the large expanse of wall to the living area, that captures the reflections of the surrounding landscape from both the double height picture window to the west and the sliding glazed doors to the north.
The artwork uses perspex strips to increase these reflections of the landscape, and promote a play of light and shadow to this space.
Connection With the Surrounding Landscape. In stark contrast to the surrounding houses, which attempt to cancel out the sloping topography by creating a podium level at which the outdoor areas sit exposed high above ground level, our design for this house adopts a gentler strategy, with the building form spilling down the slope to terminate in a series of terraced decks.
These low lying decks aim to provide privacy from the golf course below, whilst the surrounding native landscape will shelter the outdoor areas from the harsh prevailing winds.
Varying levels of interaction and connection with the landscape, both real and perceived, drive all aspects of the design, from the channelled views of the horizon upon entry, through to the double height picture window that captures the full proportion of the tea tree, and the direct and intimate connection provided by the low level decks.
Concept Sketches. The site for this new house is located within the moonah links golf course on the mornington peninsula.
A simple brief and programming requirements, teamed with a dramatic site characterised by a steep slope and a single tea tree, enabled the design to become an exploration into enclosing the basic rituals of domestic life within restrained building forms…. The form of the building becomes driven by the clients desire to separate the public and private zones of the residence.