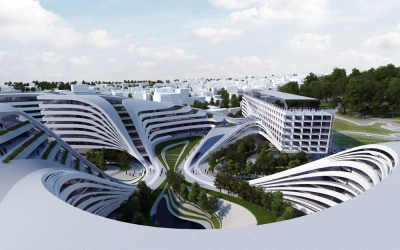 Project: Beko Masterplan
Designed by Zaha Hadid Architects
Design: Zaha Hadid With Patrik Schumacher
Project Director: Christos Passas
Project Associate: Bozana Komljenovic
Project Architect: Reza Esmaeeli
Design Team Coordination: Zetta Kotsioni, Carine Posner
Bim Coordination: Rory Mactague, Adam Atraktzi
Design Team: Veronika Ilinskaya, Alexandra Fisher, Raul Forsoni, Jose Luis De Melo Cadilhe, Tomasz Starczewski, Hendrik Rupp, Andri Shalou,Carlos Luna, Chrysi Fradellou, Elina Chatzichronoglou, Barbara Bochnak, Thomas Frings
Local Architect: Zapp Doo
Smep And Façade Consultant: Arup
Vertical Transport: Arup
Hotel Consultant: E.P.R. Architects
Sustainability And Energy: Enplus
Cost Consultant: Davis Langdon
Location: Belgrade, Serbia
Website: www.zaha-hadid.com
The prolific Zaha Hadid Architects, who are quite familiar with Belgrade, have designed the Beko Masterplan complex set to accommodate a hotel, retail area as well as a residential area and a specially designed surrounding green area.
From the Architects:
We live in an age where the distinctions between urbanism and architecture get more and more blurred. Architecture gets bigger, while urbanism gets smaller. The blend between the two ways of looking at public and private space is one of the guiding logics for the project. The overall volume of the development is designed to appear both interconnected and separated.
The Masterplan is thus moving away from traditional modernist notions of urban zoning and functionalist separations and enhances the interrelation between the "components" of each programme creating overlaps in aspects of lifestyle in a living fusion between public and private urbanism. Public space and private areas flow into one another into a series of ever-changing topographical adjacencies producing a rich-mix of use and activity.
Architectural design
Stylistically the project is developed as a series of flow lines. Carving the massive landscape, they generate a formal arrangement of a multiplicity of edges. These edges act as continuities where outdoor spaces, steps, landscape undulations, and even balconies, roof edges and bridges all flow into one another in an ever-changing continuum. The ground level is liberated from excessive obstructions and opened-up to enable flow of the civic space inside the site and allow the neighbourhood to flow through it.
External soft landscape areas and elegant outdoor lighting enhance the free movement through the site and facilitate navigation to the entry points for each of the facilities. The development aspires to be a destination in itself and a hub of flow to the recreational facilities of the river.
Ground (land) scape
Perhaps one of the most important aspects of the project, the ground (land) scape undulates to create variable physical connections between the different levels of the project. Its surface continuity is manifest either as soft or as hard landscape enhances the continuities of the outdoor spaces with the facades of the buildings and becomes an implicit engine for navigation through the site.