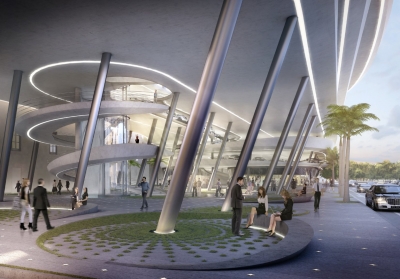 Project: The Collins Park Garage
Designed by Zaha Hadid Architects
Design: Zaha Hadid with Patrik Schumacher
Project Director: Chris Lépine
Project Architects: Tyen Masten, Eva Tiedemann
Project Team: Eva Tiedemann, Brandon Gehrke, Matthew Engele
Competition Team: Tyen Masten, Celina Auterio, Matthew Engele, Brandon Gehrke, Evelyn Gono, Martin Pfleger, Eva Tiedemann, Leo Wu
Size: 24 100 m2
Location: Miami Beach, Florida, USA
Website: www.zaha-hadid.com
There's no time to waste at Zaha Hadid Architects who design the project for Collins Park Garage in Miami Beach, Florida. Which is expected to become a new landmark of the nearby landscape. This garage will service Miami Beach Convention Center, Lincoln Road mall, Bass museum, City Library, Nearby Luxury hotels and a new World Center.
For more images and architectural description continue after the jump:
From the Architects:
The parking structure is often seen simply as a practical requirement within an urban setting. Through considered design, the parking structure can become an inviting feature, one that can even include other functions beyond simply parking. Part of the challenge is to question the full potential of such a structure to deliver more than just a single purpose or immediate function. The Collins Park Garage is a public parking garage and ground floor retail building within the Collins Park Area. A number of cultural buildings are located in area and we aim to develop a parking structure that participates in and enhances the surrounding context by studying ways to link the area together to provide a unifying vision.

Zaha Hadid Architects has researched methods and concepts that bring the street-scape into a building; making its interior a civic, urban space. Preliminary sketches for the Collins Park Parking Garage explored what a parking garage can become by simply manipulating the building components inherent to the building type. These sketches progressed naturally into an expressed, continuous vehicular circulation path which suits its purpose, yet provides a unique experience and even a degree of fun for the user; a reflection of the city's aspirations to create an environment that looks beyond established utilitarian conventions.