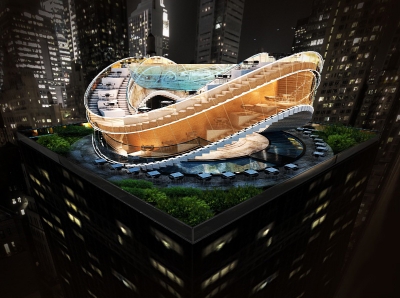 Project: Connecting Rooftop
Designed by Evgeni Leonov Architects
Location: New York, USA
Website: www.evgeni-leonov.com
Connecting Rooftop project is an impressive design coming from Evgeni Leonov Architects, discover more of their solution after the jump:
From the Architects:
Competition task. Create a hotel social areas that connects travelers and locals. What we are proposing is an architectural challenge, but also an experiment in human psychology. Many a hotelier has gone broke chasing an elusive crowd, and many a "hip hotel" has alienated its following with lazy (or greedy) gimmicks. A rigorously enforced guest list can create a buzz for a while, but it always fades when interesting people find themselves on the outside looking in. In today's hotel business, the word "exclusive" is bandied about as a posh way of saying "really nice." Nobody ever stops to ask who's being excluded, and why. It's all rather unbecoming, for an industry which purports to be about hospitality.

Concept. Creating a Mix-Zones for visitors and locals;
The maximal mixing of all possible types of relaxation;
The multi-functional space for the all socializing activities possible: dancing, playing table hockey, beer festival, karaoke, etc.
There is everything for an unforgettable evening:
Glass rooftop swimming pool, skyline bar, sky restaurant, dancing, cocktails, spa.
Connecting Rooftop is a space for socialization of locals and hotel guests and a great party.The roof itself has always a positive energy, plus – panoramic views of Manhattan.The roof will be made in the forms of digital morphogenesis, which will look really cool.Every day Connecting Rooftop features RoofFest – everyday festival and celebration. The concept is flexible – you can design iconic roof on a new building, or you can build concept on the existing one.