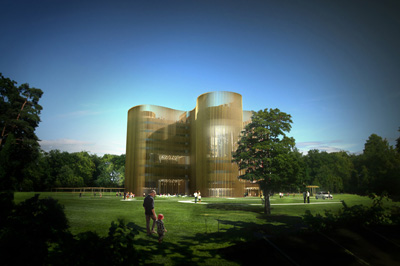 Project: Hotel Liesma
Designed by MACA estudio de arquitectura
Project Team: Christian Álvarez, Jorge Garrudo, Tomás Suarez
Scope: 4000 sqm
Location: Jurmala, Latvia
Website: www.macaestudio.es
Spanish practice MACA shares with us their uniquely shaped design for the inspiring Hotel Liesma competition. Their innovative proposal also creates a practical solution which would enable integration of the existing structure. For more images and architects description continue after the jump:
From the Architects:
How can we define a project that seeks for singularity in a privileged landscape without altering the balance but enhance his possibilities? The proposal seeks to create a resounding icon, gently integrated into its context that serves to communicate the intentions and the new character that the hotel wants to offer. An organic element that is associated with its environment by shape and materiality more related with land art than the classic image of resort.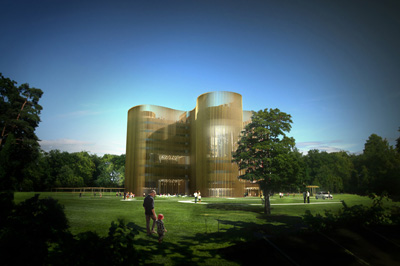 The project is based on reuse most of the existing structure in a simple and intelligent way. The existing structure is completed and 2 new wings are added to complete the program needed. It generates a symmetric floor plan easy to use and distribute and eliminates the existing low-rise buildings, allowing the new body is seated in the middle the prairie as an autonomus object. The proposal is completed by the urbanization of this meadow, following the same aesthetics of the building, creating covered paths for walking during the hardest months.
Instead of segregating the progran by floors, public uses are mixed at different heights on each wing, looking for new relationships between the user and the enviroment. The ground floor houses the most logical necessity for its public accessibility, but the pool, the gym, cafeteria, terrace are located on higher levels trying to find distant views
The new wooden skin helps the building to be integrated in its surroundings, controls privacy, protection from wind and creates protected outdoor areas where the user can enjoy the landscape.