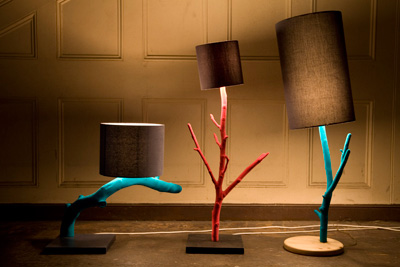 Project: ''Outside In'' & "The Hat Stand"
Designed by Nic Parnell
Website: www.nicparnell.com
Designer Nic Parnell brings the nature in with his tree inspired furniture pieces, view more of the designs and his description after the jump:
From the Designer:
"Outside In". Interfering with natural forms and texture, these objects are then replenished with an injection of tactile colour (Nylon Flock). "Outside in" aspires to bridge the gap between the surreal and the ordinary. It satisfies our visual desires to repel geometry and structure whilst engaging with nature in a newly formed intelligence, one that is engineered for visual and sensory engagement.
"That Hat Stand". In effect this is Nic Parnells interpretation of a Hat stand. Far from ordinary, this was created from over twenty separate branches that once resided 50ft high in the canopy of an overgrown Sycamore tree in West London. New branch shoots were added, carved and sculpted to re-create a tree form of significant obscurity. All the branches are modular and are joint with wooden dowels and flocked pins to lock them into place.
Over 14 trees were built this summer for the Secret Garden Party Festival. A short film of the process is currently being edited and will soon be uploaded.