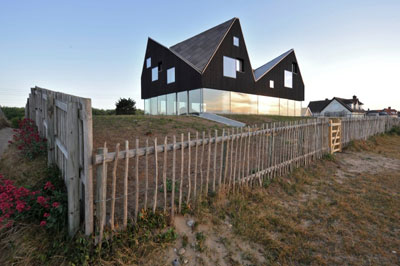 Project: Dune House
Designed by JarmundVigsnæs Arkitekter
Designed Team: Einar Jarmund, Håkon Vigsnæs, Alessandra Kosberg, Anders Granli
Collaborating Architect: Mole Architects Ltd.
Client: Living Architecture
Location: Thorpeness, Suffolk, United Kingdom
Website: www.jva.no
Using the spectacular location while creating the project for Dune House in the seaside town of Thorpeness architects at JarmundVigsnæs Arkitekter give the ground floor an open view while the one above is shaped in a traditional manner. For more images continue after the jump:
About Design:
To get a planning permission it was important to relate to the existing, typical, British seaside strip of houses. The roofscape, the bedroom floor, somehow plays with the formal presence of these buildings, and also brings into mind a romantic remembrance of holidays at bed-and-breakfasts while traveling through the UK.
The ground floor is contrasting this by its lack of relationship to the architecture of the top floor. The living area and the terraces are set into the dunes in order to protect it form the strong winds, and opens equally in all directions to allow for wide views. The corners can be opened by sliding doors; this will emphasize the floating appearance of the top floor.
While the materiality of the ground floor; concrete, glass, aluminum, relates to the masses of the ground, the upper floor is a construction made of solid wood, cladding stained dark as the existing gables and sheds found in the area.
Source Contemporist. *