Sanjay Puri Architects has recently completed works on Shree Town, a a contextual housing project that incorporates conventional planning concepts and cultural reactions while being climatically responsive. The layout is inspired by the natural dwelling designs of historic Indian cities and villages.
This project is a 36-acre, self-sufficient home development that is being built for the staff of a cement mill. It is 3 kilometers from the closest small city and is surrounded by open space with no other construction nearby. The entire concept is punctuated by a sizable, open landscaped park, which is surrounded by studio flats, smaller and larger apartments, a school, and a club.
A mid-rise building with 72 studio apartments, 48 2-bedroom apartments, and 48 3-bedroom apartments is situated on 6 acres (24281 sq. m.) of land. The building's organic layout houses all of its residents. In between each building are garden spaces, open courtyards that are protected from the elements, and circulation areas that are naturally ventilated.
To reduce heat gain in response to the hot climate of the area, where temperatures remain over 35°C for 8 months each year, all of the units are built with recessed windows, covered balconies, and cross ventilation.
Different color combinations are employed in the project to distinguish between the many building typologies that make up the housing. Each home's interior is painted in neutral tones to give the residents freedom of choice.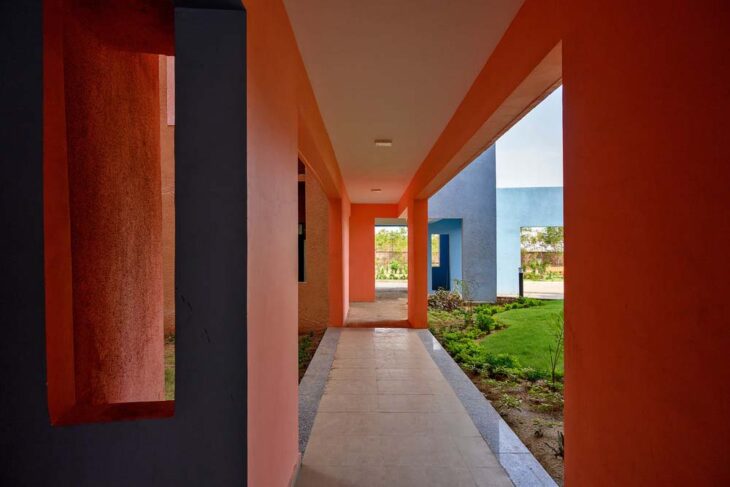 As a result of the general layout's inclusion of a sizable 36,000 sq. m. garden, the apartment buildings are made to create cozy, protected areas between one another. The positioning of the buildings naturally creates a variety of spaces with differing degrees of enclosure and shape in each section of the pattern. Through the project's own sewage treatment facility, all of the project's water is recycled and used again. The planning includes extensive rainwater harvesting. All of the spaces are guaranteed and made easier to breathe naturally thanks to the design.
Project information
Project Type: Residential
No. of Floors: G+4 & S+6
Location: Raipur, Chhattisgarh
Commencement Date: December 2016
Completion Date: April 2020
Client Name: Shree Cement Ltd.
Construction Company: Shree Cement Ltd.
Size of the Project: 3,15,000 sq.ft. (29,264 sq.m.)
Cost of the Project: 81,81,818 USD
Design Company: Sanjay Puri Architects
Lead Architects: Mr. Sanjay Puri
Design Team – Ruchika Gupta, Kaushik Sheth, Manveer Chopra, Rohan Shiktode, Karun Chughasrani, Keval Shah, Ronak Kothari
Consultants
Interior design Consultant – Baheti & Associates
Structural Consultant – Dr. Kelkar Design Pvt. Ltd.
MEP Consultant – Epsilon Design Consultancy Pvt. Ltd.
Photo credits: Mr. Dinesh Mehta
Visit Sanjay Puri Architects