We have featured the work of architects Cadaval and Solà-Morales for the first time back in 2010, since their Sunflower House has filled up the pages of design magazines and their websites alike. The impressive project on Spanish shores is located in Port de la Selva. Minimal yet modern the project makes the best of its cliff-top location with breathtaking vistas from almost any location in the house.
The project attempts to frame and diversify the views over its surroundings and incorporate them within the most significant spaces in the house. The main space, connected through a double height corridor to the back patio, incorporates sun inside the house for both comfort and climatic reasons. The house has a green roof that helps to control its interior temperature changes, and will incorporate state of the art environmental conditions to fulfill the highest environmental standards. The configuration of the house, based on the openings to the different environments that surround it, defines unique relationships with the water and the mountain – its real asset. – from Cadaval and Solà-Morales
For more of the Sunflower House by Eduardo Cadaval and Clara Solà-Morales continue after the jump: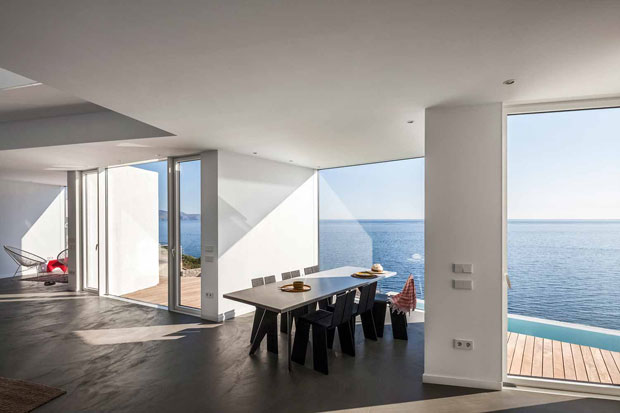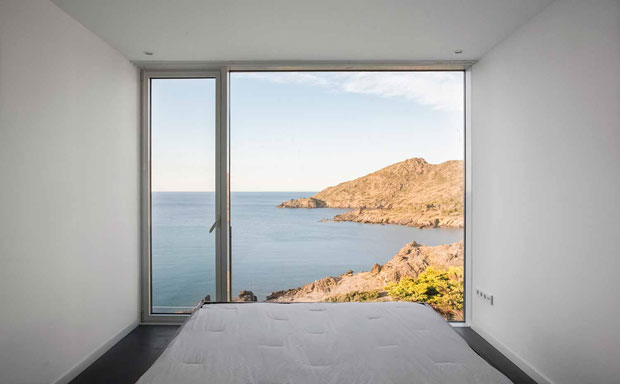 Collaborators: Moisés Gamus, Joanna Pierchala, Efstathios Kanios. Building engineer: Joaquin Peláez.
Structural Engineer: Manel Fernández, BERNUZ-FERNANDEZ
Contractor: Joaquin Gonzalez.
All Photos Above by Sandra Pereznieto.
Official web page: www.ca-so.com.