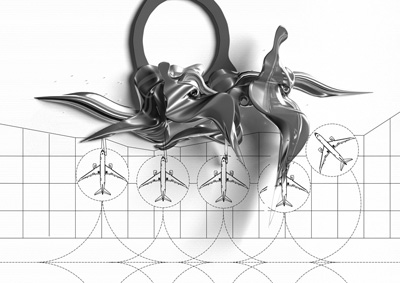 Project: New Aiport in Bangalore
Designed by Ketham Santosh Kumar
Location: Bangalore, India
Website: kethamsantoshkumar.blogspot.com
Ketham Santosh Kumar shares with us the outstanding three-level design for the new airport in India's IT capital Bangalore. For more images and architects description continue after the jump:
From the Architect:
The project aims to deploy long cantilever spans brought about by Aeroplane wings, engine and site Landscape are the primary generator of airport geometry and disposition; transforming the site into heterogeneous ensemble of forms unified by functional distribution. The airport also aims to address the tension between what exists as an immediate site context and it increasingly serves as a magnet for commercial development and it could rival traditional downtown central business districts as core of economic activity in urban areas.
The airport is to be located at Devanahalli in India's IT capital Bangalore, The airport will house of three levels The under ground level is for metro link and parking, ground level occupies public zones and the upper level will have separate arrival and departure areas which is connected by bridges. Ground level areas are used for public spaces (retail, shopping, recreation and customs free zones) in addition to; it accommodates a small museum and other ancillary facilities.