In the wake of the post-COVID era, outdoor intimate weddings have experienced a remarkable surge in popularity, offering couples a unique way to celebrate their special day. One project that beautifully encapsulates this trend is the Sumatra Bali Villa by The Auburn Studio, a stunning transformation of a family property that was once a nursery into an enchanting outdoor wedding venue.
The project embraces the concept of tropical modernism inspired by the legendary architect Geoffrey Bawa. The result is a serene, romantic, and sophisticated setting that blends with the natural environment, offering an immersive experience for weddings and events.
Key Design Elements
The Sumatra Bali Villa project is built upon a foundation of key design elements that harmonize nature and modernity:
Clean Lines and Neutral Palette: The design incorporates clean lines, natural materials, and a neutral color palette to evoke a sense of tranquility and sophistication.
Sustainable Construction: In line with Geoffrey Bawa's ethos, the project utilizes sustainable construction methods and locally-sourced materials to minimize its environmental impact.
Natural Light and Ventilation: The use of natural light and ventilation fosters a sense of connection with the tropical environment, providing a comfortable and refreshing atmosphere.
An Oasis of Tranquility
The 100'x100′ site was transformed into a stunning event venue that seamlessly integrates with the surrounding landscape. The design includes two identical villas serving as suites, creating a U-shaped building with a central water feature that reflects the lush greenery. Guests are greeted with a picturesque entry, walking over stepping stones that lead them across a tranquil water body. The villas offer a spacious living and dining area, and each bedroom provides a unique experience, from a luxurious open-concept washroom in the Master Suite to a cozy second bedroom overlooking a skylit pocket of greens.
Large sliding glass doors and windows provide continuous connections to the outdoors, with views of the water body and landscaping serving as a serene backdrop.
A Celebration of Local Materials and Craftsmanship
The project proudly celebrates the region's natural beauty and craftsmanship by utilizing locally-sourced materials:
Indigenous IPS and Rubble: Regionally sourced IPS and rubble are used for the floors and walls, adding character and texture to the modern design.
Bamboo-Thatch Ceiling: High-pitched ceilings feature bamboo mats for the thatch ceiling, enhancing aesthetics and maintaining a cooler interior temperature.
Natural Furnishings: Rattan and cane furniture support local artisans and traditional techniques, adding a touch of tropical elegance and promoting sustainability.
The Thatch Ceiling: A Bali-Inspired Masterpiece
The standout feature of the Sumatra Bali Villa is the exquisite thatch ceiling. This architectural gem, adorned with wooden rafters and meticulously crafted bamboo mats, transports visitors to a world of tropical luxury and serenity, capturing the essence of a Balinese villa.
A Commitment to Sustainability and Local Culture
More than just an architectural style, this project embodies a way of life that respects the environment, celebrates local traditions, and offers residents and guests an unparalleled experience of luxury and authenticity.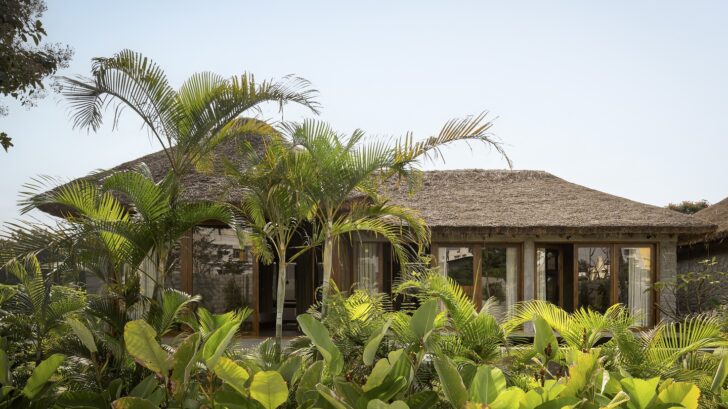 Project information
Architects: The Auburn Studio – www.theauburnstudio.com
Area: 3500 ft²
Year: 2023
Photographs: Yash R Jain
Manufacturers: Saint-Gobain, IPS, Jaquar
Lead Architects: Sushmitha Ramesh
Landscape Architect: Third Eye Landscape
Program / Use / Building Function: Homestay
City: Bengaluru
Country: India