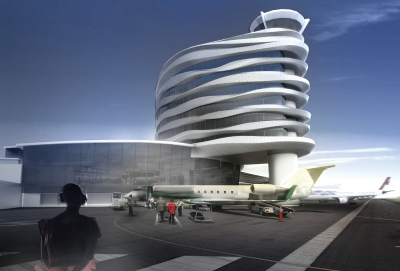 Project: Edmonton International Airport Office
Designed by DIALOG
Location: Edmonton, Canada
Website: www.designdialog.ca
Impressive design for Edmonton International Airport Office coming from the drawing board of DIALOG.
From the Architects:
The YEG Combined Office and ATC Tower project is being developed to provide improved airside ground operations, expanded existing retail, food and beverage, new HBS (Hold Bag Screening) area, new multi-storey office building, and replacement of the NAVCanada Air Traffic Control Tower. Building envelope details are currently being developed for this project. This is a challenging envelope design in that the architectural design incorporates flowing metal spandrel elements that mimic grass blowing in the wind. The actual interior to exterior envelope is straight forward; however, the special nature of the cladding and the proximity to the airside apron elements means that the cladding side of the envelope has to be designed to shed water and snow in a manner that does not create ground conditions detrimental to the airside operations. The unique nature of this project is such that the Owner has a requirement for LEED® Certified designation, but their design guideline dictates durable materials and triple glazed vision elements to meet airport maintenance and sound control requirements. The project is currently in the working drawings/construction phase. The program budget is $56.9 million dollars and is scheduled to open at the end of 2012.