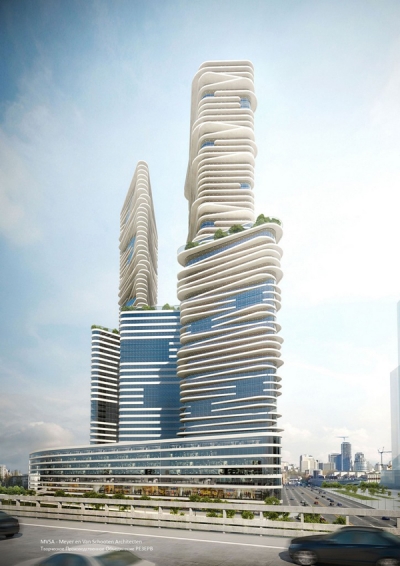 Project: "M-City" Tower
Designed by Meyer en Van Schooten Architecten
Architects: Vladimir Plotkin and Roberto Meyer
GFA: 350 000 m2
Location: Moscow, Russia
Website: www.meyer-vanschooten.nl
Redesigned project of M-City Tower complex from Meyer en Van Schooten Architecten, the mixed-use building is home for office, retail, hotel and residential space.
About the Project:
Functionally, the development is a mixed-use one. The three-level underground parking garage plus the four parking levels above the ground form a powerful "technical belt" that also sports a number of shops and a hotel. Higher up, the stylobate is occupied by the offices that are grouped around the above-mentioned triangular atria; they are multi-level and, in the project, are covered with a glass grid and decorated with hanging plants. Out of the three towers of the first level, two are occupied by offices, and one – by apartments; both of the two top towers are apartment ones.
The stripped facades, with floor decks protruding as terraces give the whole building a more organic appearance, offering some disruption in a neatly organized composition of layers.
Source Evolo. *