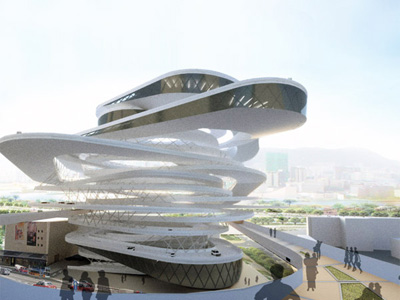 Project: Hong Kong CarPARK
Designed by Interface Studio Architects
Major Funding: Private development
Location: Hong Kong, China
Website: www.is-architects.com
Interface Studio Architects explores a new approach to car parking with their design of Hong Kong CarPARK, view more images and architects description after the jump:
From the Architects:
This brief requested an innovative, integrated, and flamboyant approach to structured automobile parking. Our proposal looks to weave parking with other dynamic urban programs such as an athletic field, shopping, cafes, stormwater management, and green spaces. The 1,200 space garage is driven by an internal slope logic of cars, water and people that is deformed by urban forces such as key physical connections and views. The project aims to demonstrate a method of taking mundane urban programming through a remixing and amplifyication process resulting in something uniquely Hong Kong.