Project: Liantang/ Heung Yuen Wai Boundary Control Point Passager
Designed by WAU Design
Site Area: 22.6 ha
Project Area: 24 000 m2
Location: Shenzhen/ Hong Kong, China
Website: www.wau-sz.com
WAU Design shares with us their impressive design for Liantang/ Heung Yuen Wai Boundary Control Point Passager between Hong Kong and Shenzhen. For additional images and to find out more about symbolism, functionality and environmental aspect behind the project continue after the jump:
From the Architects:
HKSARG and SMPG jointly planed to create a new boundary control point passager at Liantang / Heung Yuen Wai in the north-eastern New Territories of Hong Kong and Luohu in Shenzhen to serve the cross-boundary goods vehicles and passengers travelling between HK and SZ East.
Sympolization: A complementary and mutual beneficial partnership, Hong Kong and Shenzhen will join the globalization as an integrated image and get benefit. With intimate collaboration, Hong Kong-Shenzhen boundary control point will be a symbolization of close communication. The scheme concept comes from "link": many single units can be twisted into a solid and integrated form. This scheme, a twisted link, indicates multi-level and deep cooperation between Hong Kong and Shenzhen on the economical , cultural and more levels.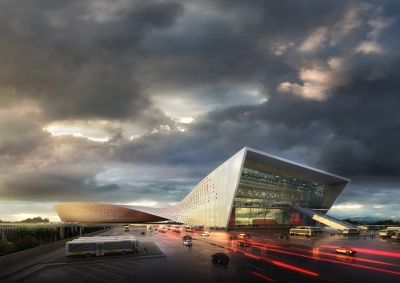 Twisted Link: Based on a basis shape——a cuboid , a dynamic building shape will be created from twisting one end 90 degrees clockwise. This building shape can weaken the boundary between building envelopment. After deformation, the roof turns into wall, or wall into floor. This deformation also indicates the multi-level combination as life-style and political formation between Hong Kong and Shenzhen. It also brings a new experience about building internal space.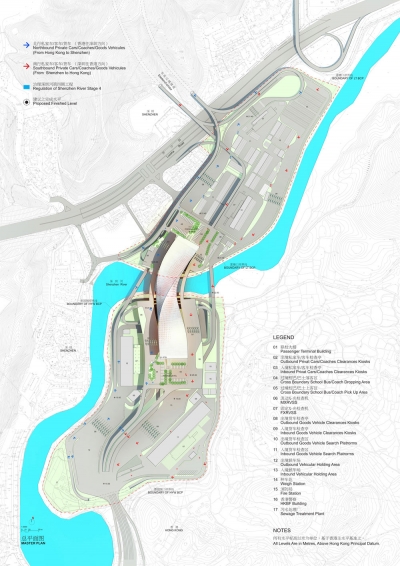 Separate-Location, Same Schema: On the traditional clearance schema, the exit and entry halls are located on the same floor which causes dull and vapid spatial behavior. Moreover, the exit hall from Hong Kong and the exit hall from Shenzhen are located on different floors which can make some cross-boundary passengers confused.
Taking "people-oriented" principle, the building shape is adjusted according to human's need, two clearance streamlines are combined into one, two departure halls are both set on the 2nd floor. A low-scope path leads passengers to the arrival hall and avoid too much dependence on vertical transportation. Meanwhile, the people from different directions can have a visual intersection and get a full of abundance and enrichment image of passenger terminal building.
A simple action "twist" can handle the streamline, structure and building design reasonable and provide building user with a new space experience.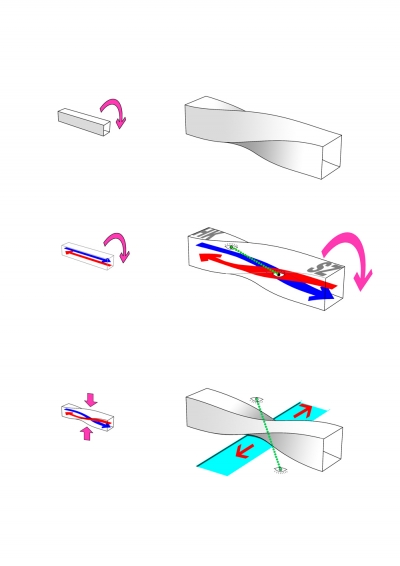 Environmental Friendliness: The middle part of building shape will be compressed to achieve the internal space need of new streamline and optimized the landscape superiority of Shenzhen river, avoid compressive feeling and a city vision separation from huge building volume.