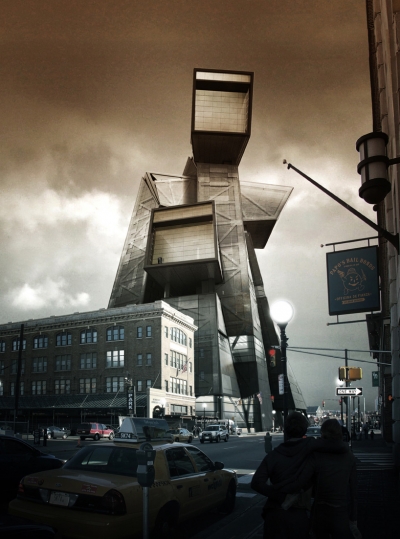 Project: 499.summit
Designed by Andreas Tjeldflaat, Greg Knobloch
Location: Journal Square, Jersey City, NJ, USA
Andreas Tjeldflaat and Greg Knobloch share with us their latest project shining a new light on the future concept of prison designs.
From the Architects:
Our prison system has failed to see advancements throughout the past century and desperately requires innovation and re-imagination. While recent literature begins to question the sociological status of prisons, there has be little exploration of the physical apparatus in which inmates are housed. We as designers must take a critical look at these static institutions, and question how we can play a significant role in the design and function of future prisons.
499.Summit carefully challenges all preconceived notions of the word "prison", and proposes simple yet powerful ideas that re-imagine the high-rise as an urban penitentiary. The massing consists of three towers in the shape of an arch. The inherent linear and formal qualities of the 'arch' allowed us to establish our key circulatory concept: Up, Over, Down. Each arch has three primary phases, Incarceration (up), Transformation (over), and Integration (down). The arches begin isolated during the incarceration phase and merge together both physically and programmatically during the integration phase. As the inmates graduate through the facility, they are being exposed to an increasing degree of social interaction, in order to make the transition back into society as soft as possible. To catalyst this process, public program and residential housing units are introduced in the integration phase downwards.