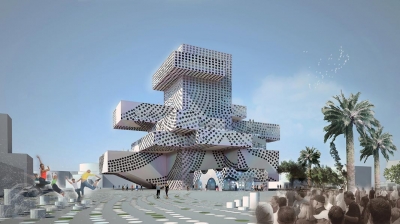 Project: Ashkelon Conservatory
Designed by Manuelle Gautrand Architecture
Location: Ashkelon, Israel
Website: www.manuelle-gautrand.com
Manuelle Gautrand Architecture designs Ashkelon Conservatory with vertical elevation in mind shaped in a sculptural form.
From the Architects:
The project seeks to install the functions in an elevated verticality. Each function is visible and is a part of the sculptural assemblage that is being sought. At the top, the dazzling view over the sea and on the surrounding areas offers a multitude of opportunities for integrating terraces and panoramic viewpoints.
The main inspiration was to create a festive and lively place. A large open space is situated at the top of the building. This space does not have any particular function or program as it is designed to be specifically appropriated and used by the artists for exhibitions, festivities, ephemeral installations.
The façade of the building consists of metal panels with large round openings; these are beautiful generous and regular windows offering the fantastic view on the surroundings. They gradually descend along the façades as if to accentuate the vertical movement of the project.