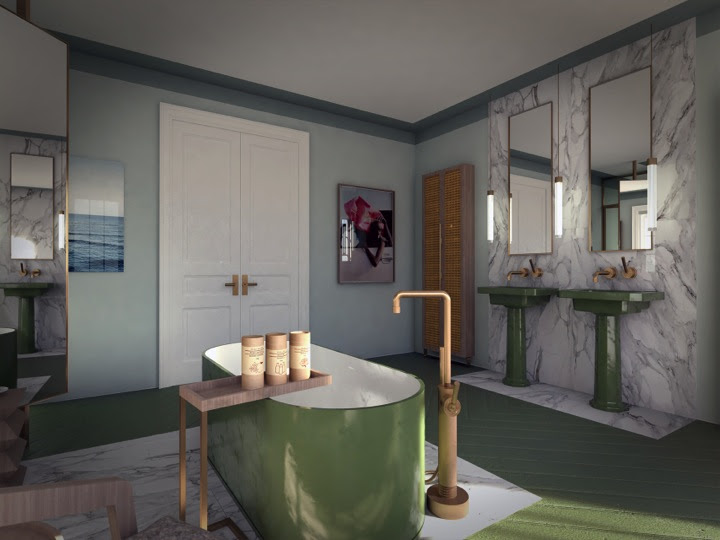 Boundary Space have designed the Avocado bathroom as a fresher take on a classic, by drawing inspiration from the glamour of PanAM, Farrah Fawcett and the 70's, which led them to the avocado palette. Take a look at the complete story below.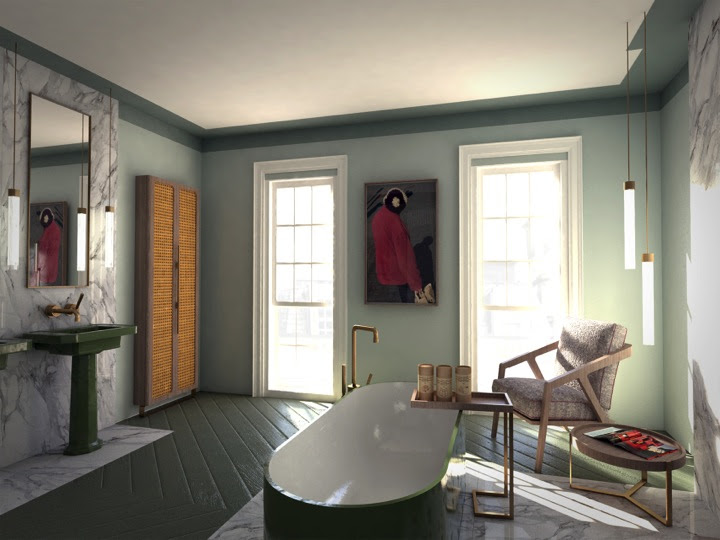 "Even at the luxury end of the bathroom market, there has been little innovation in sanitary-ware in recent years, so when a client of ours in the film industry asked us to design them something unique, we wondered if it was time for a revival. We wanted to create a sense of glamour and so often designers think glamour and end up with a deco inspired look. We wanted a fresher take on a classic design and looked instead to the glamour of PanAM, Farrah Fawcett and the 70's, which led us to the avocado palette!"
This palette is then modernised with bespoke lighting, 'chunky' brushed brass taps and ironmongery and 'cool' grey Carrara marble. The use of greys continues into the joinery and furniture. Allowing the avocado to be the focus, the palette is kept quite clipped to create a sense of calm with photography chosen to compliment and add 'splashes' of colour.
The client wanted a sense of luxury, without being stuffy and classical. Space is always luxurious and the bath next to a fireplace adds an element of decadence, turning the room into a destination. We also incorporate clever storage solutions into our bathrooms, such as the full height cabinet recessed into what was an alcove next to a chimney and shallow vanity units concealed behind bespoke mirrors. These architectural touches help to continue that feeling of an airy, uncluttered space.
The sink is from Kohler and is a Kathryn pedestal sink, which must be refinished to achieve the colour. Kohler are known for their colours and we are discussing with them how we can revive the image of avocado. Similarly, the bath is a Soho from JEE-O which gets custom sprayed, but we would like to work with more suppliers to get colour back into their ranges. Hopefully soon all this expensive refinishing will not be needed, and bathrooms can break out of the white and embrace some colour!
Check out our exclusive interview with Boundary Space on our Design Scene
For more of Boundary Space log on to their official web page www.boundaryspace.com