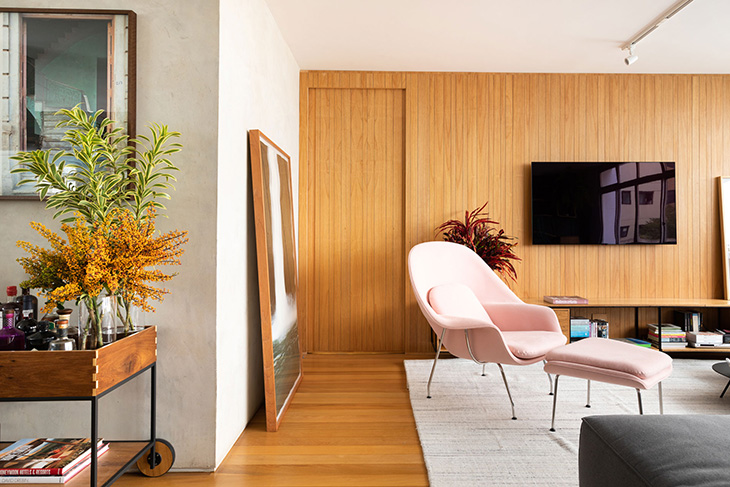 Making a rental property feel more like home can feel like an arduous task. This is especially the case when you are a student or saving up for a house of your own, and thus are living on a strict budget.
The main concern when decorating a rental property is, of course, ensuring that you get your tenancy deposit back. As landlords can take money from your deposit to cover any damage that occurs, painting, wallpapering, and putting nails in the wall are typically out of the question.
So, with all this in mind, here are 5 decor ideas that are suitable both for renters and those on a budget alike.
1. Decorative shelving
There are a couple of different shelving options that don't require fixing to a wall, such as floating shelves hung from an existing picture hook, or ladder shelving, which can simply be leant against a wall.
The important thing here is to discuss your options with a landlord. The likelihood is that landlords will be more likely to approve drilling a small hole than ripping a large square of paint off with Blu-Tack or glue – but you must always check first.
If your landlord does allow you to drill holes for your shelving, use a quality tool like a DeWalt Drill. This will ensure that the shelving is put up sturdily, and installed with a high quality, which will only benefit the landlord's property in the long run.
2. Layer up rugs
Whether you have a carpet you aren't a fan of, or a draughty wooden floor, rugs can make any room feel more cosy and put together, without the need of pulling up all the flooring.
3. Go bold with soft furnishings
If your house or apartment is furnished, soft furnishings can transform the look of your home without the need to change up your bulky furniture. Many rental properties are painted in neutral colours so they are more universally appealing, but, of course, this can leave a lot to be desired.
Opt for soft furnishings like bed sheets, cushions, throw pillows and blankets that can add a pop of colour into your room – whether you choose to keep everything the same colour, or also add in some patterns and texture, too.
4. Bring nature inside
Get as many potted plants as possible to bring some greenery into your home. Choosing ones that require less maintenance is always a sensible choice, especially if you are looking to invest in a lot of them. Plants are proven to boost our mental health, as well as adding a decorative element to any room.
5. Turn awkward spaces into storage
If your rental property is lacking space, look for underutilised spaces you could take advantage of. For example, an under-basin unit, corner storage, or storage seating can optimise the storage space in your home without sacrificing floor space you already use. You could even purpose-build some boxes or units yourself, made-to-measure for those awkward spaces, using some DIY skills and a bit of patience.
As you can see, decorating your rental property doesn't have to mean losing your deposit, or breaking the bank for that matter. With these 5 ideas in mind, all that is left to do is get creative, and begin to make your house a home.
Images from Elegance and Playfulness In a Sao Paulo Apartment by Ana Sawaia – See the full story here